Wave of support growing for Perikatan Nasional ahead of Malaysia GE15 Polling Day, says Muhyiddin
PAGOH, Johor: A wave of support from Malaysians across the country for the Perikatan Nasional (PN) coalition is growing ahead of the 15th General Election (GE15), said the coalition's chairman Muhyiddin Yassin. 
Speaking during a PN rally on Thursday night (Nov 17), Mr Muhyiddin said: "When I've been travelling across the country, from north to south in Johor, I have met many people. 
"And for the first time, I saw the wave of support growing for Perikatan Nasional. They support Perikatan because of what I did as prime minister."
The former prime minister said many voters have expressed appreciation for the policies he implemented during the COVID-19 pandemic, such as implementing financial moratorium and assistance packages. 
"They all said thank you Abah," he said, referring to a nickname given to him when he was prime minister. Abah means father in Malay. 
"(Their support) is a confession, a sense of trust and confidence that PN is the choice for all Malaysians," he added.
In his speech, the 71-year-old also urged voters to reject Barisan Nasional (BN) and Pakatan Harapan (PH) coalitions, PN's main rivals in GE15. 
He said BN and its main component party the United Malays National Organisation (UMNO) have a history of "rampant corruption".
Mr Muhyiddin added that PH as a coalition does not respect policies that protect the rights of the Malays and the institution of Islam.
"So BN and PH are out. You're left with just one (choice) now, Perikatan Nasional," he said. 
"No choice but it's the best of choices to elect a PN government. This is what the people want," he added.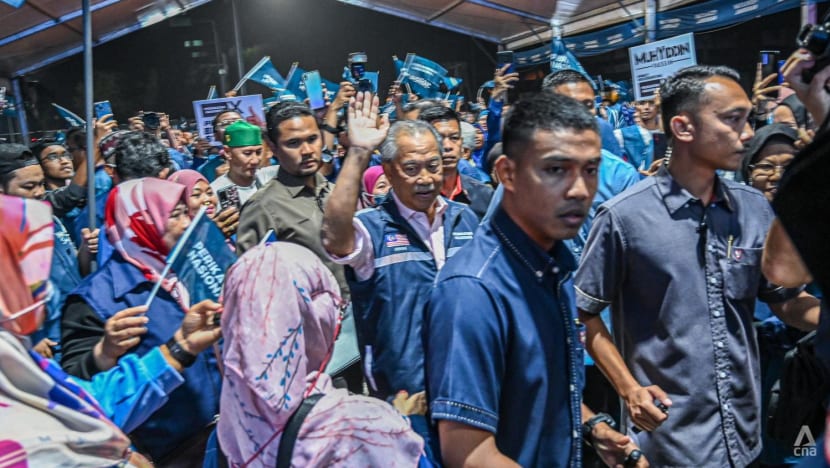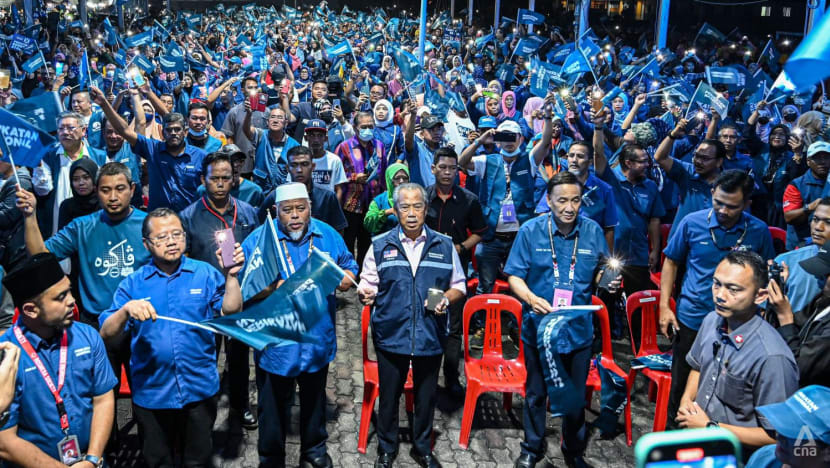 PN comprises Parti Pribumi Bersatu Malaysia (Bersatu), Parti Islam Se-Malaysia (PAS), Parti Gerakan Rakyat Malaysia (Gerakan) as well as Sabah-based parties Parti Progresif Sabah and Parti Solidariti Tanah Airku. Mr Muhyiddin is the president of Bersatu.
Even though they were not present at the event physically, PAS president Abdul Hadi Awang and Gerakan chief Dominic Lau delivered speeches that were streamed live. 
PN is contesting in 171 out of 222 federal seats in the polls, and Mr Muhyiddin has said that the coalition is aiming to form a new government on its own by garnering a simple majority of at least 121 seats on polling night. 
In the coalition's manifesto, it vowed to solve the bread and butter issues faced by the people as a top priority if it is able to form the next government.
Mr Muhyiddin also pledged to create one million high-income opportunities in the next few years.
Other priority areas in the manifesto included improvement in governance, reducing the development gap, environmental sustainability, optimising the potential of women as well as empowerment of the aged.
For the Nov 19 polls, Mr Muhyiddin will be defending his Pagoh seat against BN veteran Razali Ibrahim and PH's Iskandar Shah Abd Rahman.
Some Bersatu members who are contesting in fierce fights in mixed-race urban seats include PN information chief Azmin Ali, who will have to fend off the challenge of Selangor chief minister Amirudin Shari in the federal seat of Gombak, Selangor. 
Another is Bersatu deputy president Ahmad Faizal Azumu who is standing against PH prime minister candidate Anwar Ibrahim in the Tambun federal seat. 
PAS, a key party in the coalition, has said that it will work with Barisan Nasional (BN) if the 15th General Election (GE15) results dictate the need to form a coalition government.
"If we really need to work with others, our choice is BN," PAS secretary-general Takiyuddin Hassan told reporters last Tuesday. 
"That decision still has to be made by PN (Perikatan Nasional), not just PAS alone."