How has South Korean President Yoon Suk-yeol fared one year after taking office?
Amid the backlash from the Itaewon crowd crush, surging costs of living and growing household debts, Mr Yoon's approval ratings continue to hover around 30 per cent.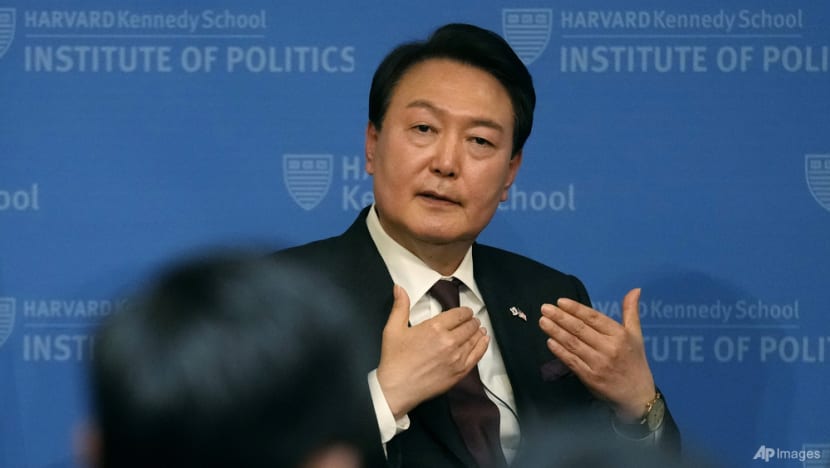 SEOUL: A year ago, South Korean President Yoon Suk-yeol started his first day in office, but not inside the iconic Blue House known as Cheonghwadae in Korean.
Instead, he worked out of the rundown former headquarters of the National Defence Ministry in the bustling district of Yongsan to keep his election promise to make himself and his office open to the public.
The 62-year-old former public prosecutor also took the unprecedented move of making himself available for informal sessions with reporters every morning, although just six months later, a dispute with a major TV outlet ended this practice.
One year into his role as the country's top man on Wednesday (May 10), reviews of his leadership have been mixed.
CHALLENGES AND TRIUMPHS
His government was harshly criticised for failing to respond hours after the Itaewon crowd crush last November that led to the death of more than 150 young South Koreans.
Amid the backlash from the tragedy, surging costs of living and growing household debts, Mr Yoon's approval ratings continue to hover around 30 per cent.
"At the time of his inauguration, the forecast for South Korea's economic growth was around 2.5 to 2.6 per cent, But now the average forecast has dropped to even (as low as) 1.5 per cent," noted Democratic Party lawmaker Hong Sung-kuk.
On the diplomatic front, Mr Yoon moved to repair strained ties.
He raised some eyebrows when he announced the use of local funds to compensate Korean victims of Japan's wartime forced labour, instead of asking Japanese firms to fork out the money as ruled by the country's top court.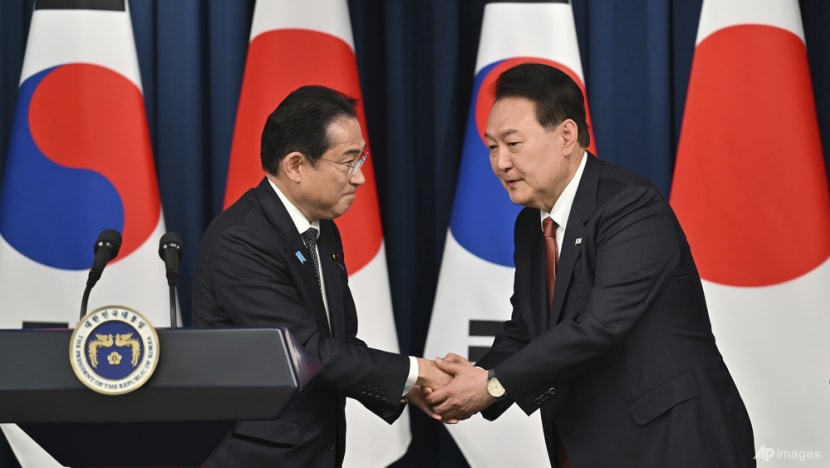 "They've been fighting for 20 years. But in less than a year, (this government) created a third-party reimbursement plan which includes a lot of distorted facts. I fear that this issue will come up again. And in fact, Japan is also worried about that," said Professor of History and Politics at Sejong University Yuji Hosaka.
But the political novice has surprised his detractors on other fronts. In December, he successfully quelled widespread trucker strikes by taking a hardline stance to crack down on illegal labour unions while refusing any concessions.
President Yoon also took a decisive stance to side with the United States amid its growing rivalry with China for supremacy in the region. Last month he went on a state visit to Washington, where he received a red-carpet treatment from US President Joe Biden.
STANCE ON NORTH KOREA
He has also been acting tough with North Korea, which has carried out an unprecedented number of missile tests since last year.
However, when Mr Yoon won the presidential race with the narrowest margin in history a year ago, he vowed to unite a deeply divided nation. Many in South Korea would argue that it has yet to happen.
"For any government, the number one priority is to push for the reunions of separated families. But because North Korea refuses to have any dialogue, no matter how much effort our government makes, I think it will be difficult to hold reunions for separated families," said Dr Oh Gyeong-seob, research fellow at the Korea Institute for National Unification.
"South and North Korea relations are in a very frustrating situation right now."