When Ms Iffah Rakinah decided to leave her job in education last year, she paid close attention to the profiles of the organisations she applied to. This approach was a far cry from those of her earlier job hunts, when she had been more preoccupied with factors like salary and job scope. "While these were still important, I realised that after a few years in the workforce, I wanted to work in an organisation that was geared for the future," says the marketing professional.  
"And not just in the strategic sense, but also in how they operated. I wanted to be part of an organisation that was plugged in to everything digital, from servicing clients in tech to timekeeping processes and even applying for leave," she adds. The 31-year-old eventually joined Archetype, a marketing communications agency, where to her delight, digital-first was more than a buzzword; it was a way of life.
THE QUEST FOR DIGITAL
Ms Iffah isn't alone in her quest for a future-ready employer. Such an employer is also favoured by Gen Z, who will enter the workforce in the coming years. A study of these youths, currently between the ages of 16 and 23, found that about 4 in 5 want to work with cutting-edge tech. That same study also revealed that 9 in 10 of them said an employer's tech-first approach would influence their job choice among similar employment offers.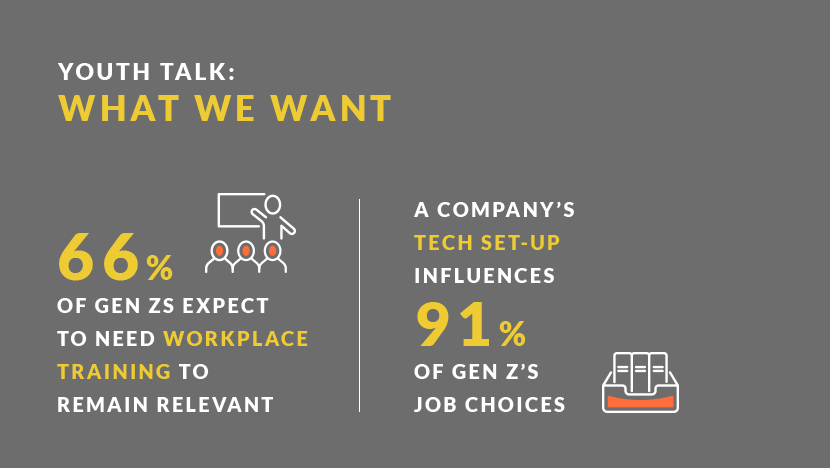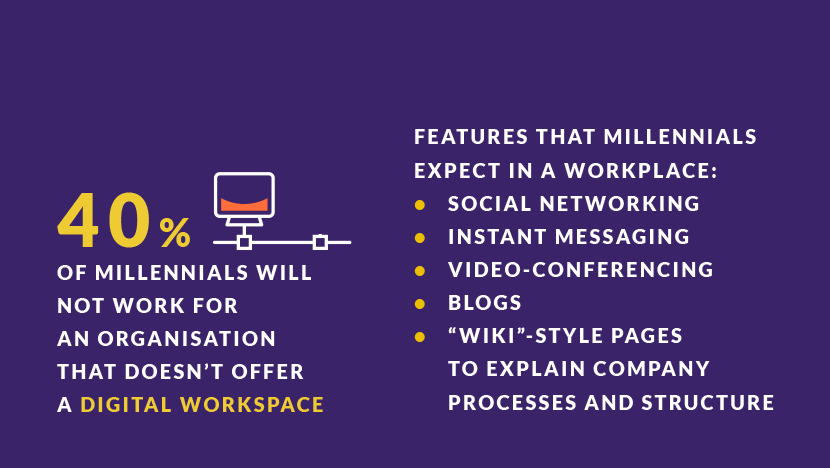 Given the value they bring, many organisations want to bring younger workers onboard. But how can they effectively transform themselves to remain relevant to a younger workforce without alienating older workers?
Understandably there has been some resistance, especially since there are huge costs in digitalisation drives. Costs of moving from a paper-intensive set-up to a modern, cloud-based system can pile up, especially in light of the volatile global economy caused by the conflict in Ukraine and the lingering pandemic.
But studies show they are worthy investments. According to LinkedIn's 2017 Global Staffing Trends report, every dollar spent on digitalising say, a company's HR system offers an average return of $9.13. Simple improvements include digitising leaves and claims, which are traditionally the most paper-intensive tasks in any organisation. Another enhancement is the generation of itemised payslips that comply with the Ministry of Manpower's requirements. Such improvements in HR and other administrative operations afford employees greater flexibility, mobility and help promote staff retention.
SUPPORT TO TRANSFORM
Implementing such solutions needn't cost employers an arm and a leg, thanks to the SkillsFuture Enterprise Credit (SFEC). This encourages employers of all sizes to undertake enterprise and workforce transformation initiatives. It can be likened to the SkillsFuture Credit scheme extended to individuals, except this supports businesses in their development.
WHAT'S COVERED: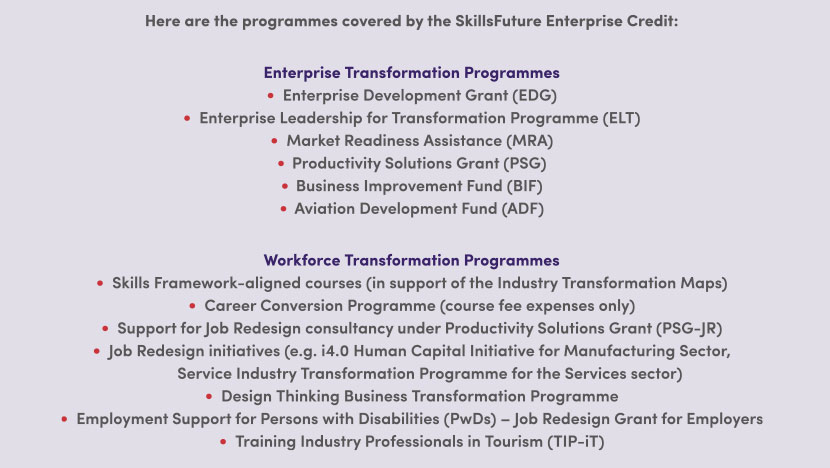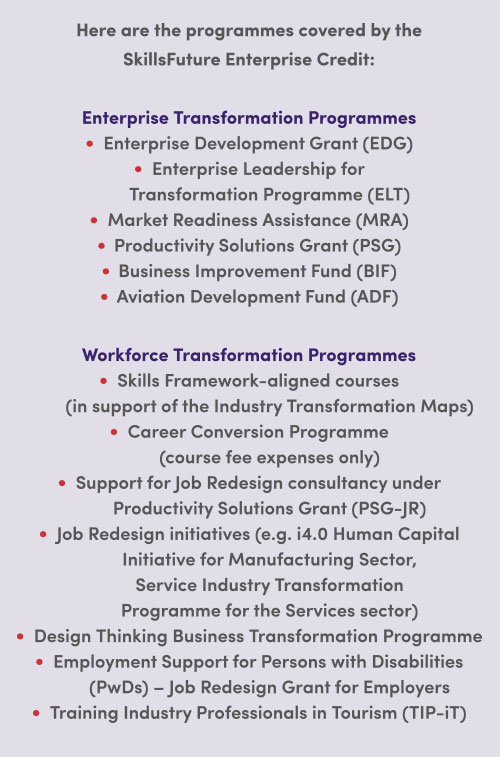 "I WANT TO BE PART OF AN ORGANISATION THAT WAS PLUGGED IN TO EVERYTHING DIGITAL, FROM SERVICING CLIENTS IN TECH TO TIMEKEEPING PROCESSES AND EVEN APPLYING FOR LEAVE."
Eligible employers will receive a one-off $10,000 credit to cover up to 90 per cent of out-of-pocket expenses on programmes that support enterprise transformation programmes and workforce transformation programmes. Of the $10,000 credit for an eligible employer, $3,000 is reserved for workforce transformation initiatives. There is no cap on the amount that can be used for workforce transformation.
The SFEC was expanded at the most recent Budget to include more employers. Newly eligible employers will be notified in April 2022. As previous beneficiaries know, the best part about the scheme is that a separate application for SFEC is not necessary; credits will be automatically deducted for SFEC-supportable programmes that they apply for.
Stay Ahead By Investing In Digitalisation
Utilise your SkillsFuture Enterprise Credit now.
FIND OUT MORE