When electronics company Omron pioneered the world's first unmanned railway station system in Japan in 1967, featuring ticket vending machines, commuter pass punchers and automated ticket gates, its aim was to address a social need through innovation and automation.
At the time, the team had hoped to reduce public transport congestion during rush hours. Over the years, the company has kept to its mission "to improve lives and contribute to a better society" through automation solutions
They continue to keep this spirit alive, participating in the SkillsFuture Queen Bee programme for advanced manufacturing. The programme is part of SkillsFuture Singapore's (SSG) efforts to get industry leaders like Omron, or "queen bees", to support the training and upskilling needs of companies, particularly small and medium enterprises (SMEs) in their industries.
"When SSG introduced the SkillsFuture Queen Bee initiative to us, it was a 'no brainer' for us to come on board. The programme's purpose and expected outcomes fully align with what Omron wants to do," says Mr Lieu Yew Fatt, managing director of Omron.
For Omron, which has over 60 years of history developing solutions essential for the operations of automated manufacturing machines, supporting Singapore's efforts to reskill and upskill its workforce is one way of contributing to society.
Omron works with Temasek Polytechnic (TP) as its training partner to provide skills advisory and curate relevant training courses to support local manufacturing companies in their digitalisation journeys.
Under the programme, at least 2,000 Singapore citizens and permanent residents will undergo SkillsFuture Series Continuing Education and Training (CET) courses in advanced manufacturing.
Mr Jonathan Chia, a senior engineer at Omron and programme trainer under the initiative, explains that the CET courses involve curriculum crafted for the emerging market. For example, a CET course in autonomous robotics in advanced manufacturing equips learners with skills to initialise, calibrate and operate industrial robots.
Participants will be guided to set up and plan paths and tasks for mobile robots, design a human machine interface and code robot motion.  They also learn to read and write RFID tags for tracking components.
The programme will also engage around 180 enterprises for workforce upskilling by implementing Proof-of-Concept (POC) projects in advanced robotics and automation, funded by SSG, adds Mr Melvin Goh, assistant manager at Omron, another programme trainer under the SkillsFuture Queen Bee initiative. POC testing provides a practical platform to apply what has been learnt, and evaluates the feasibility of a product idea or project plan before work begins.
NEW SKILLS REQUIRED TO ADAPT TO CHANGING WORKFORCE
ST Engineering and Automatic Controls and Instrumentation Pte Ltd are among the local companies that have tapped on the SkillsFuture Queen Bee programme to connect and learn from industry leaders in the network.
One of the pressing issues the companies faces is the shortage of skilled manpower, a problem that has been accelerated by the Covid-19 pandemic.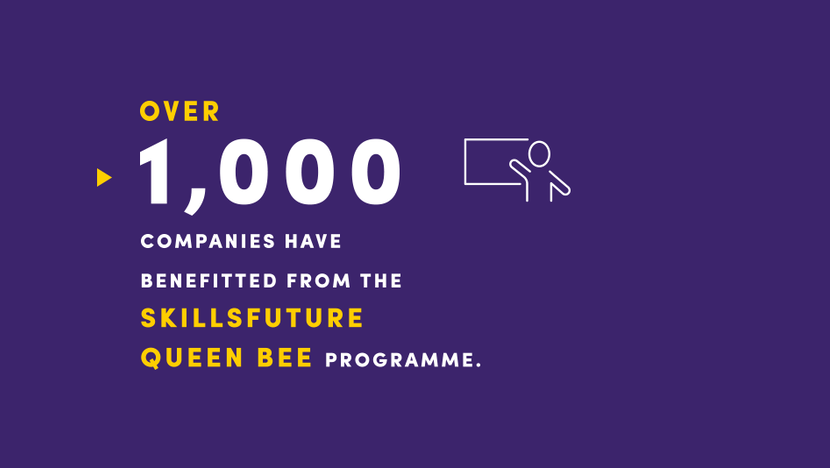 Mr Derek Chan, owner of Automatic Controls and Instrumentation, says that the ongoing manpower crunch has spurred interest in the use of new automation technologies to improve productivity and reduce reliance on manpower. The company specialises in automation machinery manufacturing.
"As an SME, we are limited in technology. Our knowledge is based on what we had learnt in the past and it is important that we acquire new knowledge along the way. Omron is one the technology leaders in the market that we can learn from," Mr Chan says.
Mr Cheng Wee Teck, head of Technology and Engineering, Land Systems, ST Engineering, shares that a key impetus to the company's digital transformation is the changing workforce landscape.
"There is a strong demand for young talents to join our industry, as well as a growing demand for talents with tech and engineering skills. To narrow the productivity gap brought about by the workforce crunch, we recognised the need to keep up with the ever-progressive technology and engineering industry through digitalisation of our manufacturing operations using robotics and automation," he says.
"AS AN SME, WE ARE LIMITED IN TECHNOLOGY. OUR KNOWLEDGE IS BASED ON WHAT WE HAD LEARNT IN THE PAST AND IT IS IMPORTANT THAT WE ACQUIRE NEW KNOWLEDGE ALONG THE WAY."
To mitigate the shortage of new workers, Mr Cheng says that the company empowers its current workforce with new skills required to operate smart tools and digital systems.
In May 2022, ST Engineering Land Systems signed a memorandum of understanding (MOU) with TP to upskill its engineers and technicians. The collaboration is part of an ongoing partnership to jointly develop the Factory Integrated Technology Workforce Upskilling Programmes under the SkillsFuture Queen Bee initiative to train more than 200 employees.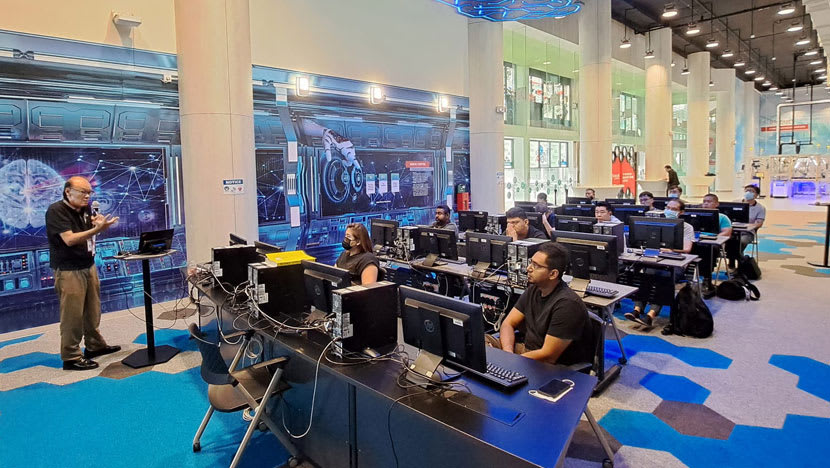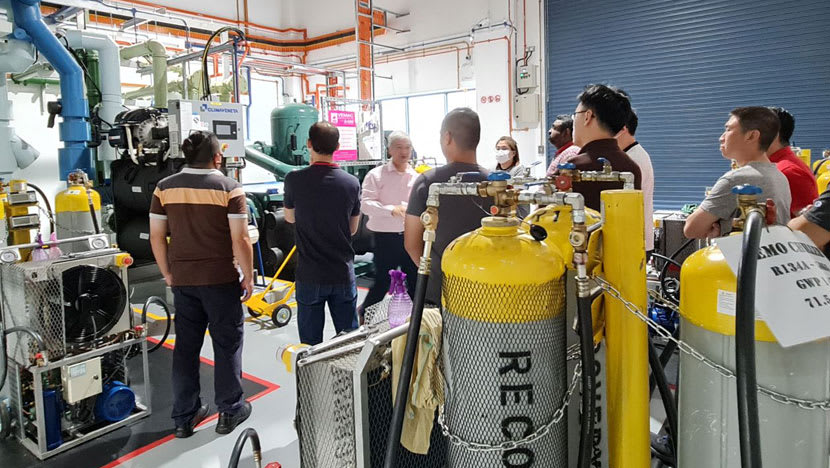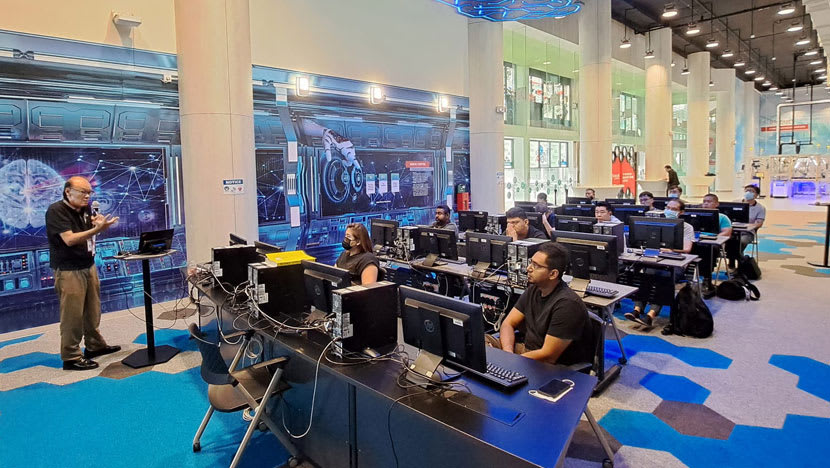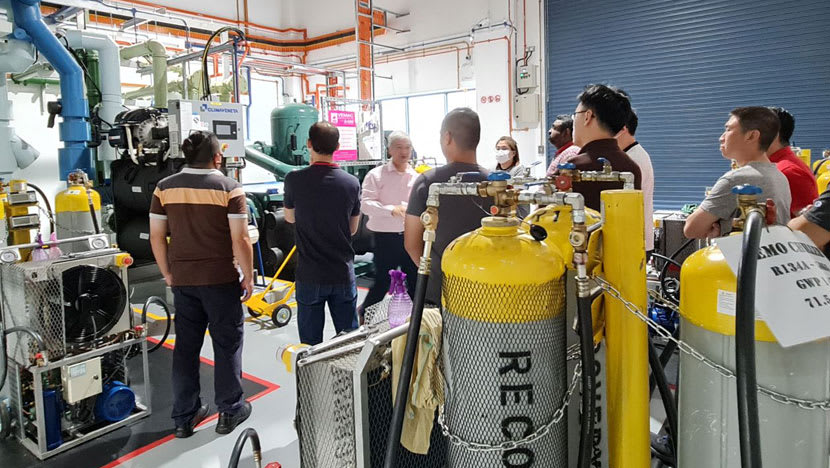 Besides providing learners with a structured training programme, the training facilities at TP also allows learners to get hands-on exposure to state-of-the-art machines. "This is vital for productive learning," Mr Cheng says.
Another plus point of the SkillsFuture Queen Bee programme, he adds, is that companies become part of an ecosystem comprising industrial leaders and educational institutions like TP. In doing so, companies can connect and learn from one another and develop relevant industry solutions to strengthen their operations.
Mr Cheng shares that an initial concern the organisation had was motivating employees to attend the training programmes.
"They might have reservations picking up new knowledge or are reluctant to disrupt their everyday routine. As it was our first time participating in the SkillsFuture Queen Bee initiative, we were also unsure of the learning outcomes and how relevant the course content would be to their work," he says.
However, the concerns were unfounded, with trainees providing positive feedback on their learning experience. To date, the team has sent over 140 employees for training and has plans to upskill more employees.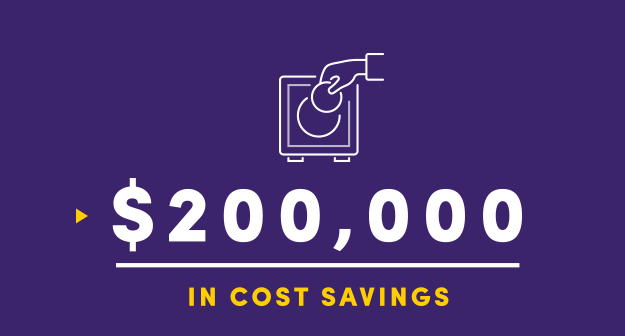 Tapping on the grant provided by SSG for Omron as a SkillsFuture Queen Bee, Inventit Technology (Inventit) acquired the knowledge to develop the capabilities to deliver customised robotic handler solutions with Omron's support to compete in the regional market.

Inventit's project engineers are now able to apply their new robotic application knowledge and skills and achieved cost savings of $200,000 as well as saved time on R&D.
POSITIVE FEEDBACK
Under the SkillsFuture Queen Bee initiative, trainees underwent relevant training programmes that helped fill in gaps in their skillsets.  For example, Mr Jared Yong, a robotics manager at Automatic Controls and Instrumentation, levelled up his knowledge and skills proficiency in autonomous robotics through the programme.
"We got to learn more on how a mobile robot works and programme its movement and tasks using different types of software.  Training provided on hardware and software integration greatly helped us to minimise the risk of failure and enable us to provide better solutions to our customers," Mr Yong says.
"Discussions and exchange of knowledge during the mentorship experience also equipped us with new skills and methods to deal with different types of challenging projects," he adds.
"UPSKILLING IS IMPORTANT AS WE NEED TO GET IN LINE WITH EVOLVING CHANGES THAT INCREASE MANUFACTURING PRODUCTIVITY, IMPROVE PERFORMANCE AND EASE HEAVY WORKLOADS."
Mr Yew Kian Meng, principal technician, Land Defence Systems, ST Engineering, attended a three-day course, after which he gained better understanding of emerging technologies and discovered the benefits of using sensors and robots in workplace processes.
"Technologies are advancing at a pace where we need to 'run' to catch up. Upskilling is important as we need to get in line with evolving changes that increase manufacturing productivity, improve performance and ease heavy workloads," he says.
During the training course, Mr Yew learnt to use the ThingWorx Foundation, an industrial leading IoT platform, to create a scalable dashboard to interface with smart sensors for tracking equipment and process stratus in a factory.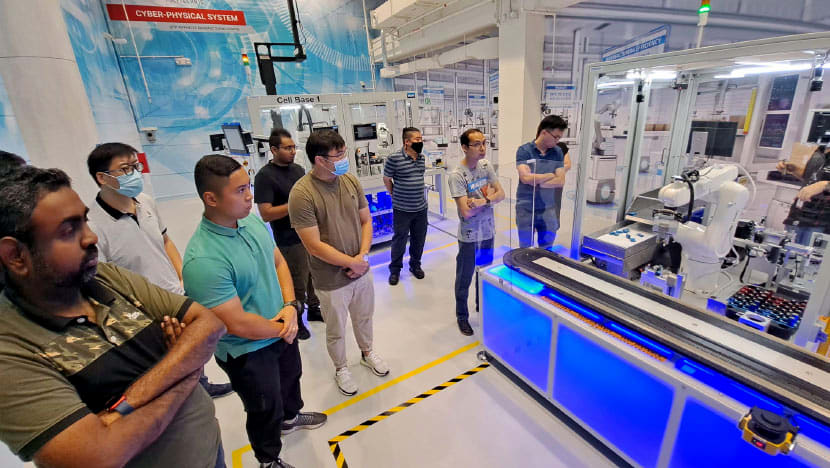 "It helped me to gain a better understanding on how live information is fed through the digital tablets and displayed in the command centre. This facilitates better communication and decision-making within the project management team," he shares.
Ms Chan Choy Peng, a training programme coordinator at TP, says that learning and applying the skills taught during the programme would allow companies to carry out transformation and digitalisation projects in their business areas, thereby enhancing their competitiveness.
"SMES SHOULD LEVERAGE ON VARIOUS SSG PROGRAMMES TO STRENGTHEN THEIR MOST IMPORTANT ASSET, THAT IS THEIR HUMAN CAPITAL."
Mr Cheng from ST Engineering points out that ultimately, the success of a company's transformation is highly dependent on a skilled workforce.
To which Mr Lieu agreed: "SMEs should leverage on various SSG programmes to strengthen their most important asset, that is their human capital. Unlike capital assets, which can be upgraded by investing in new advanced equipment, human capital asset enhancement is achieved through lifelong reskilling and upskilling to keep up with market needs."
To companies that may have reservations about participating in the SkillsFuture Queen Bee programme,  Automatic Controls and Instrumentation's Mr Chan says: "If you can have an industry leader looking after you, why not? Choose the right partner that complements your business needs."
LEARN FROM INDUSTRY LEADERS
Interested to see how to get training from leaders in your sector?
FIND OUT MORE