Commentary: The binding forces that hold Malaysia's team of rivals together
The strength of the new unity government in Malaysia lies in three aspects: Strategic, legal and relational, says this academic.
KUALA LUMPUR: At his first press conference as prime minister of Malaysia in late November, Anwar Ibrahim announced that one of his top priorities was to pass a confidence motion in parliament with a two-thirds majority.
This was not only a show of strength to his political opponents, but also a necessary move to give voters and foreign investors some assurance that Malaysia's hitherto rocky politics would now be more stable.
On Dec 19, the confidence motion came to an anti-climactic end. Anwar was supported as prime minister through a voice vote and not a ballot vote, making it hard to ascertain if a two-thirds majority was achieved. However, earlier motions to elect the speaker and deputy speakers had the support of 146 to 148 MPs (nearly and exactly two-thirds, respectively). The figures showed that Anwar likely has the elusive two-thirds majority.
Behind this enormous support level is the memorandum of understanding (MOU) signed by the major coalitions of the unity government, Pakatan Harapan (PH), Barisan Nasional (BN), and Gabungan Parti Sarawak (GPS).
While the degree of enforceability remains contentious, the effect was to create an overarching framework for the anti-hopping law to operate. Essentially, both the MOU and anti-hopping law prioritise the importance of political parties over individual members of parliament (MP). This effectively compels an MP's seat to be vacated upon any defiance by him or her against party directives.
The anti-hopping law is activated when an MP quits a party, whereas the MOU comes into effect during confidence or confidence-related bills (for example, supply bills) that could put the prime minister's legitimacy in doubt.
WHAT IS HOLDING ANWAR'S GOVERNMENT TOGETHER
With the MOU, statutory declarations "auctioned and sold" as a sign of support in past governments appear inferior. In addition to its rampant misuse in the past, the ambiguous and individual nature of statutory declarations has made them unreliable tools to secure MPs' support.
The classic image here is Muhyiddin Yassin showing stacks of statutory declarations in front of the press, insisting he had the majority when he did not (the former premier is the head of Perikatan Nasional, PH's key rival for control of government).
While the legal aspect was not the only reason that led to the formation of the government and its continuance, it is undeniable that it serves as an important bulwark against a repeat of the 2020 Sheraton Move, where large-scale defections set off a period of political instability.
Beyond the MOU, there are also strategic and relational reasons that hold Anwar's government together.
On strategic importance, PH, BN, and GPS have realised that they complement each other in the governing coalition.
PH has proven itself to be a powerhouse in urban areas, but it remains weak in the rural, conservative Malay, and East Malaysian settings. BN understands that winning back urban votes still remains a pipe dream, so it might be better to strengthen its rural hold while relying on PH to augment BN where it is weak. GPS recognises that they have more ideological alignment with PH compared to PN. In East Malaysia, the latter's Islamic credentials proved to be an electoral liability.
It is possible that the three coalitions could work together in the next state and general elections, as they are not competing for the same slice of the political pie.
Seat negotiations typically break down when parties' potential support bases are grossly similar, like Muda and Parti Keadilan Rakyat, United Malays National Organization (UMNO) and Parti Pribumi Bersatu Malaysia and Parti Islam SeMalaysia (PAS). This was the main reason why the Muafakat Nasional pact between UMNO and PAS, and the electoral pact between BN and PN, could not hold once elections loomed.
MATURE COALITIONS TESTED THROUGH TIME
Two other factors bolster the sustainability of Anwar's government.
One, the rise of PN in the recent elections has emerged as a larger threat than the past feuds between PH, BN, and GPS. In the recent general election, PN bagged nearly all northern West Malaysia seats.
Two, the fact that PH, BN, and GPS are not young upstarts, but mature coalitions tested through time, enables them to negotiate with equal bargaining power. BN and GPS obtaining the lion's shares of Cabinet positions is a testament to this.
Besides the strategic underpinnings of the unity government, the relational aspect will continue to play a part.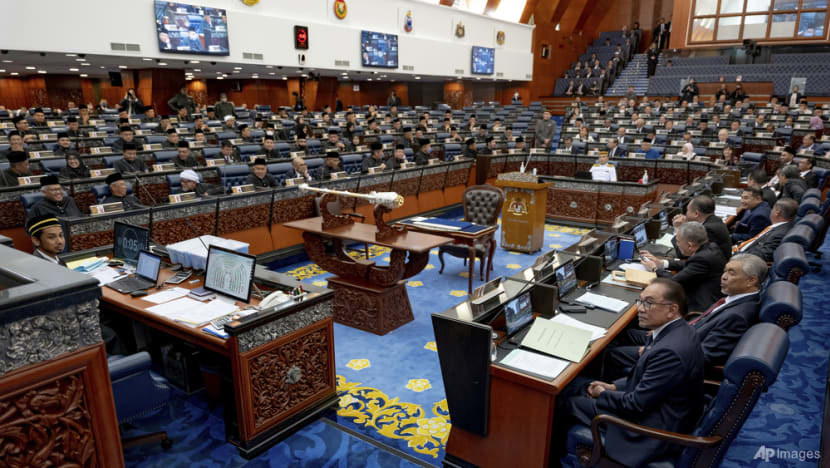 At the start of coalition negotiations to form government, PH had an advantage given the friendship between UMNO president, Ahmad Zahid Hamidi, and PH leader, Anwar Ibrahim. The former regards the latter as his mentor. This enabled PH to present and partially act on their proposal (i.e., allowing BN to hold the Menteri Besar post in Perak and Pahang) before PN.
Despite UMNO suffering its worst electoral defeat, PH treated UMNO in a "gentlemanly" manner, fitting to its stature as the oldest and largest Malay party in the country.
In contrast, UMNO's experience of dealing with PN was insincere. The BN-PN meetings were postponed multiple times, and BN accused of PN "stealing" its MPs behind its back.
Unlike PH, PN did not prepare a written proposal for BN. Instead, BN had to explain PH's proposal to them in the meeting and ask PN to submit a counter-proposal. Understandably, BN ultimately chose the partner who accorded them more respect.
Of all factors, the legal foundation that holds this government appears to be the strongest, as defiant MPs will likely err on the side of caution and comply with the party directives to avoid losing their seats.
In contrast, the relational aspect appears riskiest. If Ahmad Zahid is convicted in court for a raft of corruption charges or deposed as UMNO president, this might affect the BN's support for Anwar.
Keeping a team of rivals intact is not easy. But the passing of the confidence vote with an (indirect) two-thirds majority is a sign that while it is difficult, it is not impossible. 
James Chai is Visiting Fellow of the Malaysia Studies Programme at ISEAS – Yusof Ishak Institute. This commentary first appeared on the Institute's blog, The Fulcrum.