Commentary: It's no silver bullet, but did coalitions get social media right in Malaysia's GE15?
Muhyiddin Yassin's Perikatan Nasional coalition recorded a better-than-expected performance in Malaysia's 15th General Election. Universiti Sains Malaysia's Dr Nurzali Ismail weighs in on the social media strategies used.
Social media had already strongly shaped the 2018 GE14, with campaigning via Facebook and Twitter – political messages were delivered unadulterated and consumed on demand – seen as key to the downfall of the Barisan Nasional (BN) coalition.
But in a crowded social media environment, a large amount of information often goes unnoticed and only the good ones attract public attention. Which coalition got social media right in GE15?
PERIKATAN NASIONAL STOOD OUT ON TIKTOK
Politicians ventured onto TikTok, hoping to engage with 6 million new voters, of which almost 1.4 million are young digital natives aged 18 to 20, now first-time voters after the voting age was lowered from 21 to 18.
Visually rich short-form videos stood out in GE15, with TikTok's algorithm serving up personalised content based on what users like.
In GE15, BN had a larger presence on Facebook, which remains the most used social platform in Malaysia, but interest in politics on Facebook is highest among older demographic, according to research firm Politweet. PH and PN made their mark with the younger crowd on Twitter and TikTok.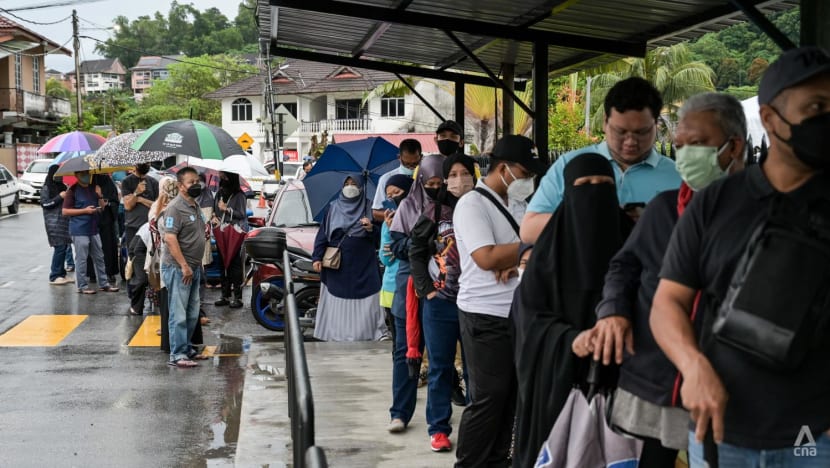 What made PN's social media execution stand out among the rest was the clarity of its key message – the best choice for Malaysia without the integrity issues of BN nor the weaknesses of PH – and a catchy PN Best campaign that tapped on celebrities and youth influencers.
PN's campaign messages were disseminated not only on its official social media channels, but also on component parties, leaders and fans' social media to maximise reach. Types of content included live streams, celebrity endorsements and other videos.
Muhyiddin's strong social media presence was also reinforced by fan TikTok accounts (such as @abahkitemuhyiddin and @friendsofmuhyiddinyassin) which helped creative videos go viral.
The most prominent one in GE15 was his "Swipe" challenge video, which has attracted more than 4 million views so far. Participating in such TikTok trends and other influencer collaborations helped PN attract interest from youths.
The PN Best campaign generated great interest particularly in the Malay heartland. Hashtags such as #pnbest, #perikatannasional and #bersihdanstabil (clean and stable), garnered hundreds of millions of views on TikTok throughout the campaigning period.
MISSED OPPORTUNITY FOR PAKATAN HARAPAN, NO COHERENCE FROM BARISAN NASIONAL
PH knows the importance of social media, having successfully used it and data analytics in 2018. In GE15, PH launched the "Kita Boleh" (We Can) slogan with the intention of creating hype and awareness among supporters and the public on social media.
On TikTok, PH hashtag #pakatanharapan generated hundreds of millions of views. Anwar Ibrahim and Malaysian United Democratic Alliance (MUDA) president, Syed Saddiq Syed Abdul Rahman are among PH leaders with large numbers of followers and likes on the platform.
Anwar's special address posted on the eve of Polling Day attracted more than 2.4 million views and a high engagement rate.
PH hashtags such as #kitaboleh and #anwaribrahim were also trending on Twitter. But the decline of Twitter users may have been a missed opportunity by PH to reach out to more voters. According to DataReportal's Digital 2022 Malaysia report, Twitter is ranked seventh among the most used social platform in the country.  
In contrast, BN's social media initiatives seemed to show it was out of its depth, without any coherent digital strategy in GE15. Though prominent candidates, such as Khairy Jamaluddin and Tengku Zafrul Aziz, boast strong social media presence, their influence was not strategically used to reinforce the coalition's message of prosperity and stability.
The main problem with BN was its over-reliance on Najib Razak's social media prowess. Over the years, the former prime minister has almost single-handedly carried BN, turning his social media into a potent weapon capable of creating buzz and influencing public opinion.
Najib had used social media to champion issues such as the pushback against the PH government's intention to sign the United Nations' International Convention on the Elimination of All Forms of Racial Discrimination (ICERD) and was heavily involved in BN's successful campaigns in the recent Melaka and Johor state elections.
Najib's imprisonment since August 2022 has been a double whammy for BN in reinforcing perceptions of corruption, but also in his waning social media influence.
SOCIAL MEDIA IS NO SILVER BULLET
While social media has potential and importance in shaping election campaigns, it does not necessarily guarantee success. BN's Khairy and Tengku Zafrul lost their seats despite being younger leaders with a strong social media presence.    
Ultimately, political parties must understand that social media strategies are about increasing engagement and constructing meaningful narratives, to influence attitudes and behavioural change.
We cannot be certain exactly how much influence social media had on voters' actual behaviour in GE15, until more data on voting patterns and studies are gathered and examined. And who knows how else digital media will evolve or what new platform will emerge when the next general election comes around?
But what is clear is that social media is a space that cannot be neglected for political parties that want to increase visibility, engage the public and more crucially, win over hearts and minds. And that work starts well before GE16.
Dr Nurzali Ismail is a faculty member at the School of Communication, Universiti Sains Malaysia (USM).