Commentary: Are new airline players the answer as demand for travel returns in Singapore?
Singapore needs to find a way to increase airline capacity and competition despite slot constraints at Changi Airport, writes aviation analyst Brendan Sobie.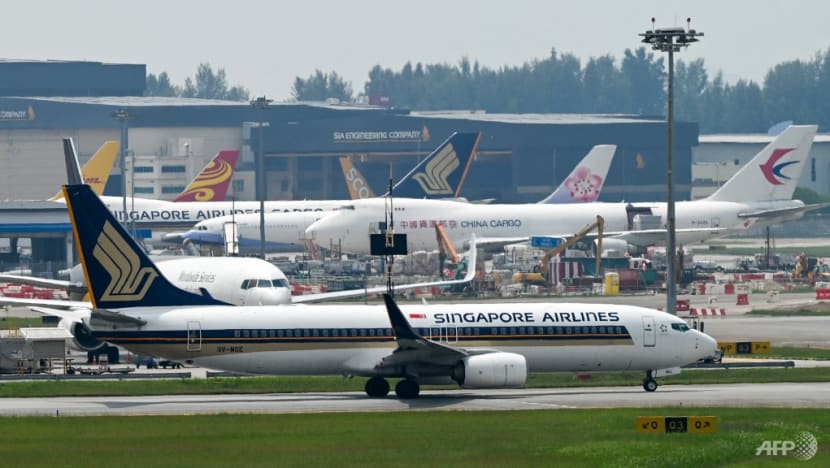 SINGAPORE: It has been a difficult year and a half for air travellers - both here in Singapore and globally.
As demand for air travel recovered much faster than airline capacity, air fares have been high, aircraft have been full, flight options have been limited and service levels in many cases have been subpar.
Long queues at airport terminals and manpower shortages have also been common, although Singapore and Asia overall have had a smoother recovery from this perspective than other regions.
There are now some signs of air fares starting to normalise, driven by an improvement in airline capacity levels and an end - or at least a slowdown - in the revenge travel wave that was unleashed when borders reopened.
The supply-demand imbalance that has led to the record high fares - and record profits for many airline groups including Singapore Airlines (SIA) - is gradually narrowing although it could be some time before this gap completely closes and ticket prices return to more normal levels across all routes.
In Singapore, there could be an imbalance until all three runways at Changi Airport are operational in the second half of this decade, which should be a gamechanger in facilitating more capacity and hence competition.
Changi Airport opened a third runway in October 2020 but had to close one of the other two runways to support construction works related to Terminal 5.
Terminal 5, which is now slated to open in the mid-2030s, will also be a gamechanger, but having three active runways will enable Changi Airport to start releasing significantly more departure and landing slots to airlines, which will be able to use the remaining spare capacity in the four existing terminals prior to the opening of Terminal 5.
Capacity at the four existing terminals will reach 90 million passengers per annum once Terminal 2 renovations are completed later this year. This will provide the terminal capacity for Changi Airport to grow 32 per cent beyond pre-COVID levels.
Changi Airport passenger traffic is currently at about 90 percent of pre-COVID levels and is expected to reach 100 percent sometime next year.
CHECKING IN
The main bottleneck for the next few years is the current two-runway system, which limits the number of flights the airport can handle without leading to an unacceptable level of congestion and delays.
The number of flights or movements is currently at about 89 per cent of 2019 levels and about 87 per cent of peak pre-COVID levels. This means that 11 per cent to 13 per cent of the existing slots are unused.
However, there should be an opportunity prior to the start of the three-runway system for Changi Airport to return to the over 33,000 movements it was handling during peak months before the pandemic and squeeze out a modest number of additional slots, potentially by incentivising more flights at off-peak times.
The quartet of leading competitors in Singapore's airline market - SIA, Scoot, AirAsia Group and Jetstar Asia - made up 31 per cent, 18 per cent, 9 per cent and 4 per cent, respectively, of the total scheduled passenger flights at Changi Airport last month.
Of the four, only Scoot and AirAsia are fully utilising their slots.
Scoot last month had about 5 per cent more scheduled flights at Changi Airport compared to August 2019, while the AirAsia Group had virtually the same number, according to global travel data provider OAG.
In comparison, SIA had 24 per cent fewer scheduled flights at Changi Airport last month compared to August 2019 (including the flights operated in 2019 by its regional subsidiary SilkAir, which was merged into SIA in 2021), while Jetstar Asia had 60 per cent fewer flights.
SIA is gradually adding flights over the next several months and recently announced its schedule for the northern hemisphere summer 2024 season. As a result of the additions, its flight count at Changi Airport is projected to be just 11 per cent lower in August 2024 compared to August 2019, as per data from OAG.
Scoot has not yet decided on its summer 2024 schedule. However, SIA Group, which includes Scoot, will likely again be using 100 per cent of its Changi slots by the end of 2024 with some slots that were used prior to the pandemic by SilkAir transferred to Scoot.
Jetstar Asia also has not yet decided on its summer 2024 schedule but recently provided capacity projections for the first half of next year, when its capacity will still be at less than 50 per cent of 2019 levels with a fleet of nine aircraft. Jetstar Asia currently operates seven aircraft, compared to 18 prior to the pandemic, and has announced two more aircraft will be added by the end of this year.
Jetstar Asia and SIA currently account for almost all the unused slots at Changi Airport as the total number of flights operated last month by airlines outside the quartet of the four leading competitors was only 3 per cent less than August 2019. Even Chinese carriers last month had only 4 per cent fewer flights at Changi than August 2019 despite China being the last market to reopen.
REGAINING ALTITUDE
Currently, Changi Airport plays host to 76 airlines, with 73 of them hailing from foreign shores, according to OAG data.
While several foreign airlines that were serving Singapore in 2019 are still not back, this has been offset by new services from 11 foreign airlines including Aircalin, Air Macau, Bamboo Airways, Cambodia Airways, Citilink, Firefly, Gulf Air, Starlux, Thai VietJet Air, T'way Air and Zipair. Combined, these new competitors accounted for about 3 per cent of total flights at Changi Airport last month.
Beneath these numbers lies a deeper question: Can Singapore shape an environment conducive to higher airline capacity and robust competition?
There are several more possible new competitors - such as Malaysia's MYAirline - that are keen and ready to enter the Singapore market while several of the existing competitors - including AirAsia Group - are keen and ready to expand beyond pre-COVID levels. However, they have been struggling to secure slots.
Singapore would benefit from more foreign airline capacity as it would result in more competition, lower fares for consumers and improve growth for Changi Airport.
Singapore would also potentially benefit from a new Singapore-based airline. The country has not had a new local independent passenger airline outside of the SIA Group in 19 years, despite interest from multiple parties.
Jetstar Asia was launched in 2004, but due to its small size and shrinking market share, it is not enough to drive impactful competition. Its fleet was stagnant at 18 aircraft in the six years prior to COVID-19, and its market share waned while the industry around it burgeoned. When the pandemic hit and air travel came to a halt, Jetstar Asia shed 11 aircraft, reducing its fleet to seven.
It is unlikely that Jetstar Asia will get back to 18 aircraft in the foreseeable future yet alone grow, making it debatable whether it is still a significant player.
Even with a fleet of 13 aircraft - which it is aiming to have by late 2024 or early 2025 - its capacity at Changi Airport would only reach 70 to 75 per cent of pre-COVID levels.
The question looms: Should Singapore re-evaluate its policies to create an environment ripe for a new local carrier?
This can be done now as new airlines take time to launch and start small so would not have a significant impact on infrastructure until after the three-runway system is implemented.
Singapore needs to find a way to open the door to more airline capacity and competition, enabling a return to modest growth over the next few years as well as providing a foundation for more rapid growth once the three-runway system is in place.
Brendan Sobie is the founder of Singapore-based independent aviation consulting and analysis firm Sobie Aviation.