Commentary: We all know Airbus and Boeing. Now here comes COMAC
China's homegrown COMAC C919 aircraft will undoubtedly find a large home market but challenging the duopoly of Airbus and Boeing will be harder, says NUS Business School's Markus Keiper.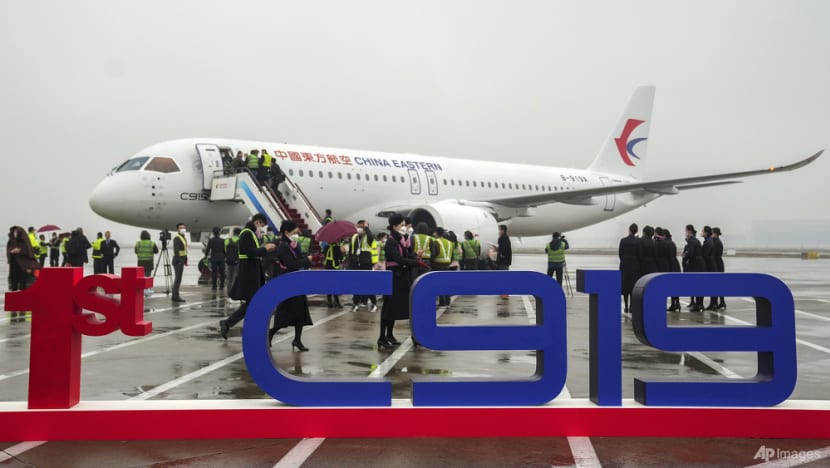 SINGAPORE: Many of us have travelled on an Airbus or a Boeing. Could the aircraft we board in the future be a COMAC?
The C919, China's first domestically developed passenger jet by state-owned Commercial Aircraft Corporation of China (COMAC), is expected to make its commercial debut in 2023. Production ramp-up is on the cards after the jet's recent certification and with it comes Beijing's hopes that it will challenge the long-standing duopoly of Airbus and Boeing.
Boeing had dominated the large commercial aircraft market, where each plane offered over 100 seats, since it was founded in 1916 in Seattle. When Airbus entered the market in 1970 as the pan-European alternative, it had one simple mission: Beat Boeing.
It took 47 years, but Airbus eventually surpassed 50 per cent in market share for a historic first time in 2017, putting a serious dent in Boeing's market share of 87 per cent in 1970. Still, this duopoly makes it exceptionally hard for any new competitor to enter this high tech market of 2 billion passengers annually.
The introduction of the COMAC C919 is good for the global aviation industry. But with more than 100 years of design, manufacturing and service success against them, how can new entrants such as COMAC gain market share – and from where?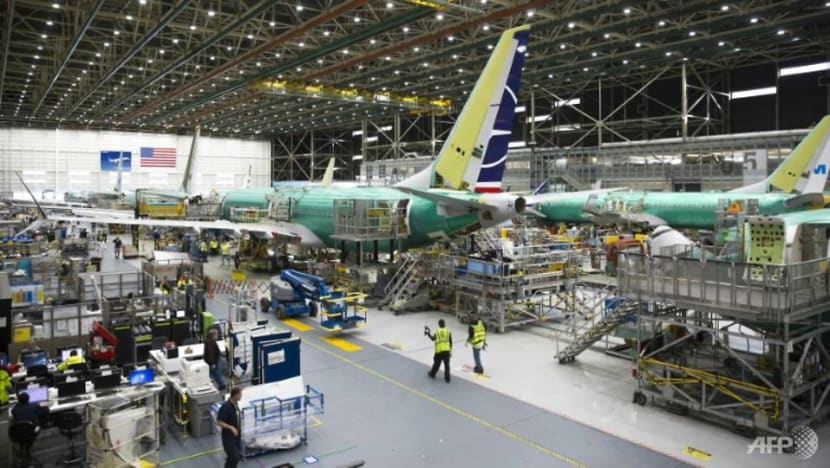 COMPETING WITH BOEING 737 AND AIRBUS 320
The COMAC C919 will compete with the Boeing 737 and Airbus 320 families, with analysts expecting narrow-body aircraft to drive the aviation sector's post-pandemic recovery.
Both Airbus and Boeing have engineered mass volume bestsellers that serve passengers around the world, every second of the day, dividing the global single aisle market almost evenly, with Airbus gaining market share since it introduced the revamped A321neo in 2016.
But entering the mass market will require COMAC to ramp up design and manufacturing capabilities and skills. China Eastern Airlines received its first COMAC C919 in December, but the rest of its orders will take time to be delivered.
This leaves time for Airbus and Boeing to hone their customer relationships, perfectionate their quality and interior designs, as well as strengthen their order book through sweet long-term deals.
COMAC can anticipate strong domestic demand in China, but it will have to offer extreme benefits to future global customers to beat Airbus and Boeing's highly aggressive marketing and sales armada. It will need to create a more contemporary and appealing interior design when competing with the likes of Airbus' Airspace.
GLOBAL SUPPLY CHAIN AND SERVICE ECOSYSTEM
COMAC will also need a highly efficient global supply chain and service ecosystem. This is a real challenge as COMAC relies heavily on foreign intellectual property, components and suppliers.
For example, it uses the LEAP engines by CMF International - a joint venture between American GE Aviation and French Safran Aircraft Engines. With the duopoly largely controlling the aero supply chain, they have been careful in securing intellectual property and access to key technologies and skills for over 100 years.
Unlike other industries, aviation is not an easy start-up playground as it requires highly industrial manufacturing at a complex scale. COMAC will have to find ways to convince partners to prioritise them over Airbus and Boeing, which will come at a high cost and loss of some control - neither will be to COMAC's liking.
Another challenge is to establish a highly reliable and agile service network. Airbus and Boeing have created a network of hubs and engineering companies for maintenance, repair, overhaul and training across the globe. Many of these are joint ventures with their key customers or key suppliers, like the Singapore Aero Engine Services Pte Ltd (SAESL) set up by Rolls-Royce and SIA Engineering Company for the repair and overhaul of their Trent engines.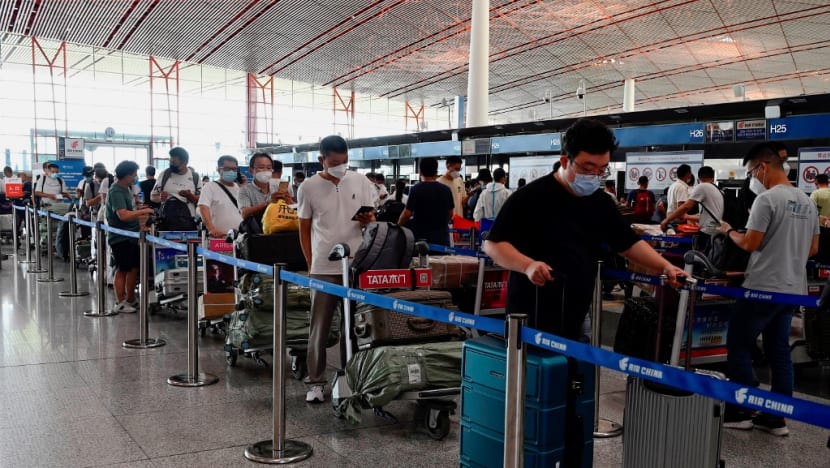 These integrated ecosystems have been the backbone of the global fleet of over 12,000 aircraft. It will be a high entry barrier for COMAC to enter these solid industrial partnerships with their own footprint.
SHAKING UP INCUMBENTS' BEHAVIOUR
And then there are the potential customers. Airbus and Boeing have been able to live the advantages of their duopoly to the fullest, enjoying a 10-year order backlog until 2019. The companies may not have focused on understanding customer needs as much as airlines and lessors wanted to – but this could change.
COMAC has the unique opportunity to shake up any complacent behaviour if it can understand customers' existing and future pain points: Design, pricing, hyperconnectivity, customisation and seamless service are on the "improve" list of customers who could always be more satisfied.
Airbus and Boeing have increased close collaboration in recent years with airports and end-to-end journey consultancy firms, like Surbana Jurong in Singapore. Inspired by such independent thinking, Changi Airport Terminal 5 is planned as a fully integrated passenger experience.
Considering Airbus and Boeing each carried well over 1 billion passengers per year pre-pandemic, it astounded marketeers and consumers alike why they would "neglect" 2 billion captive assets?
The official answer was, mostly, that passengers "belonged" to airlines. Historically, Airbus and Boeing define themselves as manufacturers and service providers of aircraft and were careful not to cross into the territory of their airline and fleet customers.
But passengers don't necessarily like being exclusive assets of airlines - getting less and less in return, like in the diminishing value of frequent flyer miles. As passengers flock back to post-pandemic travel, they may want more economic routes instead of sticking with airline brands or seek out better ways to optimise their journey.
It may be the ultimate opportunity for COMAC to take the lead. If COMAC positions itself differently by connecting directly with passengers, it could become a game changer for the aviation industry.
BRANDING, THE BIGGEST CHALLENGE
But COMAC's biggest challenge of all might be its brand. If Airbus and Boeing have one ultimate advantage, it is their instantly recognisable names, 50 and 100 years in the making respectively.
COMAC has no brand image outside of China and it will take decades to establish positive brand recognition and loyalty. If it strategically chooses to compete on price, it will immediately be associated as cheap, hardly a desirable trait in aviation.
If it aims for a premium feel through design, safety, service, customisation and innovation, it will come with heavy investments and costs.
If COMAC wants to seriously challenge the duopoly, it will have to behave like a customer-obsessed hyperconnected marketing engine, who happens to sell planes and many connected services. Think COMAC superapp, not back-end supplier.
It will be interesting how the International Air Transport Association (IATA), airlines, airports, passengers and, last but not least, Airbus and Boeing, will respond to this. In the meantime, COMAC C919 will undoubtedly find a large home market, but this will be insufficient for it to become a globally recognised aviation leader unless it does something the industry has never seen before.
Markus L Keiper is Adjunct Associate Professor of Marketing at the National University of Singapore (NUS) Business School. The opinions expressed are those of the writer and do not represent the views and opinions of NUS.