Snap Insight: Anwar visit a post-COVID reset for Singapore-Malaysia ties
Malaysia Prime Minister Anwar Ibrahim's visit to Singapore harks back to face-to-face diplomacy in the pre-pandemic era, says James Chin.
KUALA LUMPUR: Anwar Ibrahim, Malaysia's 10th Prime Minister, made his first official visit to Singapore on Monday (Jan 30). Like other Malaysian leaders, he has been to Singapore many times in other official capacities.
One can look at the visit as simply part of the "ASEAN way", in which newly elected leaders often visit other ASEAN countries early on before going outside the region.
But this is probably not how you should see the visit. Malaysia and Singapore are not like other countries in ASEAN - not only are they neighbours, but they were a single country under the Federation of Malaysia until Singapore left peacefully in 1965.
One should not underestimate the importance of contemporary history in framing the bilateral relationship. In 2018, Mr Anwar, then de facto leader of the ruling Pakatan Harapan coalition, said Singapore would be one of the first countries he visited when he became prime minister, emphasising the need for both countries to have strong bonds.
Now that the day has arrived, both leaders acknowledged the importance of their countries' partnership. Singapore Prime Minister Lee Hsien Loong expressed confidence that "Singapore-Malaysia relations can reach greater heights", while Mr Anwar said Singapore and Malaysia are "two great neighbours that could do so much more for the benefit of the people".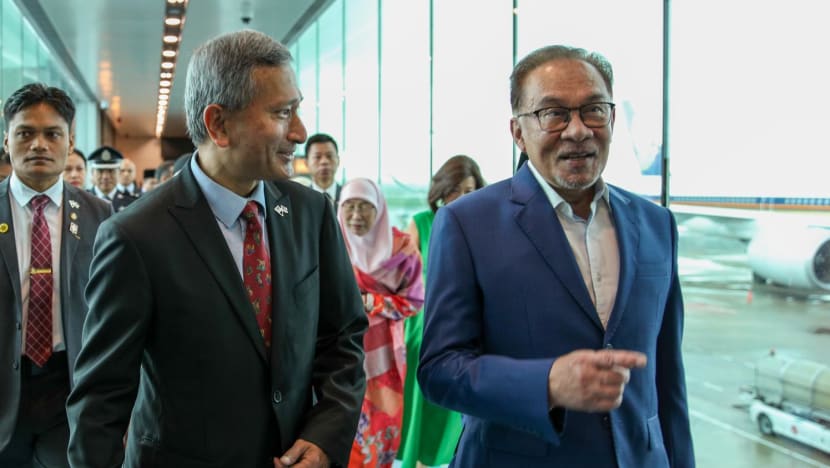 Both sides' position are fairly clear to all; they want a practical, "win-win" relationship, especially when it comes to Singapore-Johor relations. Mr Lee noted that travel between Singapore and Malaysia "will be even easier" once the Rail Transit System (RTS) Link between Johor Bahru and Singapore is completed in 2026.
While there may be tensions arising from different views over how the world should operate, by and large, both countries share more similarities than differences.
RESUMING FACE-TO-FACE DIPLOMACY
The visit comes in the context of leadership transition in Singapore, Mr Anwar's long-awaited appointment as Prime Minister and his moves to reset Malaysian politics.
It will allow both countries to resume the face-to-face Singapore-Malaysia Leaders' Retreat, probably the most important platform where leaders from both sides spend an extended amount of time getting to know each other and speaking in depth. The last one was held before the COVID-19 pandemic, in April 2019.
While both leaders witnessed the signing of agreements in digital economy and green economy cooperation, the real work is the conversation on how to move forward on unresolved issues left by previous Malaysian administrations, such as easier movement of people at the two bridges linking Singapore and Johor and more direct flights between East Malaysia and Singapore.
Since 2018, Malaysia has had four different prime ministers and administrations. It goes without saying that issues cannot be resolved if the ministers change before a solution can be agreed on.
The inclusion of the Sarawak Premier in the Jan 30 Malaysian delegation signals strengthening economic ties between Singapore and the Borneo states. There were several major investments by Singapore entities in Sarawak the past year, and Sarawak is looking towards Singapore for new technologies and capital in the digital arena.
Prime Minister Anwar's visit is mostly a symbolic one and an opportunity for leaders from both sides to connect in person. This visit harks back to the relationship in the pre-pandemic era.
James Chin is Professor of Asian Studies at the University of Tasmania and Senior Fellow at the Jeffrey Cheah Institute on Southeast Asia.
LISTEN - Money Mind: 5 things you need to know about Malaysia's post-election economic agenda