'Way over budget': Why some young adults have given up on renting as prices rise
Rental prices of HDB flats and private residential units have increased by more than 25 per cent in the last year.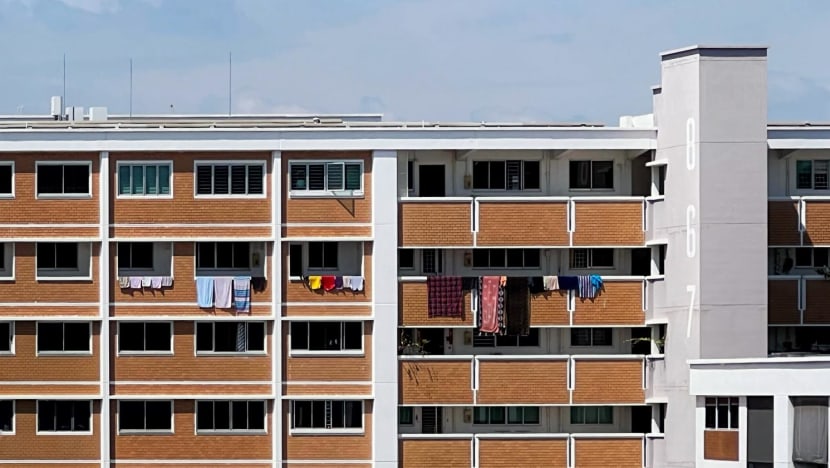 SINGAPORE: With rents soaring, some young tenants in Singapore have been forced to make a choice – keep their independence and pay higher prices, or move back to their parents' home.
During the COVID-19 pandemic, some young adults moved out of their family homes and rented places of their own.
According to the Department of Statistics, the number of Singaporeans and permanent citizens under 35 years old who lived alone jumped from 15,900 in 2019 to 25,000 in 2020 – the first year of the pandemic. 
Rents have increased quickly in the last year. The cost of renting a private residential property rose nearly 30 per cent in 2022, data from the Urban Redevelopment Authority showed.
Rental prices of Housing Board (HDB) flats increased by 26.8 per cent year-on-year in March, a flash report from 99.co and SRX showed.
Mr Yeon Jun Lin, 30, was one of those who moved back to their parents' home.
He lived with his mother and two siblings. During the pandemic, trying to work from the living room of a crowded home was frustrating, he said.
"Working from home just gave the illusion that I'm always there and I'm always available to be disrupted, but my workload was (asking) a lot out of me," said Mr Yeon, who works as a consultant.
He moved out of his mother's home and rented his own place. Last year, his landlord increased the rent and wanted him and his housemate to rent the entire flat, instead of two bedrooms.
If he had signed the new lease, he would have paid about 30 to 40 per cent more.
Moving out of his family home might have been an emotional decision, but moving back was "more of a logical decision".
"It's the move that makes the most sense," said Mr Yeon, who moved back in October last year.
A young woman who wanted to be known only as Ms A told CNA that her landlord doubled her rent after a year.
Like many other young adults, she moved out of her family home during the pandemic and was paying S$700 (US$524) for a room in a three-room flat. Her housemates who stayed in the master bedroom paid S$1,500, adding up to S$2,200 in all.
The landlord asked for S$4,200 for the flat, and she would have to pay S$1,400 for the room.
"When the rent doubled I knew it didn't make financial sense to continue with the lease, it was way over budget," she said.
It has become an affordability issue, said Mr Alan Cheong, head of research and consultancy at Savills Singapore.
"Singles who moved out of their parents' places when the lockdown ended on Jun 1, 2020, are moving out of the rented places because it is now time to renew rents and landlords are upping their asking rates by 100 per cent," he said.
Mr Cheong said many people who lived in multi-generation homes and shared rooms with siblings moved out during the pandemic because they needed privacy for work.
Young singles prefer to rent an entire unit with others who have similar living habits, and this can be cheaper than staying in a co-living space. 
"However, rising rents have put pressure on their wallets and they now may have to move back to live with their parents," he said.
Ms Christine Sun, senior vice president of research and analytics at OrangeTee & Tie, said there are a few reasons behind locals moving back to stay with their parents.
"Many cited the increase in rental rates, with some having to pay almost double if they renew or sign new contracts," she said, adding that some people have started travelling overseas frequently for work and no longer need to lease a place.
"We have heard from some agents that there are more local singles moving back to stay with their families. However, the numbers are not huge," she said.
OTHER CONSIDERATIONS
Besides rent, people who moved back home also had other practical reasons for doing so.
The removal of COVID-19 restrictions played a part in Mr Yeon's decision.
He started returning to the office more often. The commute to his office at City Hall from Eunos, where his family lives, is shorter than from Tampines, where he was renting.
The room he shares with his brother was also reconfigured to make space for a workstation, which was a pull factor for him to move back.
"The last reason would be that my family, they all have their own work (and activities) outside now, so the house is a lot quieter than during the COVID-19 (pandemic)," he added.
Ms A initially moved out due to conflict with her family, but their relationship had improved "quite drastically" by the end of her lease.
"I was quite happy to move back home, especially with the increase in rent prices," she said.
INDEPENDENT LIVING
However, not all young Singaporeans are willing to give up the freedom of living independently.
Digital marketing specialist Alicia Kho, 29, pays S$1,100 a month for a room in a Kembangan flat. She used to pay S$600 a month when she rented a room with her former partner, but the increase in expenses has not discouraged her from renting.
Having a space to call her own was the biggest factor that pushed her toward renting when she first moved out in 2020.
"After moving out, that's when I really changed a lot, grew into myself as a person," she said.
Ms Kho said she became better at managing her finances and discovered new things about herself.
"I realised that I really enjoy hosting people ... it's one of my favourite pastimes that I realised only after I moved out," she added. "I can confidently say that it's one of the best decisions I've made in my life."
Co-living spaces told CNA that young adults in Singapore are continuing to stay despite rents rising.
Mr Tan Shi Wei, head of sales and marketing at co-living space Cove, said many of their tenants work from home, and the units that they rent allow for such work and living arrangements.
Demand has cooled since the pandemic, but remains strong as people may not want to give up independent living and the freedom that comes with it, he said.
Co-living space Coliwoo still frequently receives inquiries from young locals, said Mr Kelvin Lim, executive chairman of LHN Limited, the parent company of Coliwoo.
He added that this demographic has seen the benefits of co-living and had a taste of independence.
"This potential for independence is not one that they will compromise on," he said.
Last week, new cooling measures came into effect - the third round of such measures since December 2021. The additional buyer's stamp duty (ABSD) was increased for some buyers.
Minister for National Development Desmond Lee told reporters last Thursday that he did not expect the rental market to be affected by the increase in ABSD as housing projects are being completed.
"With these completions that are already on track, we anticipate a significant number of locals moving out of the rental market and back into their homes," he said.
"In addition, a proportion of that supply, particularly the private residential market ... will provide new supply, fresh supply to the rental market."
He said rental prices are likely to moderate later this year.
"We keep a very close eye on this because the rental market does impact Singaporeans, does impact people who work in Singapore companies, and we'll take such measures as necessary," he added.
You may also be interested in: