CNA Explains: When a lucrative job offer turns into a con - how do you avoid falling for such scams?
Job scams were the most common type of scam in Singapore in the first half of 2022, with 3,573 cases reported and S$58.5 million lost.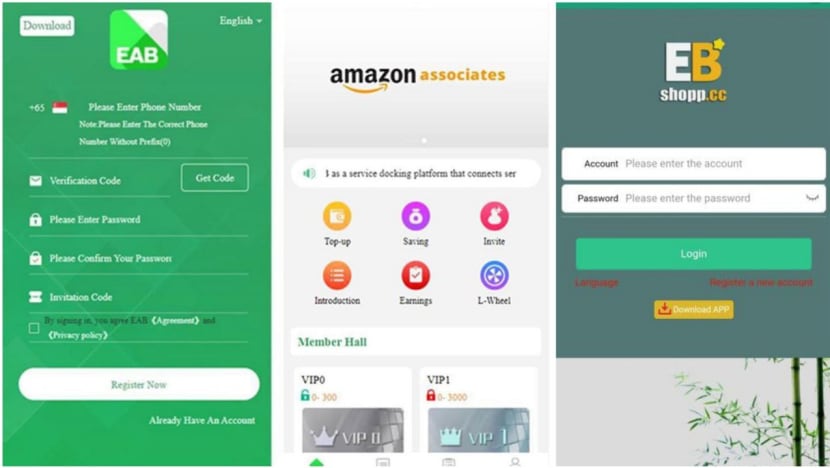 SINGAPORE: That online advertisement promising a handsome salary for easy work overseas? If it is too good to be true, it probably is.
Sixteen Malaysians found out the hard way, duped by lucrative job offers on Facebook as customer service officers in Cambodia. The victims were whisked illegally into the country, stripped of their travel documents and forced to scam others without getting paid a single cent.
The victims, aged between 19 and 43, were rescued in April with the help of local and international authorities. One Malaysian who fell for this job scam told CNA that he was at the mercy of four syndicates for a month before being saved.
He worked late into the night, getting beaten and tasered if he could not scam at least one person each week. Those who wanted to be released had to pay RM50,000.
These human trafficking victims experienced a "living hell", one United Nations official said, often resulting in torture and even death. Victims come from places like China, Hong Kong, Thailand and Vietnam. Some remain trapped in countries like Cambodia and Myanmar.
While the job scams in Singapore typically do not involve physical violence, they are hardly benign.
This type of scam was the most common in the first half of 2022, with 3,573 cases reported and S$58.5 million lost. It was also the most common scam in the whole of 2021, with 4,554 cases reported compared to just 132 cases in 2020.
In May, police warned about unsolicited spoofed messages offering job opportunities purportedly sent by Lazada. There have been at least 50 victims since May, with losses amounting to more than S$430,000.
Here is how you can guard against job scams:
What are some common types of job scams?
In most of these cases, victims came across online advertisements or received unsolicited Telegram or WhatsApp messages from unknown numbers, offering part-time jobs with high salaries that could be done from home.
One common variant requires the victim to make advance purchases to help e-commerce merchants and get a commission in the process. The scammers would ask victims to provide a screenshot of the item in their shopping cart, then instruct them to make payment for the item to a specific bank account.
Scammers would initially refund the victims the cost of the item and the commission, but would later claim to have encountered issues with the refund and stop paying the victims.
In other variants, victims who contact the number provided in the job advertisement would be instructed to complete tasks online, such as liking social media posts, or reviewing hotels and restaurants on a website, for a commission. 
And in a Ponzi-like variant, victims would be asked to buy expensive memberships before taking part in lucrative job tasks. They would often do so until the soaring membership costs forced them to stop.
Many realised they had been scammed when they were told they could only get their money back after finishing all the tasks, police said.
Where are these scammers located?
In October last year, two job scam syndicates based in Johor and Kuala Lumpur were busted in a joint operation by the Singapore Police Force and the Royal Malaysia Police.
Authorities raided an apartment in Johor and another in Kuala Lumpur, and arrested 10 Malaysians aged between 21 and 32.
Preliminary investigations revealed that the group had targeted Singaporean and Malaysian victims and laundered their criminal proceeds in Malaysia. The syndicate is believed to have targeted more than 390 victims reported in Singapore and cheated them of S$5 million.
How to avoid getting duped?
The police have urged job seekers to be wary of online advertisements that promise the convenience of working from home and being paid a high salary for "relatively simple" job responsibilities. 
Legitimate businesses will not require job seekers to make upfront payments to secure job offers and earn commissions or utilise their own bank accounts to receive money on the businesses' behalf, the police said.
"These acts are common ruses used by scammers to lure individuals into participating in their schemes or scams," it added.
If you receive an unsolicited job offer, always verify the authenticity of the offer with the hiring company through their official channels, according to scamalert.sg. You can check the information against the "recruitment" section on the corporate website or by emailing the HR department.
The anti-scam website also urged the public not to respond to dubious job offers or download unverified apps from unknown sources to apply for a job.
Why do some still fall for it?
Beyond initially getting paid for the work, victims are often added to a WhatsApp group with members who are purportedly doing the same job.
These people would chat about their daily lives, share screenshots of the attractive sums of money they got, and actively deny that the job was a scam. These create an air of legitimacy for the victim.
When approached individually about whether it was a scam, the people would go to extra lengths to convince otherwise, telling the victim that they were "crazy" and that nobody had doubted the legitimacy of the job before, a CNA investigation in January revealed.
The front company in the scam would also have a legitimate and professional-looking website, complete with details like a phone number.
Can you get your money back?
Like in every type of scam, time is of the essence when it comes to tracing and recovering money lost.
The money will typically be routed through multiple accounts to evade detection, and if it leaves Singapore, it will become even more challenging to get back.
The police can freeze bank accounts and have successfully recovered money that was transferred overseas. But this is not a guarantee, especially as some jurisdictions could require victims to go through complicated and expensive legal processes.
The police have also consistently reminded people to reject requests to use their personal bank accounts to receive and transfer money for others, or risk getting implicated in money laundering activities.