Singapore farms see damaged crops, depleted livestock yields from recent hotter weather
Some farms said their production has gone down as much as 20 per cent.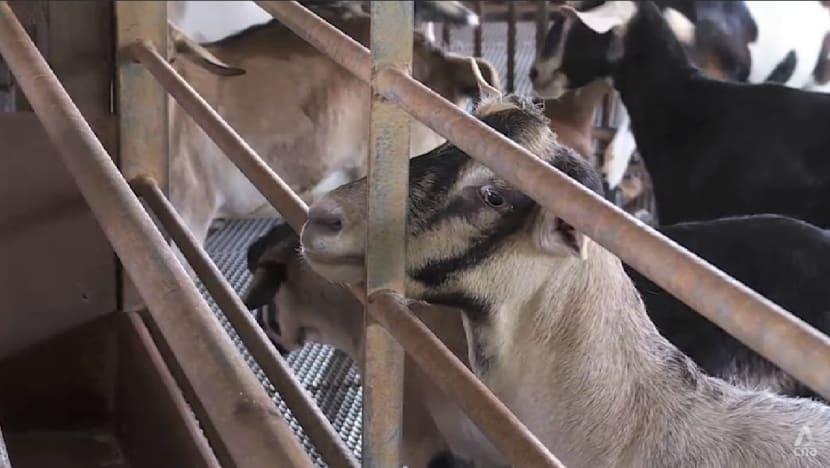 SINGAPORE: Singapore's farms are feeling the heat, as recent higher temperatures have damaged some crops and depleted livestock yields.
 
Experts told CNA that erratic weather patterns could continue due to climate change, affecting food security and inflating prices. 
Singapore has been under a warm spell. 
The temperature hit 37 degrees Celsius in Ang Mo Kio on May 13, equalling a 40-year record for the highest daily maximum temperature here. Temperatures in several locations across the country also exceeded 36 degrees Celsius.
 
The National Environment Agency (NEA) had previously said April and May, which are inter-monsoon months, are usually warmer because of strong solar heating, light and variable wind conditions.
DELAYED HARVESTS, SHRINKING PRODUCE
Some farms said their production has gone down as much as 20 per cent.
 
Goat farm Hay Dairies, for instance, is looking at a 15 per cent drop in milk yield. It is managing the slide by helping its goats stay cool.
 
"The goats will drink more water, we will add a bit more minerals into their water supply," said Hay Dairies owner Leon Hay. 
 
"These minerals will help to regulate the body temperature. At the same time, they will also let the goats be mentally more calm so that the heat will not get to them."
 
He added that the farm has ventilation fans that will be turned on for a longer period of time. 
 
However, this also means that utility bills have gone up by around S$600.
Meanwhile, chicken and vegetable farmer Benjamin Ang said the warmer weather is affecting his birds. 
 
"The breed that I'm growing is supposed to reach up to 4kg to 5kg, but we only hit about 3kg to 3.5kg here," said Mr Ang, founder of Natsuki's Garden. 
 
"I'm starting to realise that part of the reason is that they spend a lot of the energy that they get from their food, instead of putting it to growth, they put it to regulating their body temperature."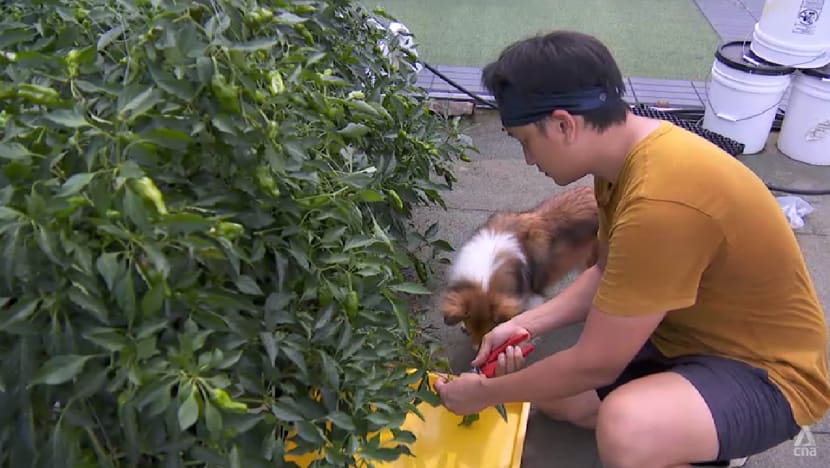 He added that the warm conditions, unfortunately, allow pests, such as spider mites, broad mites and aphids, to breed. These pests attack crops, stunt their growth for weeks and delay harvest. 
 
"There are certain pests which are more prevalent in hot temperatures," said Mr Ang. 
 
"It's also difficult because if we ever need to treat the plant, even if we're just spraying water to try and dislodge the pest, the water and heat don't go well together. Then you start to run into issues with high humidity and warm temperatures and you get fungal diseases, bacterial diseases."
ROOT OF THE PROBLEM IS CLIMATE CHANGE
Dr Vinod Thomas, distinguished fellow at the Asian Institute of Management, believes the heat will slow Singapore's 30 by 30 goal, which aims to produce up to 30 per cent of Singapore's nutritional needs locally by 2030. 
 
"That goal, definitely, is being hurt or affected seriously by the more rapid climb of climate change than even scientists had imagined a few years ago," he said. 
 
Dr Thomas noted that farmers globally face the same situation. Several countries in Southeast Asia, for example, have already seen higher food prices because of shrinking produce.
 
The root of the problem is still climate change and more must be done to combat it, he stressed.