Safety measures in place for SAF, Home Team personnel amid hot weather in Singapore
Reviews are regularly conducted to ensure uniform designs and materials remain effective in minimising heat intake, says the Ministry of Home Affairs.
SINGAPORE: While measures are already in place for uniformed personnel to ensure their safety, the Singapore Armed Forces (SAF) and the Home Team are prepared to make adjustments to training and operation processes amid the sustained pattern of hot weather.
Singapore faced hot weather in the first half of May, with temperatures rising to 37 degrees Celsius last Saturday (May 13) - equalling a 40-year record for the highest daily maximum temperature, according to the National Environment Agency (NEA).
Although more rain and slightly lower temperatures can be expected in the second half of May, the Ministry of Defence (MINDEF) said on Thursday SAF recognises that rising ambient temperatures may need additional measures to mitigate the risks of heat injuries when soldiers train and conduct operations.
"Special attention is paid to the incidence of heat injury across the SAF, with daily reporting required for all units," MINDEF added.
SAF already has several safety measures in place to protect against heat injuries, including hydration regimes and the ingestion of ice mixtures. 
All soldiers enlisted into Basic Military Training or when they enter specialised courses and conduct operations undergo heat acclimatisation.
Commanders are also given leeway to modify attire and load for strenuous activities and adjust the training schedule to further mitigate the risk of heat injuries. 
Both MINDEF and the Singapore Civil Defence Force (SCDF) added they will continue to monitor the daily temperatures and adjust measures as necessary to keep training safe. 
MORE WATER BREAKS
Like the SAF, several Home Team departments under the Ministry of Home Affairs (MHA) have measures in place to protect their personnel from the heat.
The Singapore Prison Service (SPS), the Home Team Academy (HTA), the Singapore Police Force (SPF) and SCDF also ensure their officers remain hydrated by making sure they drink sufficient water. 
Before serving on the frontlines, SCDF officers undergo heat acclimatisation training as part of their training at the Civil Defence Academy (CDA).
"Sufficient water breaks and rest time are incorporated into the training to ensure that our trainees are adequately hydrated and rested," said SCDF.
Amid the sweltering heat, CDA has stepped up the frequency of water breaks during training, while trainers and trainees have been reminded to watch out for signs of heat injury. 
While conducting operations, firefighters are also rotated to ensure adequate rest and hydration.
HTA added that its trainees, including those from SPF, SPS and the Immigration & Checkpoints Authority, are given more rest time during training in the event of high temperatures so that they can be hydrated "in a timely manner".
"Given the recent warm temperatures, inmates have been reminded to keep hydrated. This is especially so when they are engaged in physical exercises during their recreation time," said SPS. 
SPS added its staff have been told to hydrate regularly during their shifts.
IMPROVED UNIFORMS
SAF has acknowledged the need to adopt a science-based approach to improve heat resilience, with global temperatures set to rise further.
In January, SAF, alongside the National University of Singapore and DSO National Laboratories, established the Heat Resilience and Performance Centre to "address the long-term challenges of maintaining human performance amid rising global temperatures". 
"Cooler hybrid uniforms were introduced in 2018 and the redesign of the Load Bearing System undertaken in 2020. New insights from research will seek to improve on these measures further," noted MINDEF.
SCDF has also progressively equipped firefighters with new firefighting personal protective equipment (PPE), which include several enhancements such as breathable fabrics, and a lightweight and stretchable outer shell. 
The new suit provides better protection from extreme heat and environmental conditions. 
The SPF introduced new operational uniforms in 2018, made with fabric that allows for faster drying and more efficient moisture absorption.
"This results in more efficient heat dissipation from the body, enabling frontline officers to cope better with the heat and humidity when operating outdoors," said the police. 
MHA added that Home Team departments carry out regular reviews of their uniform design and material to ensure that they are effective in minimising heat intake and dissipating heat. 
Research is also being conducted on technological tools that may help the Home Team in heat management. 
SPS said the uniforms that their officers wear are made of "cool and breathable material", which helps in heat mitigation.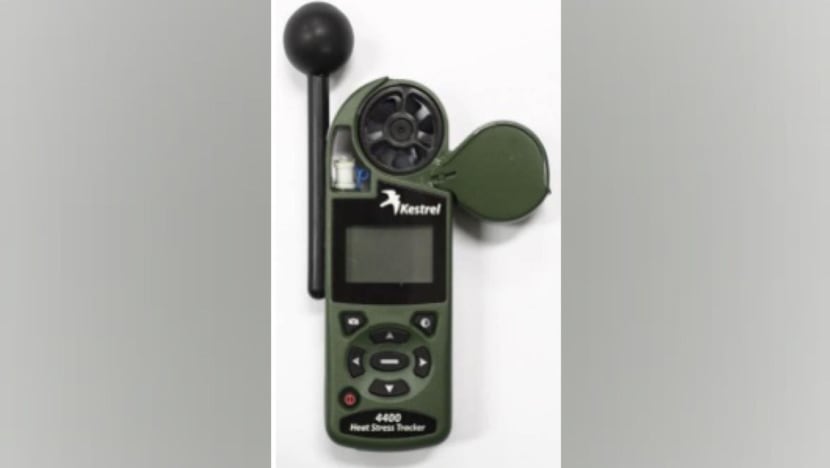 WORK-REST CYCLE
Guidelines such as the work-rest cycle (WRC) have been implemented by both SAF and the Home Team, in which training is avoided during the hottest part of the day.
The cycle is based on the Wet Bulb Globe Temperature (WBGT), a composite temperature used to "estimate the effect of ambient temperature, solar radiation, wind speed and humidity on the human body to estimate the effects of heat on exercise performance".
Accurate WGBT readings allow for appropriate action to be taken to prevent heat-related illnesses such as heat cramps, heat exhaustion and heat stroke.
The WBGT Heat Stress Monitor was implemented as an added monitoring tool by the SAF in 2014. In 2019, a live WGBT panel was launched and placed at HTA's running track to allow trainers to assess environmental conditions. 
"For example, based on the WGBT, when there is a reading of between 32 degrees Celsius and 32.9 degrees Celsius, Home Team officers must rest for at least 30 minutes after 30 minutes of strenuous activity," said MHA.
"For WGBT of 33 degrees Celsius and above, Home Team officers must adopt a WRC of 30 minutes' rest for every 15 minutes of strenuous activity."