Five on Friday: 5 vintage finds that sold for fortunes
In CNA's regular look at what hit the headlines during the week, Five on Friday unearths rare treasures that were hidden in plain sight.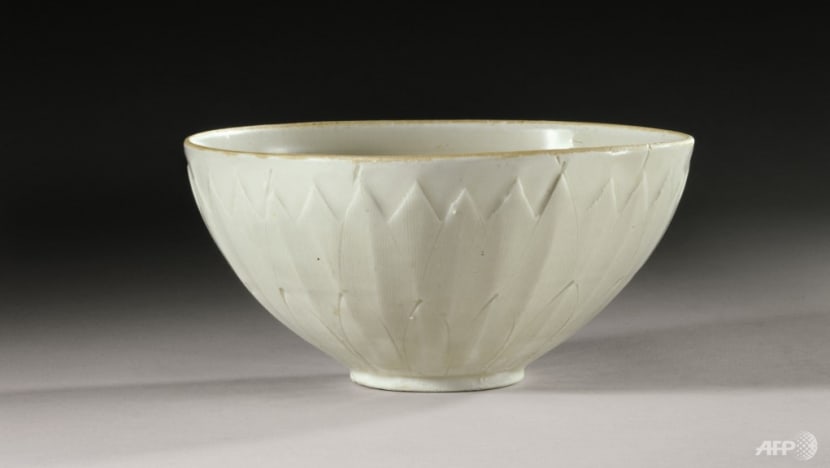 SINGAPORE: Last week, a seemingly ordinary Chinese vase sold for an astronomical sum of money at an auction near Paris.
Valued at a respectable €2,000 (US$1,966), it sparked a bidding war among about 30 people at the auction in Fontainebleau on Oct 1, and eventually sold for €7.7 million – or €9.12 million including fees.
The hammer price shocked the auction house as they believed it was an ordinary porcelain-and-enamel piece dating to the 20th century.
The vase's seller had never even seen it, according to reports, and had simply arranged for the vase to be sold from her late mother's estate.
Bidders, however, were convinced that it was a rare 18th-century artefact.
The sale got people talking about the unknown treasures that might be waiting to be discovered in their own storerooms.
But their wishful thinking is not entirely unfounded – old trinkets and unappreciated antiques regularly turn into life-changing windfalls.
Here are five other times people have struck gold.
US$3 garage sale bowl sold for more than US$2 million
In 2007, someone got the bargain of a lifetime at a yard sale in upstate New York.
Imagine picking up an elegant but otherwise apparently unremarkable white ceramic bowl for the princely sum of US$3.
A fair price for an object with a diameter of just 12.7cm, don't you think?
It was later revealed to be a Northern Song dynasty Ding ware bowl, as Forbes and other media outlets reported in 2013.
The piece was, in fact, about 1,000 years old, and one of only two such bowls known to exist.
Auction house Sotheby's estimated that it would sell for up to US$300,000, but it was eventually purchased by a London dealer for US$2.23 million after a four-cornered bidding war.
Time to relook at your dinner bowls? 
US$33 million Faberge egg that belonged to a Russian Tsar
Most people wouldn't think of splashing US$13,000 on an antique at a flea market, but one scrap metal dealer from the American Midwest had the good sense to do just that in 2004.
Thinking he could make a quick buck for the gold used to craft a bejewelled egg he found at a jumble sale, the dealer took his chances, but initially failed to find a buyer, Barnebys Magazine recalled in 2022.
Presumably tired of having the white elephant sit in his kitchen after eight years, the dealer decided to find out more about the egg in 2012.
The name inscribed on a timepiece within the egg, Vacheron Constantin, led him on a trip to London where he realised that he owned a long-lost Faberge egg that once belonged to Russia's imperial family.
It had a specific name – the Third Imperial Egg – and had been a gift from Tsar Alexander III to his wife, Maria Fyodorovna, for Easter in 1887.
Its true value? A whopping £20 million (US$33 million).
It was eventually sold to a private collector for an undisclosed amount in 2014, but the public got to see it again in 2021 and 2022, when it went on display at the Victoria and Albert Museum in London.
Six Imperial Faberge eggs remain unaccounted for, Barnebys reported, so keep your eyes peeled.
Or start raiding your grandmother's house.
Caravaggio painting in an attic valued at almost US$170 million
In 2014, the owners of a house in Toulouse, France, were checking on a leak in their attic when they discovered an old painting.
What they'd found was a lost work that would be attributed to the Italian master Michelangelo Merisi da Caravaggio and assessed to have a value of as much as €150 million (US$170 million).
While there was debate among experts about whether it was indeed by Caravaggio, the Guardian reported in 2019, the majority were certain that it was a version of a work entitled Judith Beheading Holofernes.
It dated back to about 1607, and the family who found it believed that it could have been brought to France by an ancestor who served in Napoleon's army.
The French initially put an export ban on the painting, but it was ultimately sold to a mystery foreign buyer in a private sale for an undisclosed sum in June 2019.
The buyer would be identified shortly after by the New York Times as American hedge fund manager J Tomilson Hill.
US$1.46 million violin that was played on the Titanic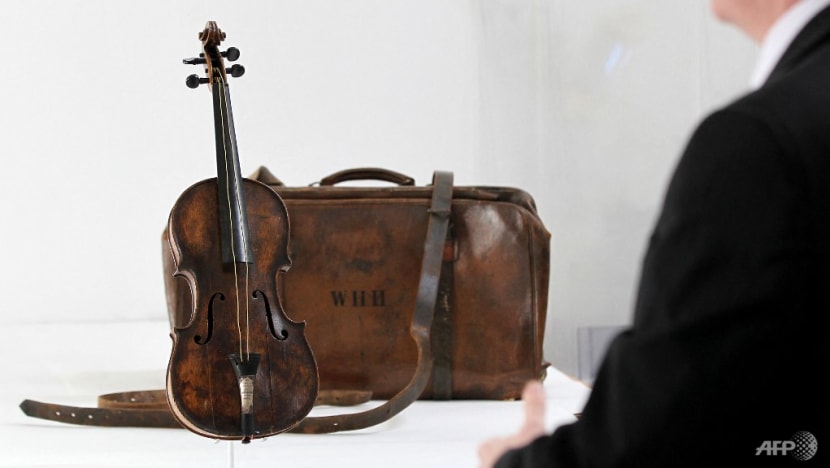 Anyone familiar with the history – and myths – of the Titanic would have pictured its band continuing to play as the ship went down.
Amazingly, a violin from the ill-fated vessel actually survived. As the story goes, it was found strapped to its owner, bandleader Wallace Hartley, 10 days after the sinking in April 1912.
A silver plate with the words "For WALLACE on the occasion of our ENGAGEMENT from MARIA" is engraved on the violin.
Given to Hartley's fiancee Maria Robinson, the instrument was donated to the Salvation Army upon her death in 1939, according to a 2013 Reuters report.
It eventually ended up in an attic in northern England, where it was found in 2006, the Washington Post reported.
There were doubts about whether the violin could have survived the sinking, but, as the Post reported, the auction house tasked with selling it spent seven years and a significant amount of money to authenticate it.
Ultimately, they determined that it was the real deal based on evidence like corrosion and water stains, and the results of a hospital CT scan.
Assigned a guide price of £300,000 at auction in October 2013, it sold for £900,000 (US$1.46 million) – the highest price ever paid for a Titanic artefact.
Two forgotten Straits Settlement banknotes worth A$232,000
Back in the 1990s, a solicitor in Melbourne discovered that a recently deceased client of his owned two $1,000 banknotes from the Straits Settlements.
As it turned out, according to a story in a publication produced for the 2019 Hong Kong Coin Show, just five other such notes were known to exist at that time. And those belonging to Helen Arvanitakis were the oldest among them, dating back to 1919.
Born in Russia in 1915, Arvanitakis must have had an eventful life, leaving her homeland for Australia by way of China and Singapore, where it is believed she obtained the notes.
She later worked as a beautician and died in Melbourne in November 1998 at the age of 83.
The forgotten banknotes eventually sold at a March 1999 auction in Melbourne for a total of A$232,000 (about US$150,000) – more than double the selling price of her home.
Unfortunately, as the coin show publication noted, the backstory of these notes was lost to time, as Arvanitakis had no living relatives.
And as such, the proceeds from the sale of her estate went to charity.
So keep your eyes opened the next time you spring clean your house. You never know what you'll find.