CNA Explains: What's happening in Thai politics and how could it potentially play out?
Thailand's parliament on Jul 19 voted to bar the leader of the Move Forward Party Pita Limjaroenrat from being renominated as prime minister.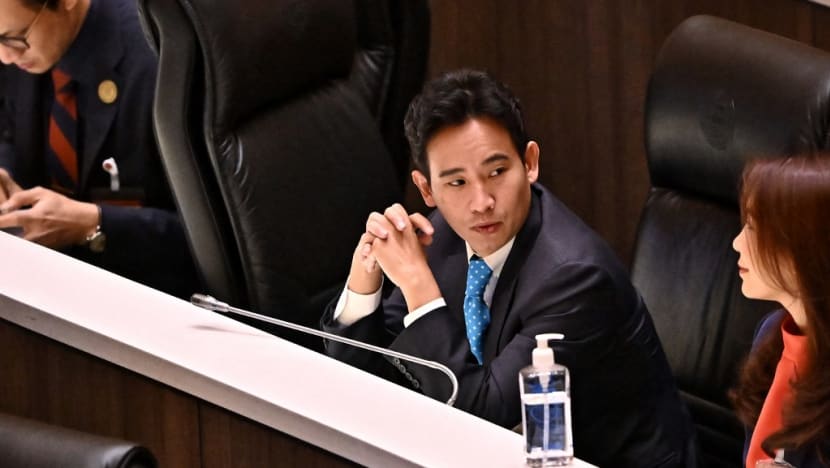 BANGKOK: Two months after the Thai general election in May, electoral winner Move Forward Party was blocked by parliament from forming a government on Wednesday (Jul 19). 
Its leader and sole prime ministerial candidate Pita Limjaroenrat bade farewell to parliament after the Constitutional Court suspended him from duties as a member of parliament (MP) over shares in a defunct media company.
The court order – issued during a parliamentary debate on Mr Pita's bid for the premiership – was followed by a vote that barred him from being renominated as prime minister, dealing a crushing blow to Move Forward.
Mr Pita had failed in his initial bid to be the prime minister on Jul 13. 
Parliament is scheduled to reconvene on Jul 27 to select the 30th prime minister of Thailand.
CNA looks at what could happen next as the Move Forward-led coalition is forced to come up with a new prime ministerial candidate from another party.
WHO CAN FORM THE NEXT GOVERNMENT?
Electoral runner-up Pheu Thai Party is poised to lead the forming of the next government. It is currently part of an eight-party coalition that commands a clear majority in the 500-seat House of Representatives – the Lower House.
The alliance includes Move Forward, Pheu Thai, Prachachat, Thai Liberal Party, Thai Sang Thai, Fair, Plung Sungkom Mai and Pue Thai Rumphlang. Together, they have 312 seats.
However, Pheu Thai needs more support to secure the premiership and form the government.  
The current constitution stipulates that a prospective prime minister must have the approval from more than half of the combined assembly, which includes 249 senators from the Upper House.
This means Pheu Thai needs at least 375 votes when parliament reconvenes next week to select the prime minister – either from both Houses or the Lower House alone.
CAN PHEU THAI FORM THE GOVERNMENT WITH MOVE FORWARD?
Given what happened in the previous prime ministerial selection, Pheu Thai's chance to succeed is slim if Move Forward remains in the coalition.
Mr Pita only managed to secure 324 votes in the initial choosing of the prime minister, while 182 people voted against him and 199 others abstained. Many of them opposed his party's policy to amend the royal defamation law or Section 112 of the Thai Criminal Code.
Pheu Thai leader Chonlanan Srikaew told local media on Thursday morning that his party is waiting for Move Forward to start a discussion on the coalition's next move.
"In principle, if our strength is 100, we need 100 to win the battle, or at least 80-90. With what we have, we'll be defeated if we fight," he said. 
"No matter who you are, if the situation is like this, you have to think hard. You have to be confident about how you can win before going into a battle."
Asked if Move Forward is part of the plan to ensure victory, Mr Chonlanan did not give a clear answer but maintained Pheu Thai is still part of the eight-party coalition at present.
WHO COULD BECOME THE NEXT PRIME MINISTER?
Following the parliamentary vote to block Mr Pita's renomination, there has been speculation that the Pheu Thai Party will nominate property tycoon Srettha Thavisin for the post on Jul 27.
The party has three prime ministerial candidates, including former attorney-general Chaikasem Nitisiri and Paetongtarn Shinawatra. 
The latter is the youngest daughter of former prime minister Thaksin Shinawatra, who was ousted from power in a military coup in 2006 and currently lives in exile in Dubai, United Arab Emirates.
The Shinawatra family has close ties with Pheu Thai – a reincarnation of Mr Thaksin's old political group Thai Rak Thai, which was dissolved in 2007.
According to Ms Paetongtarn, the party plans to nominate Mr Srettha for the prime minister role if it has to form the government.
Another candidate touted as a possible contender is incumbent Deputy Prime Minister Prawit Wongsuwon from the Palang Pracharat Party.
The 77-year-old former army chief was a key member of the military junta that seized power in 2014 from former prime minister Yingluck Shinawatra – the aunt of Ms Paetongtarn. 
The retired general is also believed to have close ties with the senators, all of whom were selected by the military government. His party came fourth in the general election with 40 seats. 
WHAT WILL HAPPEN TO PITA LIMJAROENRAT?
Mr Pita will be suspended from his MP duties until the Constitutional Court rules whether his MP membership should be terminated in relation to 42,000 shares of media firm ITV.
The Thai constitution prohibits individuals from running in an election of Members of the House of Representatives if they are shareholders of any newspaper or mass media business.
Mr Pita had 42,000 ITV shares under his name when he ran in the election on May 14 and clarified he managed them on behalf of his family's inheritance fund.
He later transferred them to other heirs, claiming there were attempts to "revive ITV" into a mass media company in order to use it against him.
ITV has not broadcast since 2007. It lost the right to use the frequency for broadcasting after the Office of the Prime Minister revoked its concession agreement.
Meanwhile, Mr Pita also faces another legal challenge involving his party's policy to amend the royal defamation law.
Last week, the Constitutional Court received a petition asking it to rule whether their proposed changes to the lese majeste law constitute an exercise of the rights or liberties to overthrow the democratic regime of government with the king as Head of State.
DOES PITA STILL HAVE A CHANCE TO BECOME PRIME MINISTER?
Mr Pita can still become Thailand's 30th prime minister even if the Constitutional Court terminates his MP membership. This is because the constitution does not require the prime minister to be an MP.
Moreover, his renomination for the post is still possible despite the Wednesday vote to block it.
Mr Pita failed to win the requisite approval from parliament in his initial bid for the premiership, and his defeat was interpreted as a rejected motion on Wednesday.
According to the regulations for parliamentary sitting, a rejected motion cannot be resubmitted for consideration in the same parliamentary session. 
However, the regulations also specify that resubmission of such a motion is possible if the president of the Parliament views that the situation has changed and allows it.
WILL PROTESTERS RETURN TO THE STREETS?
The parliamentary vote to block Mr Pita's renomination and the Constitutional Court's order to suspend his MP duties have angered many Thais.
A large number of protesters gathered around the Democracy Monument in Bangkok on Wednesday evening to voice their frustration. 
For many Move Forward Party supporters, recent developments showed there are attempts to sabotage the party and maintain the status quo.
On Wednesday, student unions from three major universities issued a joint statement, calling all Thais to "rise and fight through every means possible to uphold democracy".
"This cycle of political turmoil has inflicted deep wounds in the hearts of the people, who have repeatedly exercised their right to vote," the statement said.
"Let this be our message to you; do not dwell in fear, nor should we surrender to the defeatist mentality that makes you believe we cannot change this country! It is time for them to feel the wrath and acknowledge the power of the people," it added.
Thailand was hit by waves of protests after the Constitutional Court dissolved Move Forward's predecessor – the Future Forward Party – in 2020.