Pheu Thai may win most seats in Thailand's May 14 polls, but not necessarily get prime minister spot: Experts
Polls have shown that the two main opposition parties, Pheu Thai and Move Forward, are currently well ahead of any government-related parties, but it remains to be seen how a ruling coalition will be formed after the results.
SINGAPORE: Thailand heads to the polls this Sunday (May 14), as 52 million eligible voters cast their votes in a hotly contested election.
Polls have shown that the two main opposition parties, Pheu Thai and Move Forward, are currently well ahead of any government-related parties, but it remains to be seen how a ruling coalition will be formed after the results.
Pheu Thai has listed its conditions for coalition formation, but could still miss out on the prime minister position even if it wins the most seats.
TOP CONTENDERS
"The betting is pretty strong for Pheu Thai to win the most number of votes on Sunday," Dr Kevin Hewison, Weldon E. Thornton Distinguished Professor of Asian Studies at the University of North Carolina at Chapel Hill, told CNA938 on Friday. 
He noted that due to the Thai political process, the prime minister could actually be someone who was not voted in in the election.
The choice for the top job is made jointly between the 500-seat elected House Of Representatives and the 250-seat appointed Senate.
"But it looks as though all of the candidates who have been named so far are standing in the election," said Dr Hewison.
"With the Senate appointed by the military junta government several years ago still in place, they are likely to control a significant number of votes to select the prime minister."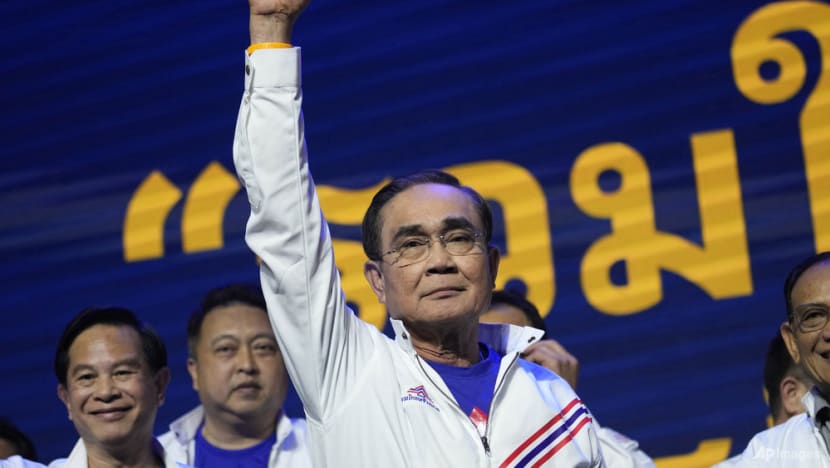 That said, there has been "considerable pressure" for the senators to accept the popular will and go with the elected government's choice of prime minister, noted Dr Hewison.
Dr James Ockey, associate professor at the University of Canterbury, told CNA's Asia First: "Thai elections are quite fascinating in the sense that victory doesn't necessarily depend on who gets the most votes and who gets the most seats."
He noted that since the turn of the millennium, the most number of seats in every election has gone to Pheu Thai or its predecessor parties.
"But on most occasions, it's not been able to form a government because of some kind of interference. It's been dissolved twice to prevent it from governing. The military put together a coalition on another occasion to prevent it from governing," he explained.
CONDITIONS FOR COALITION
Pheu Thai, which is aiming to win enough seats on Sunday to form a government without needing a coalition, has stated its conditions for forming any potential alliances.
It wants its prime ministerial candidate to take the country's top job, and for most of the major ministries to be held by Pheu Thai MPs.
"The third point that they have been talking about is when they put together what looks like being a coalition government, is that there should be no major reform to Article 112 or the lese majeste law, which is incredibly controversial and has been a central discussion point for all parties during this campaign," said Dr Hewison.
He said there is a "broader consensus" that instead of abolishing Article 112, major reforms could come in the way the law is implemented through prosecution and the courts.
"My guess is that if Move Forward does come into coalition with Pheu Thai into government, there is room for negotiation between the two parties for some kind of change to the way the law is implemented," he said.
Dr Ockey said that while polls show that Move Forward seems to be closing the gap on Pheu Thai, such surveys may not necessarily be entirely accurate.
"Polls tend to over survey young people and young people are more likely to vote for a Future Forward (party) than others," he noted. "So the poll numbers may be a bit higher than the actual outcome on the day."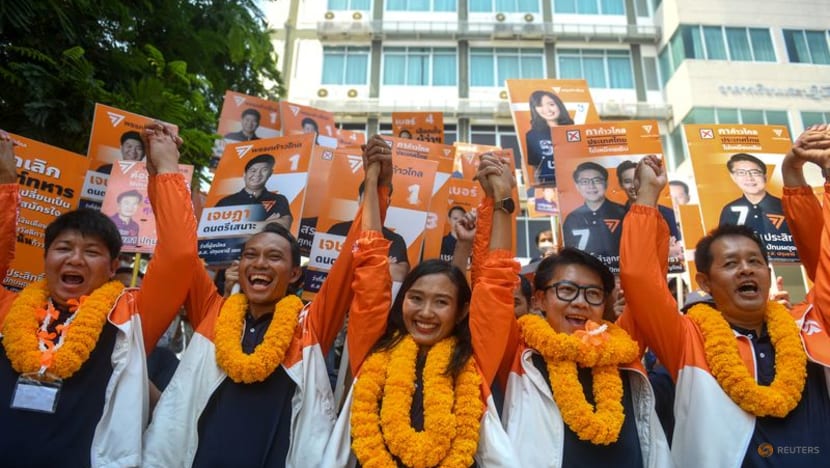 Another concern voters may have is that as Pheu Thai keeps winning elections but never ends up governing, it could be willing to "reach across the aisle and form a coalition government with the generals", he added.
"They have said they won't do that, but it's not clear that everyone quite believes them on that," said Dr Ockey, noting that Move Forward has on multiple occasions come out very strongly against the military and the generals running the government.
Meanwhile, the economy is expected to be an issue "front and centre" in this electoral contest, said senior lecturer Greg Raymond from Coral Bell School of Asia Pacific Affairs at Australian National University.
He told CNA's Asia Now: "It's been clear that the party platforms have been very much focused on policies like cash handouts, populist policies, what they can do for people who have been doing it tough since the pandemic in 2020."
On top of that, there is a strong movement to get the military out of politics, by supporting so-called democratic parties, such as Pheu Thai and Move Forward, and rejecting some of the military proxy parties, he said.