Commentary: Is there a 'male friendship recession' in Singapore?
Media commentary that men's social circles are shrinking has gained prominence. Diving into the realm of male friendships will shed light on how the mental health of men can be improved, says mental health researcher Jonathan Kuek.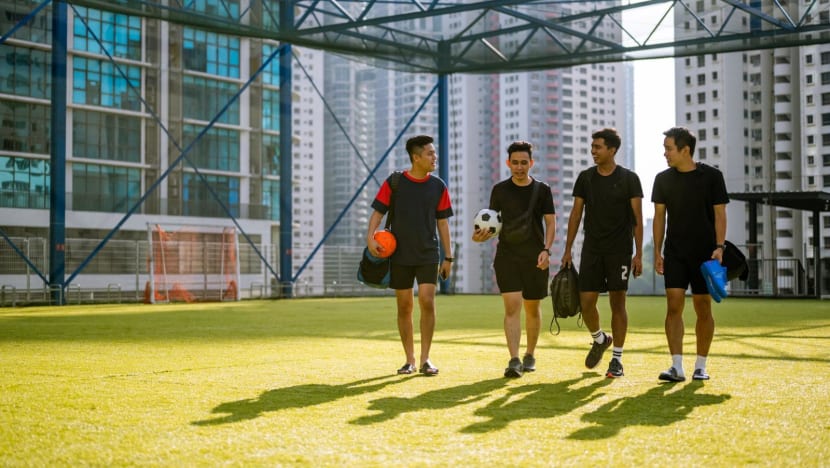 SINGAPORE: With growing concerns over mental health and a recent rise in the number of suicide cases in Singapore, the need for a greater culture of care and help-seeking is more urgent.
Strikingly, the number of men who ended their lives in 2022 was nearly double the number of women who chose to do so. While several factors could potentially account for this statistic, such as certain gendered and societal expectations of men, and the stigma surrounding mental health issues, it paints a troubling picture of the state of men's mental health in Singapore.
As important as formal services and large-scale initiatives for suicide prevention and mental health promotion are, an individual's most immediate support will likely come from the people around them. But media commentary that men's social circles are shrinking has gained prominence in the past few years.
It is pertinent to dive into the realm of male friendships to understand how the mental health of men can be improved.
THE MALE FRIENDSHIP RECESSION
US non-profit Survey Center on American Life has highlighted a "male friendship recession" where men are growing more disconnected from others. In its 2021 survey of 2,000 adults, less than half of male respondents were satisfied with the number of friends they had. Fifteen per cent said they had no close friends at all - an increase from 3 per cent in 1990.
In Singapore, anecdotal evidence from informal groups suggests that local men may also experience similar challenges when it comes to maintaining and forming quality friendships.
One such group is Men's Group Singapore. In an interview with The Soothe, their founder, Christopher Vidal, shared that his "impulse to start this men's circle in 2018 came from his own missing connection with other men". Other than this group, many men-oriented gatherings tend to be for specific communities such as single fathers or men diagnosed with prostate cancer.
Despite social relationships being greatly beneficial and needed for overall health and well-being, research has found gender-specific differences for why and when men and women engage with others.
From an interpersonal perspective, men may be socialised to be less expressive, choosing to shoulder burdens in life silently. They may be less willing to seek help from others, opting instead to face their challenges alone.
For example, when I once conducted a workshop in a secondary school, a group of boys shared how difficult it was to talk to the people around them about their struggles. They felt like they could only share good things that happened because they didn't want to "bring the vibe down".
This resonated greatly with me as I often find myself only choosing to reveal the brighter and more positive sides of my life, while hiding the darker and more troubling issues, believing that I needed to work through them myself as it was just how things are.
A MORE TRANSACTIONAL VIEW OF RELATIONSHIPS
Furthermore, sociological and evolutionary research suggests that men may view relationships more transactionally, placing greater emphasis on the potential tangible benefits they could gain from it, such as career advancements, financial gain and status acquisition.
Personally, I have noticed that most conversations with men in my social circles tend to revolve around more professional topics, while my conversations with women would often be more about a more diverse array of subjects such as new updates in their lives.
Concurrent with the factors discussed above, men's age groups and life phases could also pose significantly varied challenges for their relationships. For example, older men may struggle with losing loved ones, and their physical health and mobility may hinder their ability to socialise with others.
On the other hand, younger men may be swamped with work and other responsibilities while trying to build a life they envision for themselves, or one that is expected of them. Some of my younger male friends share that they feel the need to focus on career first, as they believe it their duty to provide for their future families.
Teenage males, growing up in an ever-changing and connected world, may be faced with an overwhelming number of options on what they could become, yet need to feel a sense of belonging with their peers.
Whenever I go to schools to conduct psychoeducation workshops, boys tend to take the material less seriously while in a group, but are more thoughtful when engaged individually. This demonstrates how their social settings exert a strong effect on their behaviour.
Taken together, these different influences could explain why men sometimes struggle with the quality of their relationships. However, it is important to note that there is also great variation in research concerning social relationships, and individual agency is often difficult to account for.
NO ONE-SIZE-FITS-ALL SOLUTION
At this point, it is tempting to prescribe one-size-fits-all solutions on how we can help men to improve their relationships and consequently, improve their support networks.
However, it is near impossible to predict the needs of any particular individual. The best way to approach anyone would be to first understand their world view before collaboratively working with them to design solutions unique to them.
What this means is that more safe spaces for men to be authentically and unabashedly themselves are necessary. For example, male conversation groups can facilitate discussions on sensitive topics such as concepts of masculinity and sexuality. These places need to be ideologically and politically neutral but allow meaningful conversations around sensitive topics.
Furthermore, given that men tend to form friendships through shared goals, initiatives that aim to help men foster better relationships could be less dialogue-focused and more action-oriented.
Besides broader top-down efforts, individual-level effort from men is also essential for them to foster higher-quality relationships. For example, engaging in activities that do not overtly benefit them - through interest and volunteer groups, for instance - could be a way to meet new people in a more neutral setting.
Furthermore, men need to be kinder and more compassionate with themselves, recognise when they need support and learn how to be more open to seeking it. Doing so requires an intentional effort to let go of whatever holds them back from reaching out.
For me, it was severe burnout that forced me to rethink my capacity for juggling multiple tasks, something I once was proud of. Since then, I let go of this point of pride for me and deliberately reduced the tasks I would take on, so as to never over-extend myself.
Lastly, any approach needs to meet men where they are while allowing them the time and space to move forward at a pace they feel comfortable with. Forcing or pushing people towards a particular destination without adequate consideration of their readiness for change may be detrimental in the long term.
Trying to shift the nature of men's social relationships will not occur quickly. Still, every small step we can take while being mindful of prevailing norms, preferences and perspectives, will be one step closer to a world where men can feel more supported by the people around them.
Dr Jonathan Kuek is a mental health researcher and co-founder of Total Wellness Initiative Singapore, a prevention-oriented health and wellness social enterprise that aims to encourage people to be more proactive with their well-being.
Where to get help:
Samaritans of Singapore Hotline: 1767
Institute of Mental Health's Helpline: 6389 2222
Singapore Association for Mental Health Helpline: 1800 283 7019
You can also find a list of international helplines here. If someone you know is at immediate risk, call 24-hour emergency medical services.