Commentary: Are undergraduates under pressure to chase multiple internships?
For university students, taking on internships is an essential rite of passage towards professional life. But is there such a thing as taking on too many internships? CNA's Frederick Lim gives his take.
SINGAPORE: The working world may be riddled with obstacles and uncertainties, but being a university student in this day and age is no walk in the park either. 
On top of juggling academic pursuits, extracurricular activities and the other demands of student life, students also worry about securing their first job in an increasingly volatile job market. This pushes many to take on multiple internships throughout their time in university, with some even taking on internships during the semester. 
A recent computer science graduate from the Nanyang Technological University (NTU) took things to a whole new level - by completing eight internships in his four-and-a-half years of university education.
Like many students, his feats have left me wondering: How did he balance everything?
More importantly, his feats raise larger questions: Do students feel compelled to chase multiple internships as they race to get a head start in their careers? Is this "internship arms race" really necessary?
LINKEDIN HAS CHANGED THE JOB-SEEKING GAME
The education ministry and institutes of higher learning (IHLs) have long preached the value of internships, emphasising the need for students to gain real-world insights and hands-on experiences beyond the classroom.
According to the Singapore Management University's website, it was the first local university to introduce mandatory internships of 10 weeks as part of its degree requirement for all undergraduate students.
Internships are also a requirement at the Singapore Institute of Technology and the Singapore University of Social Sciences. More recently, internships were made compulsory for all new students enrolling in NTU from August 2021. 
The pressure to score multiple or big-name internships, however, is due in part to the advent of social media platforms like LinkedIn.
Search for "internship" on LinkedIn and chances are you'll chance upon multiple post-internship posts filled with humblebrags of one's internship feats and milestones - all masked under the guise of expressing gratitude towards their supervisors and ex-colleagues (I am guilty of it too).
No doubt, it has become normalised - or even romanticised - to display as much of our professional selves on our LinkedIn profile as possible, as if the platform is a trophy room for displaying our badges of professionalism. 
The reason? Given how platforms like LinkedIn have altered the way we look for jobs, it's become increasingly crucial to shape a professional brand online. 
More recruiters and human resource (HR) managers are utilising LinkedIn to source and acquire new talents. There are 930 million users on the site, making it a digital trove of human capital waiting to be capitalised.
Naturally, having a profile that stands out will get you more views, and potentially, open you up to more opportunities. IHLs are even teaching students how to best market themselves on LinkedIn, providing comprehensive guides and templates for students to emulate. And what better way to look like a standout candidate than to present more internship experiences? 
INTERNSHIP ENVY
Online internship envy isn't the only factor pushing students to chase numerous internships. Social comparison, a sinister manifestation of the hustle culture and hyper-productivity lifestyle, is also at play. 
Popularised by psychologist Leon Festinger in 1954, social comparison refers to the tendency to define our self-worth and abilities by comparing our achievements with others.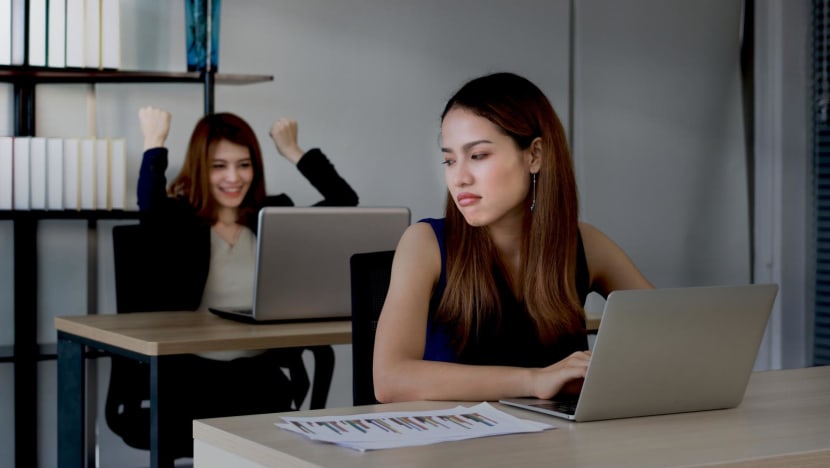 It incentivises students to frame up as many badges of professionalism as possible - anything from their internship experiences, recommendations from supervisors, or even the aforementioned humble-bragging post-internship posts - all to be recognised as a cut above the rest. As narcissistic as it sounds, it does feel good to be the subject of envy. 
Conversely, when we see others doing far more with their professional lives, our good-ol Singaporean kiasu syndrome kicks into high gear, as we fear that we might be left behind. In turn, this pushes us to hop on the internship arms race bandwagon, perpetuating the social pressure to take on as many work attachments as possible.
QUALITY OVER QUANTITY
Undoubtedly, internships are important: They bridge the gap between the classroom and the working world. 
They also offer students a place to work on their hard and soft skills, explore various roles to better map their future career options, network with like-minded individuals and find career mentors.
A student who excels in their internship may even be offered a full-time position, securing a head start in their career in an uncertain global economic environment. 
But at its core, I believe an internship should be treated as an opportunity to learn. To do so, an internship should challenge students with "real work", and yet also allow them a space to experiment and make mistakes. 
However, not all companies can afford to spend the whole work day guiding students. From time to time, students may be required to take on menial tasks and "coffee runs" during their internships. Even so, students should aim to walk away with some meaningful experience that they can apply when they enter the working world. An internship without real responsibilities defeats the purpose of the learning experience.
Ultimately, students should not be pressured into chasing internships solely for the sake of it. This is especially so if students believe that taking on any work attachment - even if they are "lousy internships" that offer no value-add - is alright, as long as they have something to put down on their resume.
In an article published by the Philippines-based news site Rappler, HR managers that were interviewed cautioned students against stacking their portfolios with too many internships. 
"If I see someone that took multiple internships at the same time, this gives me the impression that they were not after the learning experience at all," said one HR expert.
More isn't always better, and in this case, showing a mastery of industry-relevant skills may instead be better favoured than a lengthy resume. 
RUN YOUR OWN RACE
In a TikTok video uploaded on Jun 1, the NTU graduate Jervis went into detail about how he managed to remain productive amid all his commitments. According to him, his productivity stems from adopting a "bias to action" - to disregard any tendencies to overthink his plans and focus on doing what needs to be done. 
Needless to say, his mindset well deserves our admiration and we could definitely learn a thing or two from his journey. But that doesn't mean we have to emulate his life or compare ourselves to his achievements.
Not everyone is well-suited for the high-achieving lifestyle, and that is okay. Success is different for everyone, and it's perfectly alright to run the race of life at your own pace.  
To some, striving towards accomplishing all their desired goals and achievements may be what they define success to be. But success can also be a journey towards balancing our overall well-being.
If you need the time off university to tend to your mental well-being, please do so. Or if you decide to use your summer vacation to volunteer, to spend time with your loved ones, or to even travel and experience the world, do it. 
An undergraduate's life is already difficult enough. Adulthood and work - which will come in due time - are not going to be any easier. What's more important is that when you do decide to do an internship, make sure to reflect on what you are seeking to learn from it.
Frederick Lim is an intern on the commentary team at CNA Digital.