What you need to know about voting in Singapore's Presidential Election
How do you check the queue at your designated polling station and what should you bring apart from your NRIC? Read this ahead of the Sep 1 vote.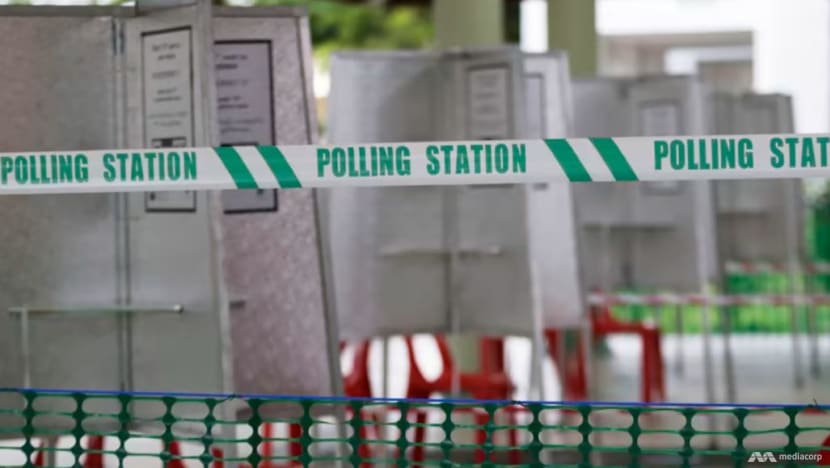 SINGAPORE: More than 2.7 million Singaporeans are eligible to vote on Sep 1 to choose the country's ninth president.
The field of candidates - former GIC chief investment officer Ng Kok Song, former Senior Minister Tharman Shanmugaratnam and former NTUC Income chief executive Tan Kin Lian.
While some Singaporeans may be familiar with the process of voting, there are a few changes for the 2023 Presidential Election.
Here's what you need to know ahead of the Sep 1 vote.
DO I HAVE TO VOTE?
In short, yes. Voting in Singapore's election is compulsory for all who are eligible. 
"It is a fundamental right of citizenship and a civic responsibility of citizens to choose and elect their leaders in a democracy," said the Elections Department (ELD) on its website.
Polling Day is a public holiday and employers are required to give their workers "a reasonable period of time for them to vote" that falls between the polling hours from 8am to 8pm.
WHAT SHOULD I BRING?
Remember to leave home with your NRIC and poll card.
For uniformed personnel, an identity card issued by the Ministry of Defence, Singapore Police Force or Singapore Civil Defence Force will suffice. A valid passport will work too.
You should have received your poll card through the post by now, at your latest residential address registered with the Immigration and Checkpoints Authority (ICA).
If you prefer to go digital, you may use the Singpass app to access both your digital IC and your ePoll card. 
WHAT IF I HAVE A NEW ADDRESS?
The current list of registered voters is compiled by electoral divisions based on voters' addresses as of Jun 1 this year.
If you changed your address after that date, your new address will be reflected in the Registers of Electors only when they are next updated.
"Hence, if an election is called before the Registers are updated, you will be allocated to vote at a polling station in the electoral division where your previous address comes under," said the ELD.
WHAT IF I WILL BE AWAY ON POLLING DAY?
Those who are unable to cast their vote on Polling Day will have their name struck from the Registers of Electors after the election.
This means you will not be able to vote in future elections until you apply to restore your status online using Singpass.
If you have a valid reason for not voting, no administrative fee will be levied. Otherwise, it will cost S$50 (US$37).
Some examples of valid reasons include working or studying overseas at the time of the election, living with an overseas spouse, a vacation planned before the poll, illness or childbirth, according to the ELD.
CAN I VOTE IF I AM LIVING OVERSEAS?
Overseas Singaporeans who have registered to vote at an overseas polling station have been sent an ePoll letter indicating the polling date and hours of voting, ELD said on Aug 23.
Singapore has 10 overseas polling stations in the following cities: Beijing, Canberra, Dubai, Hong Kong, London, New York, San Francisco, Shanghai, Tokyo and Washington.
These stations are selected for the "significant number" of Singaporeans living in the respective cities, according to the ELD.
Similar to voting in Singapore, these overseas stations will be open for 12 hours, between 8am and 8pm at the local time of their respective cities.
An alternative option for those who do not live near any of the designated overseas polling stations is to vote by post.
Postal voting will be used for the first time in an election, after changes to Singapore's election laws were passed earlier this year. More than 3,400 Singaporeans overseas have registered to vote by post.
Note that post and overseas voting are only options for Singaporeans who are living overseas.
These avenues are not available to you if you happen to be overseas on Polling Day while on vacation, for example.
If you're living overseas but will be back in Singapore on Polling Day, you can simply cast your vote at your allotted polling station in Singapore.
IS THERE A BEST TIME TO VOTE?
While there is no foolproof way to ensure your instant procession through the polling station, you can check the queue status before heading down.
Simply access the VoteQ link on your ePoll card on the Singpass app, or on ELD's website. You can also scan the QR code on your physical poll card.
This was among the improvements made to the voting process to ease the pains some may have felt during the 2020 General Election.
In 2020, voting time was extended to 10pm on Polling Day as long queues and delays at some stations meant that some voters could not vote by the original closing time of 8pm. 
Drawing on lessons learned, the ELD has increased the number of polling stations from 1,097 to 1,264 - a 15 per cent increase. This will bring down the average amount of voters allocated to each station from 2,400 to 2,150.
Other improvements include more registration and ballot paper counters at polling stations and increasing the number of active election officials.
HOW DO I MARK MY CHOICE?
Use the X-stamp in your polling booth. This will replace the X-pen which was introduced in 2020.
While most voters used the X-pen correctly by stamping it on the ballot paper, some voters mistook the X-pen to be an actual pen and tried to write a cross with it, said ELD.
To avoid any confusion, the X-stamp is "wider and more clearly intended to serve as a stamp".
WILL THERE BE PARKING AT POLLING STATIONS?
It depends on the polling station. 
Parking will not be allowed within the premises of places such as schools and community centres. It will also not be allowed along the roads near the polling stations.
Note that enforcement action will be taken for indiscriminate parking. 
"Vehicles found parking indiscriminately or causing obstruction may also be towed away," the police warned.
The advice is to take public transport, or walk to your polling station where possible.
ARE THERE SPECIAL ARRANGEMENTS FOR SENIORS, CAREGIVERS?
There will be special drop-off points for vehicles with senior voters and those with special needs.
These areas are barrier-free, with wheelchairs provided for voters who need them. These voters will also be offered priority queuing for the issuance of ballot papers.
One caregiver will be allowed to wait in the priority queue with such voters, provided they are valid voters. Those who are not eligible to vote will not be allowed to enter the polling station.
If help is needed, an election official will be on hand to guide the voter through the voting process. They will then meet up with their caregiver at the exit.
Election officials will also be able to assist those who are unable to mark the ballot paper themselves. These officials are sworn under oath to keep the voter's choice secret.
Visually impaired voters will be provided with stencils to allow them to cast their votes independently. 
HOW ABOUT THOSE IN NURSING HOMES?
About 25 to 30 nursing homes across Singapore are participating in a pilot programme. 
Polling stations will be set up on-site and mobile polling teams may be deployed to bring the ballot boxes and papers to voters who are bed-bound.
The new arrangements are made possible by changes to Singapore's election laws that were passed in Parliament in March this year.
The ELD had been collecting feedback from nursing home operators, among other stakeholders, on introducing special voting arrangements to improve voting accessibility.
WHAT ELSE SHOULD I TAKE NOTE OF?
The police said members of the public are advised not to loiter in the vicinity of polling stations. They should leave the polling station after casting their vote.
Voters at polling stations should avoid wearing attire with images that may be construed as influencing other voters or canvassing support for any particular candidate, said the ELD.
Some examples include clothing, bags or badges with prints that are identical or closely resemble a candidate's allotted symbol.
"If they do so, they may be turned away by election officials at the polling stations," ELD added.