President will be able to advise the Prime Minister if there is respect between the two: Tharman
Presidential candidate Tharman Shanmugaratnam said that the President will have a greater ability to provide independent advice if there's respect between him and the Prime Minister.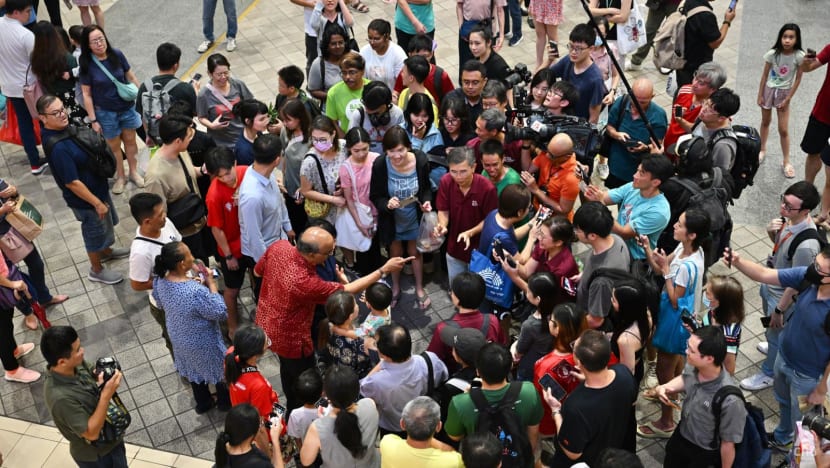 SINGAPORE: A President can advise the Prime Minister if there is respect between the two, presidential candidate Tharman Shanmugaratnam said on Wednesday (Aug 23).
The former Senior Minister was addressing a question about "soft power" ahead of his walkabout at Toa Payoh Central, and was asked for his thoughts on the role of the President in interacting with the government and influencing policies.
"It depends entirely on the relationship between the President and the Prime Minister," said Mr Tharman. 
"These are conversations in private. If they have respect for each other. Then of course, the President will have a greater ability to be able to provide independent advice and will know that it's taken seriously, but it depends entirely on whether there's a respect between the Prime Minister and the President."
After more than two decades in politics, Mr Tharman resigned from the People's Action Party and stepped down as Senior Minister to contest the Presidential Election. 
The 66-year-old was confirmed as a presidential candidate on Tuesday, along with former GIC chief investment officer Ng Kok Song and former NTUC Income chief Tan Kin Lian.
With three candidates in the running, Singaporeans will head to the polls on Sep 1. It will be the first Presidential Election in more than 10 years, since the last contested one in 2011.

Mr Tharman's competitors had earlier given their takes on soft power, with Mr Tan saying the President has "tremendous soft power due to the prestige of his office and from the strong mandate that he had received through the presidential election", and Mr Ng noting that soft power had to be exercised "within closed doors" as it was not the President's responsibility to make policies. 
An analyst told CNA that the President has no inherent soft power and that it had to be earned. 
"WE DID CONSIDER DURIAN"
In a brief moment of levity during the campaign trail, presidential candidate Tharman Shanmugaratnam shared that he had considered the durian as his campaign logo instead of the pineapple.
"We did consider durian as well. We looked through the range of symbols and consulted quite a large group of people of different age groups," Mr Tharman told reporters. 
"And what was interesting is that we agreed on the pineapple in less than 10 seconds ... It was something we liked. It was something we felt was easy to understand. And it was just likeable."
It seems the pineapple symbol resonated with supporters, going by the cheers of "ong lai" (pineapple in Hokkien) and "huat ah" (to prosper) from residents as Mr Tharman and his wife Jane Yumiko Ittogi made their way to Toa Payoh Hub on Wednesday evening.
By 8pm, a queue of at least 30 residents wanting to take photos with Mr Tharman had formed at Toa Payoh Hub, some toting a pineapple as they posed with the presidential hopeful. The queue had to be cut off by Mr Tharman's team around 25 minutes later. 
A SUSTAINABLE CAMPAIGN
Mr Tharman's campaign posters have been put up around Singapore since Tuesday. 
This is in contrast to the approach by Mr Ng, who had cited a shortage of resources and sustainability as reasons for not putting up posters and banners around Singapore. Mr Tan decided against holding a rally, saying it was too expensive. 
Asked about how his competitors have cited a lack of resources, Mr Tharman said he had spent "a lot of time in the last month" mobilising volunteers with his team.
"You know the reality is that many people don't have access to social media. We wanted to show that the Presidential Elections are important. They're not less important than General Elections when all parties put up posters all around the island," he added.
"The elections are important, and I wanted to convey that, particularly to people who are not on social media. The day may eventually come when we don't need it. I think it will take a long time before everyone is really monitoring social media very closely."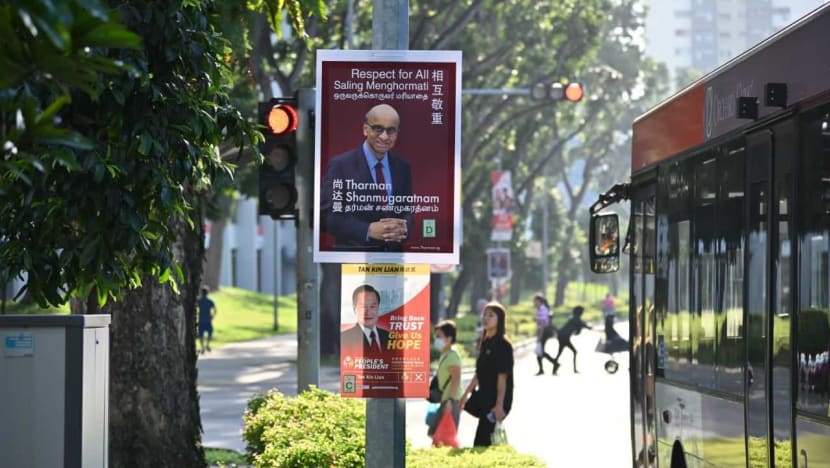 Addressing the issue of sustainability, Mr Tharman said the team kept that in mind "from the very start" - from the type of paper and ink used to a recycling plan.
"In fact, I insisted on it. And in fact, I had a range of proposals as to how we could make it more sustainable without, of course, busting our budget," he told reporters.
The paper is certified by the Forest Stewardship Council and the ink is soy-based, he noted.
"But the reality is, posters are necessary in our electoral landscape, and I don't want the Presidential Elections to seem unimportant. I do want to reach out to everyone in our heartlands and have put great effort into mobilising volunteers," he added.
Apart from walkabouts, Mr Tharman will hold a townhall on Friday to reach out to voters.
"I don't think I have any big advantage, to be frank. We all come in with positives of our own as the three candidates, each of the three candidates. I'm not taking anything for granted. I think it's going to be a real contest. I'm taking it very seriously," he said in response to a question about plans for his campaign.
Mr Tharman was also asked about allegations by Iris Koh, founder of anti-vaccine group Healing the Divide, of his "foreign affiliations" with groups such as the World Economic Forum where he sits on the board of trustees.
Mr Tharman replied: "I haven't looked seriously into that consideration because ... it's not based on a very good understanding of my relationship with the different international organisations, be it the UN or any other organisation. I've been flying the Singapore flag high for years now and for good purpose, it is is in our national interests. And I do it with our national interests in mind."
He added he will continue to hold on to some international appointments even after the election, regardless of whether he wins.
"Every appointment I take is with the approval of the Prime Minister when I was in the government, but of course in the future it will be different - but it's Singapore's interests."