Singapore swimmer Joseph Schooling withdraws from upcoming SEA Games
"I am currently not at the level at which I hold myself to perform," says Singapore's Olympic champion.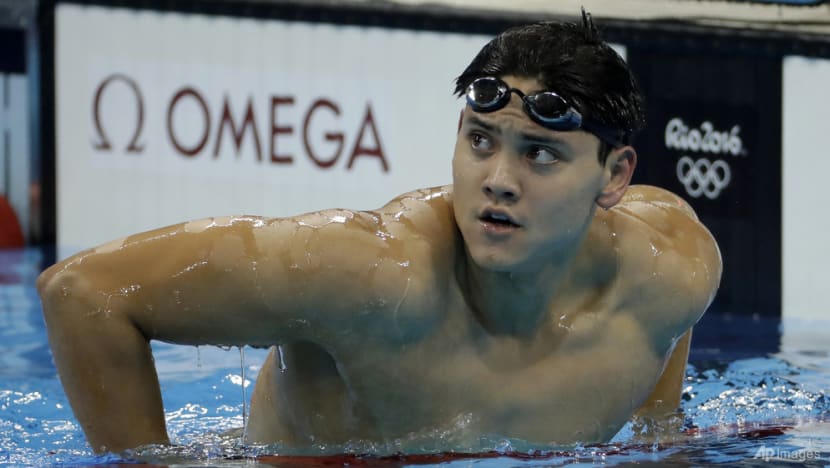 SINGAPORE: Joseph Schooling on Wednesday (Mar 1) announced his withdrawal from the upcoming Southeast Asian Games, saying he was "not at the level" at which he expects to compete at the event.
"After careful consideration with my team, I have decided to pull out of the SEA Games," the 27-year-old swimmer said in a statement.
"This was not an easy decision, but I am currently not at the level at which I hold myself to perform. Ultimately, my country comes first before individual accolades."
The Olympic champion added that he would instead focus on his National Service duties and support his team-mates from home.
"I have decided to give my spot to team-mates who have been getting themselves ready and considered for selection while I cheer from home and focus on my Navy duties," he said.
In response to CNA's queries, national swimming head coach Gary Tan said that the team will miss Schooling's presence but will "keep moving forward".
"He has been a mainstay of the national team for quite some time and I know that Joe believes as well that there are capable swimmers in the team who can step up to the challenge," Tan said.
The 2023 SEA Games will take place from May 5 to May 17 in Cambodia.
The announcement comes after two difficult years for the 29-time SEA Games gold medallist.
In 2021, he relinquished his Olympic crown in Tokyo, after failing to make the semi-finals of the 100m butterfly event which he won in 2016.
Just months later, he had to cope with the death of his father Colin.
In 2022, after enlisting and then taking part in the SEA Games in Vietnam, Schooling confessed to consuming cannabis overseas.
As a result of his admission, he received a formal letter of warning from the Ministry of Defence (MINDEF) and lost his disruption privileges.
Sport Singapore also suspended support for him for a month, and he was fined for breaching rules in the Singapore National Olympic Council's code of conduct.
Last month, however, he was named on Singapore's shortlist for Cambodia.
Schooling's withdrawal leaves Singapore with a current contingent of 22 swimmers for the Games, including Teong Tzen Wei and Amanda Lim, who were also embroiled in last year's drug saga.
Tan said the team has a good mix of youth and experience, and that they are confident of a strong showing in Cambodia.
He added that the swimmers have prepared well and are looking forward to the upcoming meets, including the World Championships in July and the Asian Games in September after the SEA Games.