Singaporeans vote in first contested Presidential Election in 12 years
One of three men - Ng Kok Song, Tharman Shanmugaratnam and Tan Kin Lian - will become the country's ninth President.
SINGAPORE: Polls have closed in Singapore's Presidential Election on Friday (Sep 1), with about 2.5 million voters casting their ballots.
The three candidates for the 2023 Presidential Election – the first contested election since 2011 – are former GIC chief investment officer Ng Kok Song, former senior minister Tharman Shanmugaratnam and former NTUC Income chief executive Tan Kin Lian. 
CNA will have the results and reactions as the night unfolds. Follow the live blog here for the latest.
As of 5pm, 2,302,996 Singaporeans have cast their votes at the 1,264 polling stations islandwide, said the Elections Department Singapore (ELD).
The polls closed at 8pm. Ballot boxes are being sealed and transported to counting centres, where a sample count will be done to get an early indication of the possible outcome. 
People should wait for the returning officer's announcement to know the election result, which could be different from the sample count.
QUEUES FORM AT THE START OF VOTING
Voters started casting their ballots at 8am when polling stations opened.
But queues were already beginning to form at some stations before opening time, such as the Waterway Primary School in Punggol where a line of people could be seen waiting outside its gates.
At the start of polls, they began to build up at some locations across the island.
The ELD said in a statement on Friday morning: "As voting will last until 8pm, we advise voters to arrive at the polling station later in the day, especially in the afternoon when the queues are usually shorter.
"We seek voters' patience and understanding as we clear the morning queue."
When CNA arrived at a polling station at the void deck of Block 307, Jurong East Street 32, there was a line of people waiting to cast their ballot.
A check on the ELD website at 8.35am showed that between 141 and 160 people were in the queue. But the bottleneck seemed to clear about 15 minutes later.
One voter who arrived at 8.12am told CNA that he waited for about an hour for his turn, adding that he needed to cast his ballot in the morning as he had to head off to work.
Likewise, a queue of between 80 and 100 people was forming at Geylang Serai Community Club during the opening hour. A few senior citizens could be seen sitting on chairs while waiting for their turn.
The line started to subside just before 9am.
Mdm Cassendra Tan, 52, who waited for just two minutes, described the voting process as "very fast", with just one other person in front of her.
In a statement just before 10am, ELD said that the queue situation has improved at most polling stations.
It said: "The technical issues with the e-registration system are progressively being resolved. Voters are still encouraged to go out to vote throughout the day."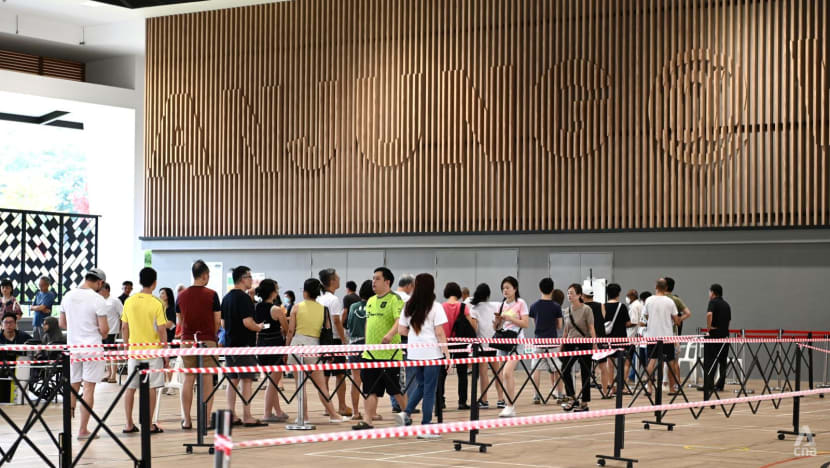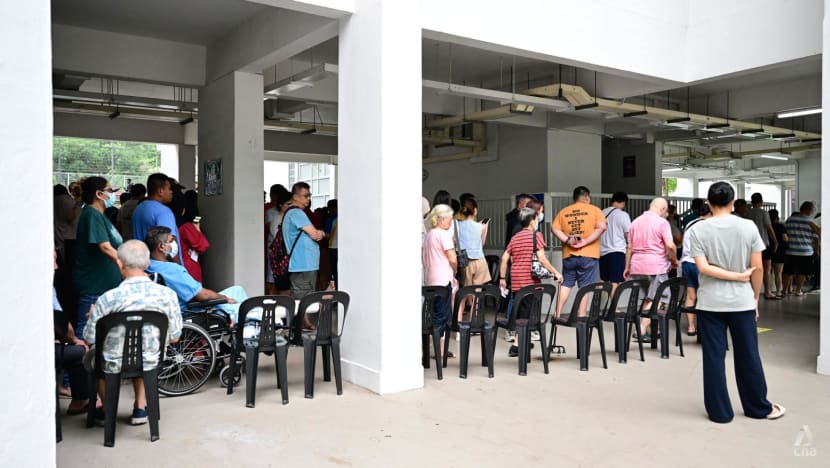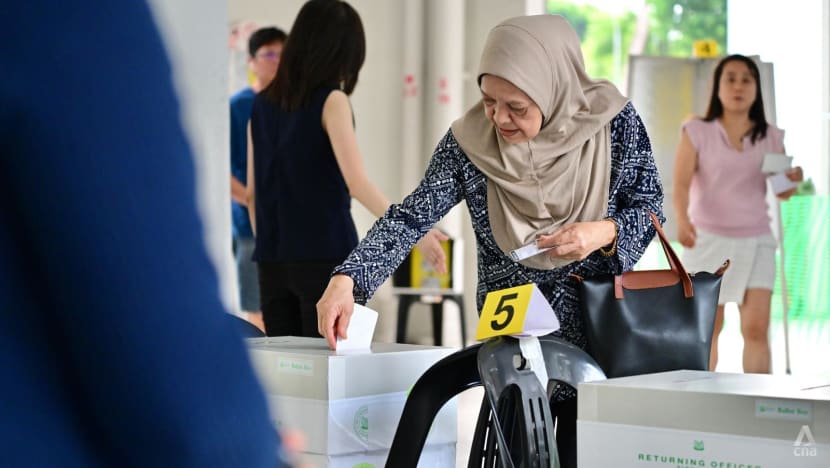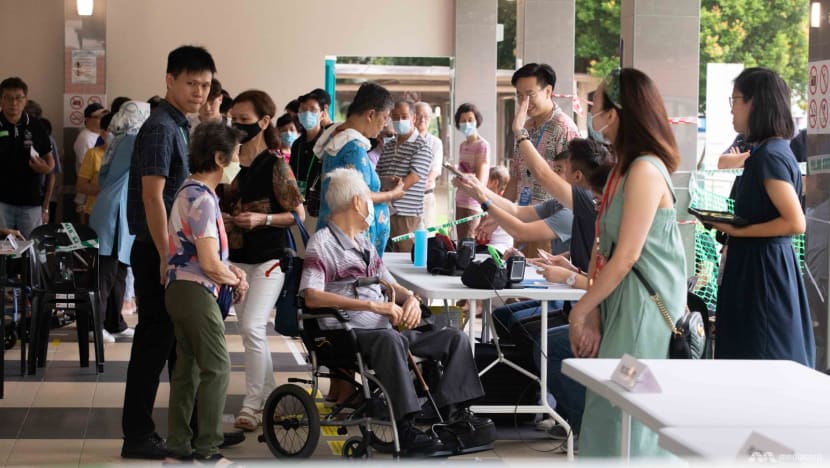 Over at the Society for the Aged Sick nursing home in Hougang, Mdm Lee Dan Lin was the first resident there to cast her vote.
The 75-year-old described the process as "convenient", and said the entire process took just five minutes for her. 
This is the first time a polling station was set up in a nursing home. Previously, residents would have to be brought to a polling station outside of the nursing home.
A total of 31 special polling stations were set up in nursing homes for this Presidential Election.
The nursing home's chief operating officer Kate Koh said: "I was quite happy to see that the residents look happy. Some expressed their keenness to vote."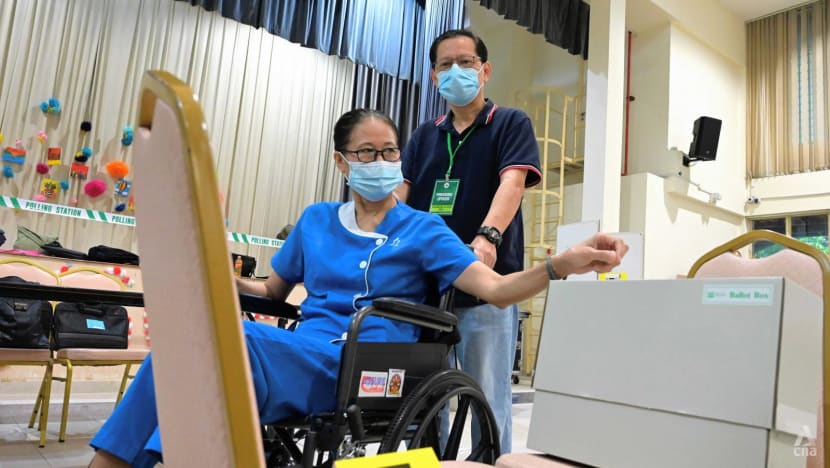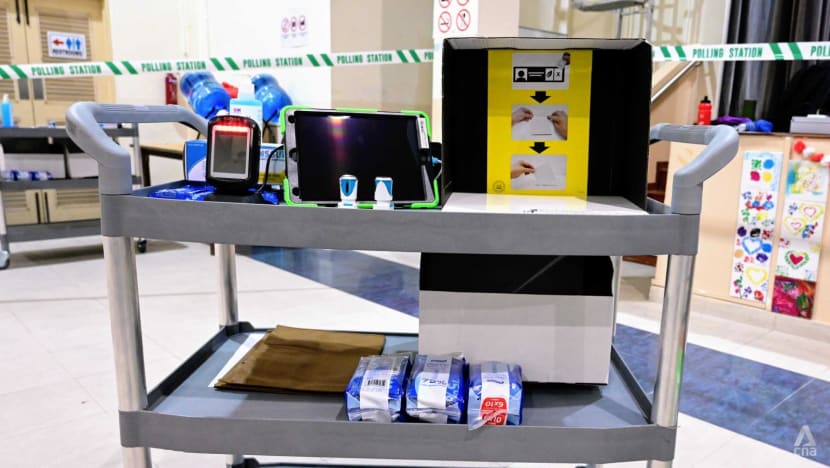 Among those who have also turned up at the polling stations are President Halimah Yacob, who was at Chung Cheng High School (Main), and Prime Minister Lee Hsien Loong, who cast his ballot at Crescent Girls' School. 
Mr Ng Kok Song was at Katong Community Centre, while his fellow presidential candidate Tan Kin Lian went to Anderson Serangoon Junior College on Friday morning. Mr Tharman was at Raffles Girls' Primary School in the evening to cast his ballot.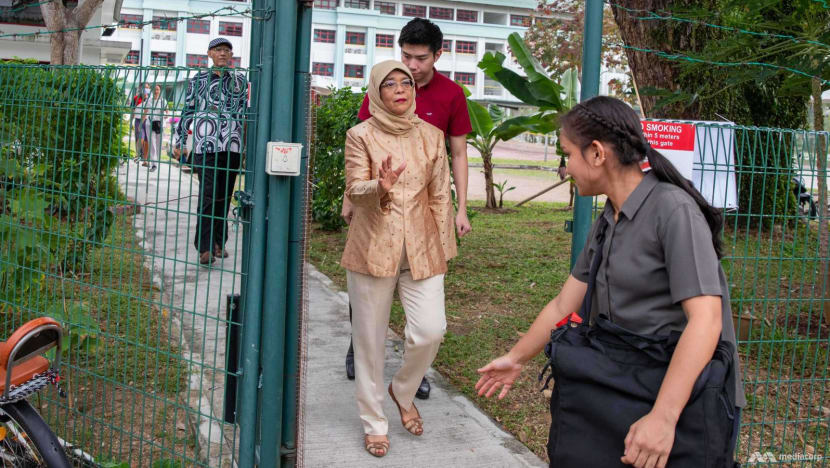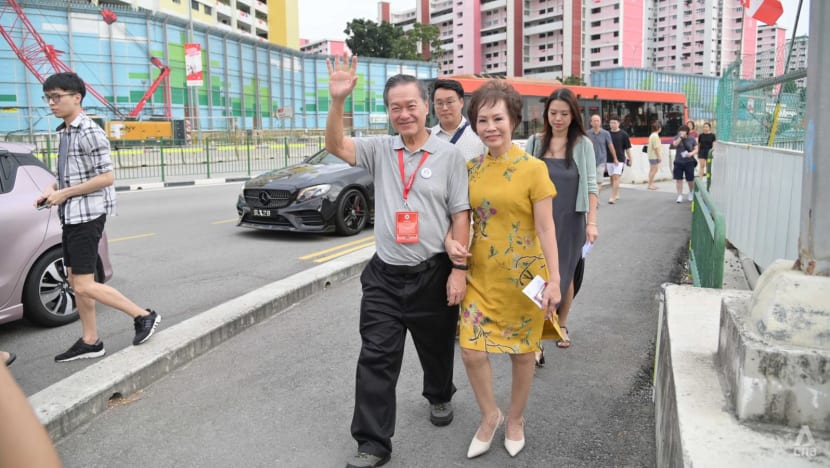 Siblings Tan Hong Hao and Tan Yi Ling were at Geylang Serai Community Club, voting in the Presidential Election for the first time. 
They said it took a couple of days for them to make up their mind, and added that it was "nice (that there) are options" to vote for Singapore's next President.
Likewise, polytechnic student Tay Jun Yi was a first-time voter in the Presidential Election.
He said he found the X-stamp a little difficult to use, adding: "I thought I had to open it up, but I just had to stamp down directly."
As he was at the voting booth and election officers could not go over to help him, they signalled to him the instructions from a distance.
He and three childhood friends had gone for breakfast together before heading to the polling station at Block 307, Jurong East Street 32.
One of his friends, Mr Chua Zong Beng said: "Every vote counts. Since we can vote, I wanted to make an informed decision." 
More than 2.7 million Singaporeans are voting in this election. Voters must bring along their original or digital NRIC or valid passport, and poll card or ePoll card to their polling station for registration.
The poll card will indicate to voters where their designated polling station is. Likewise, the same location will be stated on the ePoll card.
Voters can check the number of people queuing at their allotted polling station by using the VoteQ website and keying in their postal code. 
The VoteQ link can also be accessed on the ePoll card via the Singpass app or by scanning the QR code on the physical poll card.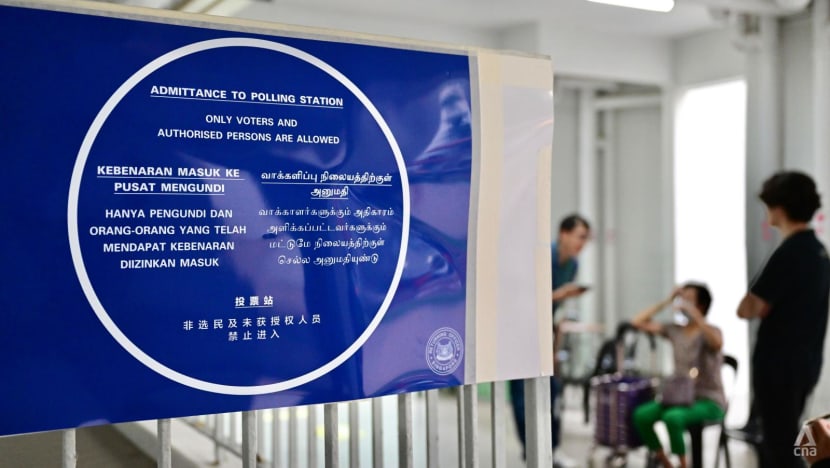 This was among the improvements made to the voting process, drawing on lessons from the 2020 General Election. The number of polling stations has gone up from 1,097 to 1,264 - a 15 per cent increase. This will bring down the average amount of voters allocated to each station from 2,400 to 2,150.
In the polling booth, voters can use the X-stamp, which has replaced the X-pen, or their own pen to mark the empty box beside their choice of candidate. 
Votes will not be counted if marked outside the box. Ballot papers should then be folded in half and dropped into the ballot box before leaving the polling station.