Thai election: Parties dangle cash handouts to woo voters, but experts question economic benefits
 Political parties are hoping that a populist platform and promises of quick cash will woo voters. But experts are unsure if such measures can solve inequality issues or spur the economy.
BANGKOK: With election day looming, the already congested footpaths of Thailand's major cities are even more crowded than usual.
While political party posters are a usual tradition - and most are more streamlined in size than the past - the huge number of parties contesting the national vote on Sunday (May 14) has left a sprawling contest to occupy every utility pole and advertising board in sight.
This year on those signs there is a clear theme. And it centres around cash.
Within a vacuum where political ideology is rarely discussed in depth, bread and butter issues like regular living expenses, wages, food prices and government subsidies have become the frontline of electioneering in Thailand.
There is economic pain being felt in households across the country - especially the poor ones - as Thailand's economy continues to struggle to reach its pre-COVID levels amid stalling income growth and inflated costs of living. 
Inflation ran at 6.1 per cent last year, and while gross domestic product (GDP) growth is expected to rebound in 2023, economic uncertainty remains high. Minimum wages have been frozen since 2020.
Parties are betting that a populist platform and promises of quick cash can help them lure mass support at the ballot box. Many of their posters boast the amounts that might be handed out in the event of election success. 
The incentives range from a digital wallet - essentially cash for local spending - to minimum wage increases and agricultural stimuli. Voters have choices to make but experts are unsure whether such populist measures can truly spur the economy or solve deeply embedded inequalities within it. 
POPULIST MEASURES RESPOND TO VOTERS' NEEDS  
The expression "pak tong", literally meaning mouth and stomach, is commonly used to describe the daily living needs of lower socio-economic groups in Thailand. And the style of politics that directly addresses them, as seen in the lead-up to this election, is not new. 
"This is a style of politics that has been there all along, and especially since the Thai Rak Thai Party had a very big victory that we had never seen before in the 2000s. Now other political parties compete in the same game," said Thorn Pitidol, director of the Centre for Research on inequality and social policy at Thammasat University, referencing the party of in-exile former prime minister Thaksin Shinawatra.
"This style of policy has become very attractive to every political party. In a way, I think it's not accidental, because Thai politics has never really dealt so much with different political ideologies. We never say we are left or right.
"There are obvious needs among the electors. They are looking for something to improve the economic situation. And because of this, and because the trend has been set again by the Pheu Thai Party, all the parties are back again to compete by offering similar policies that go directly to answer economic needs," he said.
STIMULATING THE ECONOMY WITH CASH
Pheu Thai, the latest iteration of the Shinawatra-led party, has high hopes of forming the next government. Its social welfare policies are at the front and centre of its campaign.

The party, which boasts Thaksin's daughter Paetongtarn Shinawatra as a leading prime-ministerial candidate, is offering a digital wallet valued at 10,000 baht (US$300) to citizens, as a tool to stimulate local economies. 
People would be required to spend that value within four kilometres of their home, in a scheme estimated to cost 560 billion baht, mostly raised from tax money.
"Thai people who are 16 and above, will receive coins in their digital wallet. The coins in the digital wallet can be used to buy food, things for daily use, essential agricultural tools from shops," Srettha Thavisin, Pheu Thai's prime ministerial candidate, said during a political rally last month.
"Our policies will ensure that the money that we have injected into the system will continuously circulate and return as tax for the government," he said.
In addition, the party has promised to almost double the minimum wage within five years.
Currently, depending on the province, the daily minimum wage ranges from 328 baht to 354 baht. Pheu Thai proposes lifting that rate to 600 baht per day, in a move that would mostly affect small businesses and migrant workers.
While that policy announcement mostly drew concerns from economists for being unrealistic and unaffordable for employers, not everyone is against the idea. 
"My stance is that the minimum wage is a way to protect the poor.  I think it's possible," said Wannaphong Durongkaveroj, a lecturer of economics at Ramkhamhaeng University who specialises in social welfare and inequality.
He said he does not believe that rising labour costs would result in foreign firms taking their business elsewhere in the region, one of the main criticisms of the idea.
Thorn from Thammasat University said he believes that the current level of minimum wage in Thailand is "too low" 
"You think about the cost of living for Thailand, we have had very big inflation," he said.
"But suddenly paying a lot more to their workers wouldn't be desirable. So I think adapting it gradually would be better," he added.
Overall, Pheu Thai has launched more than 70 policy ideas - at vast expense - to boost areas like universal healthcare coverage, elderly welfare and the costs of mass transit.
"Pheu Thai policies directly have their signature of improving the economy by handing out a sum of money that would make people feel like their economic problems would be solved," Thorn said.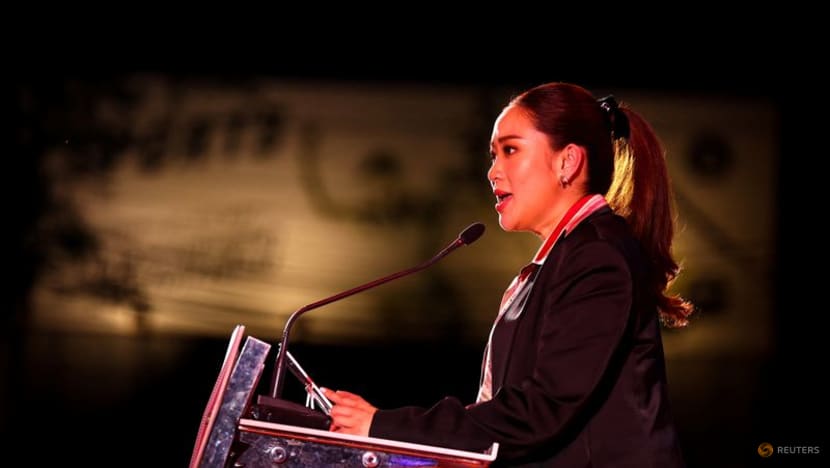 BOLD SPENDING PLANS
These bold spending plans have resulted in other parties rolling out their own high-cost promises.
Move Forward Party - another of the pro-democracy contenders with big hopes of winning large numbers of seats in urban areas - wants to lift the minimum wage to 450 baht per day with annual increases, amid a wider plan to expand the welfare state.
The Palang Pracharat Party - which led the government over the last term - will further expand benefits of a state welfare card up to 700 baht per month, as well as wage increases for unskilled workers, degree holders and vocational graduates.
"You will have instant cash in your pocket if we are the government," Sontirat Sonthijirawong, the chief of the party's political strategy committee, told local media.
The party has also pledged to transfer 30,000 baht into the bank accounts of 8 million farmers across Thailand should it remain in power after the election. It is a one-off move that would cost at least 240 billion baht.
The United Thai Nation Party (UTN) - which is led by prime minister Prayut Chan-o-cha - has said that it will up the state welfare offerings to 1,000 baht per month for low-income households. 
Prayut split from his former party - Palang Pracharat - to contest Sunday's election under UTN's banner. 
For some eligible cardholders, the planned increment to their monthly payouts proposed by UTN represents a five-fold increase on payments they have been receiving over the past four years.
This type of spending is of concern, according to Wannaphong from Ramkhamhaeng University. The cost of the state welfare program could fund an entire national semiconductor industry, he argued.
"The current government has paid about 20 per cent of the population for about five years. And there's no evidence so far that this policy works, but they're going to continue it," he told CNA.
"If you look at the broad theme of the policy, they're going to deal with the ageing society, the poor and increase the welfare state. So overall, there's nothing wrong with that. But there are alternative policies that are more creative and can have more potential for jobs and innovation.
"Thailand is a middle-income country and we cannot spend all our money on the cash handouts," he said.
The details and costings of many of the policies are scarce. They may also be impossible to deliver given Thailand's budget restraints, the economists agreed.
At the same time, they said that the maturity of Thailand's democracy has taken a hit following a series of military coups in recent decades. It means the consolidation of power is of greater importance than the contest of big ideas.
Wannaphong said that promoting policies that attempt to make structural economic reforms on a wide scale over an extended period of time, while potentially more productive, are more difficult to sell in a crowded election race. 
Those might include promoting the national business environment, open trade policies and boosting critical industries like manufacturing and agriculture.

"Those policies are not attractive to people. Politics is politics. I mean, when it comes to elections, they want to win … more than the intention to really reform the country," Wannaphong said.
"As populism is on the rise in Thailand, I'm not surprised when I see this," he said. "(But) it doesn't mean that they cannot come back to fix the core structure of the economy after the election."
Additional reporting by Jarupat Buranastidporn.