Tharman Shanmugaratnam to be Singapore's 9th President after 70.4% landslide win
Ng Kok Song finished second with 15.72 per cent of the vote, followed by Tan Kin Lian, who received 13.88 per cent.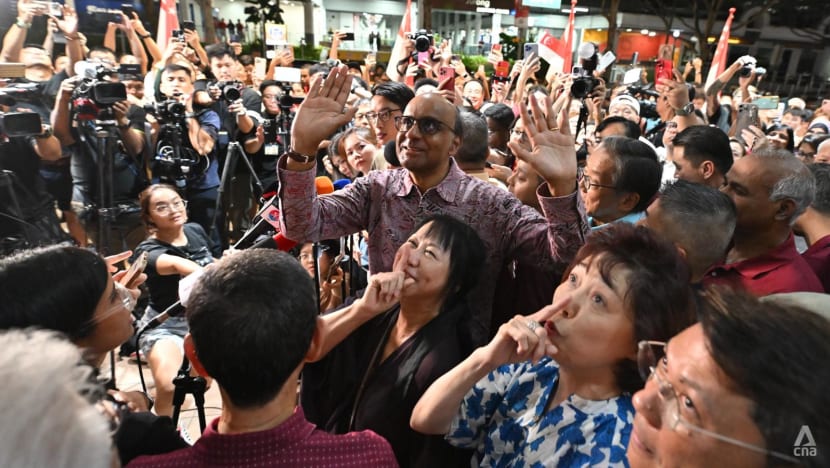 SINGAPORE: Mr Tharman Shanmugaratnam will be Singapore's next President after securing a landslide victory with 70.4 per cent of the vote.
The final result, announced by the returning officer shortly after midnight on Saturday (Sep 2), put Mr Ng Kok Song in second place with 15.72 per cent, followed by Mr Tan Kin Lian, who received 13.88 per cent.
There were 50,152 rejected votes, representing 1.98 per cent of the total votes cast.
The figures were largely unchanged from an earlier sample count, which had the three men at 70 per cent, 16 per cent and 14 per cent respectively.
That showed that voters put aside their political differences when they cast their ballots for Mr Tharman in Friday's poll, said Associate Professor Eugene Tan from Singapore Management University's (SMU) School of Law.

"We're looking at more than two-thirds of Singaporeans who voted for Mr Tharman, which means that he would have got votes from people across the political spectrum, although this is not a political contest, to be clear. More significantly, this is really the uniting of Singaporeans," he said on CNA's TV special on the Presidential Election.
The counting of votes started after polling stations closed at 8pm, with more than 2.7 million Singaporeans expected to have cast votes in the country's first contested Presidential Election since 2011.
Speaking to the media after the sample count was announced, Mr Tharman said he was "truly humbled" by the strong endorsement by Singaporeans.
"I believe that the vote for me and what I stand for is a vote of confidence in Singapore," he said. "It's a vote of optimism for a future in which we can progress together and support each other as Singaporeans."
Later, he posted on Facebook about this: "It can, and must, be a future of deeper respect for each other, regardless of backgrounds and educational achievements," he said. "A future of closer interactions between our different faiths and cultures, so that we deepen our multicultural identity. A future of solidarity even as we hold to diverse views, which is natural in our democracy."
Mr Ng meanwhile told reporters he was conceding the election to Mr Tharman ahead of the final tally "because I do not want to keep all of you from your bedtime".
"As far as I'm concerned, there is no need to wait a few more hours in order to get the final result. The result is clear," he said.
"The relatively low percentage of votes that I obtained was the price that I really need (to) pay in order to give Singaporeans the opportunity to exercise their right to vote. That was the ultimate objective when I set out to stand for the presidency, and I'm glad that I've achieved that goal."
Mr Tan however said he would only concede defeat when the final result comes out.
"But Mr Tharman has certainly got an overwhelming lead as of now ... I'm confident that he will be elected as President of Singapore," he said.
Prof Tan said that Mr Tharman is seen as a person who can "straddle the political divide".
"Despite being in the ruling party (for about 20 years), Mr Tharman has been able to articulate views that sometimes may not be entirely aligned with the ruling party.
"The results show that Singaporeans recognise his contributions. He is one of (few) who is able to straddle the political divide and garner support from across the political spectrum," he said.
On the world stage, both the landslide victory and Mr Tharman's own wealth of international experience will help him fly the Singapore flag high, Assoc Prof Tan said.
"World leaders will recognise Mr Tharman as a leader who commands the trust and confidence of the majority of Singaporeans," he said. "He is a known entity abroad, and his views are well regarded and sought after. So when he represents Singapore at global meetings as our chief diplomat, the voice of Singapore will be prominently added."