Commentary: How the pineapple became a secret weapon in the Presidential Election
Cheers of "Ong lai, huat ah" resounded throughout Singapore last week as Tharman Shanmugaratnam clinched the presidency. Strategic communications lecturer Ian YH Tan looks at the unexpected power of the pineapple as a campaign symbol.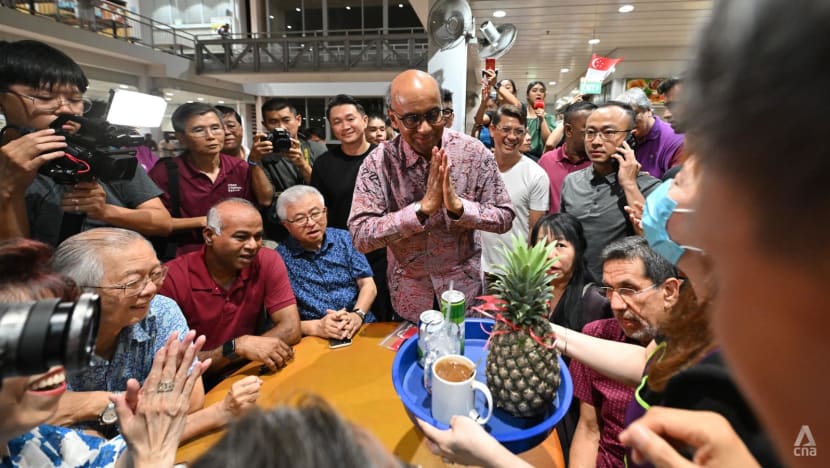 SINGAPORE: Election symbols used by Singapore politicians seldom make headlines. However, when the Singapore presidential candidates unveiled their election symbols on Nomination Day (Aug 22), Tharman Shanmugaratnam's pineapple became an immediate talking point.
This was probably the first time a fruit had been used for a local election campaign.
Mr Tharman did not stop with just having a unique symbol.
Unlike his two opponents, he leveraged his symbol to reinforce his winning message, and ultimately won 70.4 per cent of the vote in one of the most memorable presidential campaigns in local history. 
THE POWER OF SYMBOLS
Humans have used symbols since the beginning of time to communicate and to understand the universe. Symbols can be in the form of images, gestures, numbers or words, and they can deliver multiple meanings to the recipient.
We all interpret symbols based on our cultural context and shared stories. For example, a dragon symbolises heavenly authority in Chinese culture, but it is often a diabolical figure in European folk tales.
What does a pineapple stand for in Singapore's culture?
Firstly, it is a familiar tropical fruit that is used in local cuisine like rojak and pineapple tarts.
To the older generation, the Hokkien term for pineapple is "ong lai", which sounds like "good fortune to come."
Mr Tharman explained to the media during Nomination Day, "Ong lai – it is a propitious and welcome symbol for many people - when we move into a new home, when we start a new business and we want good luck and good things to happen. It is our future."
His public mention of the term "ong lai" itself demonstrated the political veteran's savviness - he was using local lingo that many people could connect with instantly.
ABSTRACT SYMBOLS DO NOT CONNECT WELL
The other two presidential candidates chose symbols that were more abstract and open to multiple interpretations. This is the norm in Singapore politics with party symbols such as a hammer (The Worker's Party) or a lightning bolt (People's Action Party).
Mr Ng Kok Song used a visual of an outstretched hand with a heart in the middle. He said the five fingers symbolise the various races in Singapore, and the palm signifies that "although we might be people who come from different races, different religions, we are one palm, we are one country ... I want to be able to unite all the people of Singapore".
Some netizens reacted to Mr Ng's symbol, saying on platforms like TikTok that Singapore does not have five races.
Mr Tan Kin Lian's symbol was that of a mandala-like flower above four outstretched human figures. He said the figures represented the major ethnic groups in Singapore, and they were all reaching out in hope for Singapore.
Flowers can symbolise peace and harmony, but Mr Tan's campaign became a divisive one involving partisan politics. In my view, his symbol did not gel well with his message.
Not that it mattered, as neither candidate spoke much about their election symbols after Nomination Day.
But Mr Tharman took his symbol seriously.
MAKING A SYMBOL TANGIBLE
On his campaign trail, the pineapple was a common sight in photos Mr Tharman took with supporters. He also generated great media publicity by gifting a pineapple to a drinks stall worker at Lau Pa Sat.
The worker later quipped: "I'm very happy to get the pineapple from him. I want to cut it up for everyone to eat." From a mere visual, the pineapple became a tangible symbol of a gift that can be shared.
Then, the pineapple symbol made the news on its own.
According to social media on Polling Day, a female voter wearing a shirt with pineapple motifs turned up at a polling station, and was apparently turned away by election officials.  
Then, to celebrate his massive win on Sep 2, Tharman thanked his supporters with crates of pineapples and Chinese decorations symbolising the fruit.
His supporters cheered with shouts of "Ong lai, huat ah" ("Good fortune to come, Prosperity"), and the media published photos of happy supporters carrying those pineapples.
With that, the pineapple became the closing visual to a successful campaign.
Such was the popularity of the fruit in the campaign that businesses, including eateries and bakeries, have rolled out pineapple-related promotions to commemorate Mr Tharman's win. Sales of pineapples have also soared, according to local media reports.
I fully expect our politicians to start using fruits as symbols from here on.
WORDS AND IMAGES GO TOGETHER
Great communicators understand the use of both words and images to reinforce a message.
When it comes to any branding campaign - and a presidential campaign is about pitching one's personal brand to millions - a well-designed symbol can create magic when paired with an authentic message.
On the other hand, a poorly chosen logo may allow detractors to create jokes or online memes at the candidate's expense.
To be clear, the pineapple symbol was not the main driver of Mr Tharman's resounding win; it was his sheer popularity with the electorate.
However, he did not squander the opportunity to make his campaign memorable and to warm hearts with his quirky symbol. This strong start to his presidency will help to change people's views of what is sometimes called a largely ceremonial role.
What does the Presidential Election say about voters? Listen to Heart of the Matter:
By the way, Mr Tharman's logo had one clever design element that you may have missed.
If you look carefully at his pineapple symbol, you will see that the outer skin of the fruit is covered with multiple "X" marks or crosses. Was it a subliminal message to encourage people to mark their polling sheets against his name?
Only Mr Tharman and his campaign team would know.     
Ian YH Tan is a lecturer in strategic communications at the Wee Kim Wee School of Communication and Information, Nanyang Technological University. He has more than two decades of experience in journalism, marketing, public relations, and business management in firms such as Singapore Press Holdings, Microsoft and Lenovo.
Everything you need to know about the Singapore Presidential Election: cna.asia/pe2023