Commentary: How can drivers dislodge their entrenched relationship with cars in Singapore?
We should challenge our relationships with cars, especially when Singapore has made inroads towards achieving sustainable mobility, says SUTD's Samuel Chng.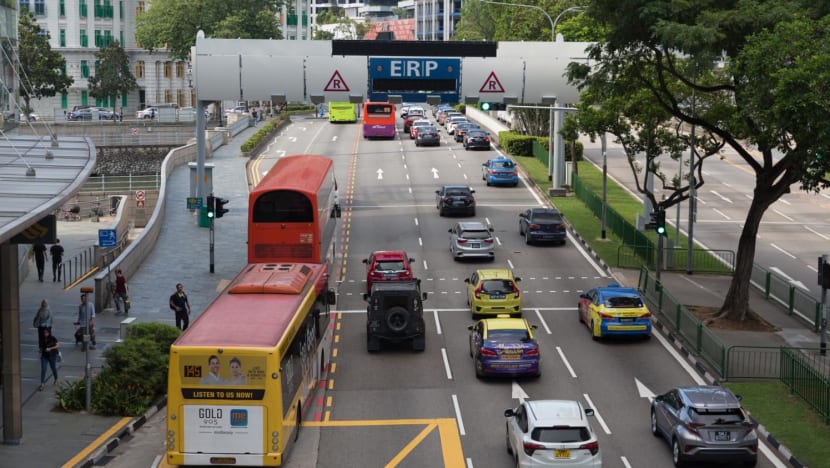 SINGAPORE: Singapore takes much pride in having an efficient and extensive public transport network. But since my wife and I became parents last year, we have been asked countless times when we were getting a car.
This had not crossed our minds before, but I must admit that the potential convenience of a private vehicle is alluring. With a baby in tow, we mostly visit places accessible by public transport, and each trip requires advance planning to ensure we avoid peak periods and minimise transfers.
Thus far, we have managed to get around on public buses, trains and taxis, with the occasional ride offered by family and friends. So, do we really need a car?
COGNITIVE BIAS TOWARDS CARS
Efforts to limit motorised vehicles have become increasingly common in major cities, as they seek to reduce traffic congestion and cut emissions.
These moves, however, can sometimes ruffle some feathers. Take the recent protests in the UK city of Oxford over changes to traffic systems and plans to create pedestrian-friendly 15-minute neighbourhoods.
The 15-minute city concept - where essential facilities such as schools, doctors and shops are accessible within a short walk or bicycle ride - first came to prominence in Paris in 2020 but the idea isn't new. Singapore too has a "45-minute city, 20-minute town" vision.
When it was announced in October last year that four HDB estates in Singapore would be zoned as car-lite areas, with limited parking lots and more walking and cycling paths, social media comments lit up with concerns about accessibility, convenience and potential challenges for residents with mobility issues.
This brings up the issue of the cognitive bias towards cars that is inherent in our society today.
It is a rite of passage for many youths who turn 18 to get their driving licence, even if they may not get ready access to a car afterwards. Cars are still an outward representation of one's success, even as general attitudes towards car ownership seem to be evolving. Many attest that cars are essential for their duties and commitments, such as ferrying children and the elderly.
Nonetheless, we should challenge our relationships with cars, especially when we have made inroads towards achieving sustainable mobility in Singapore.
WHAT IS SUSTAINABLE MOBILITY?
Being sustainable is the "in" thing today. A common interpretation is being environmentally friendly in our daily lives, from grocery shopping to banking. Sustainable mobility, however, is much more.
Sustainable mobility means moving people and goods in both an environmentally sustainable manner, and economically sustainable and socially inclusive ways.
Although this term only emerged recently, Singapore has actually been making conscientious efforts towards sustainable mobility for decades.
There has always been a push for better public transport in Singapore, with constant improvements to the services and accessibility. Public transport fares are closely regulated to ensure affordability. Vehicle population and private car ownership are kept in check to ensure that they stay within our road network capacity.
In recent years, there has also been increased focus on upgrading our city's infrastructure to facilitate cycling and walking.
It was announced during the Transport Ministry's Committee of Supply debate earlier this month that "Friendly Streets" with widened footpaths and "calmer vehicular traffic" will be piloted in five neighbourhoods - Ang Mo Kio, Bukit Batok West, Tampines, Toa Payoh and West Coast - from 2025. 
These initiatives also make Singapore a highly liveable and connected city.
CHANGING OUR LONGSTANDING RELATIONSHIP WITH CARS
One key strategy for achieving sustainable mobility is to be a car-lite society, and Singapore has been working at it for more than 20 years.
It is a well-known fact that the cost of private car ownership in Singapore is high and prohibitive. Certificate of Entitlement (COE) prices have hit all-time highs for various categories in 2022 and this year.
It is hardly surprising then, that as at 2022, Singapore's private car ownership rate sits at about 11 per cent based on vehicle and total population figures by the Land Transport Authority (LTA) and SingStat, respectively. This figure is comparable to Hong Kong's rate of 9 per cent, which Singapore often benchmarks our public transport system to.
However, why does it feel like there are more cars in Singapore than the figure suggests? That is because about 35 per cent of resident households in Singapore own a car, and this is probably more aligned with our personal observations.
Prohibitive pricing puts cars out of reach for most, yet it also further entrenches cars as a symbol of status and prestige. Owning and driving a car was one of five indicators of success for many Singaporeans growing up. While some might say that societal norms and aspirations have shifted, the car remains a visual representation of the Singapore dream.
What is more concerning for sustainability is that car owners tend to drive more, not because they need to, but because they can. Petrol costs, parking fees, and even Electronic Road Pricing (ERP) hardly deter car owners from driving.
On the contrary, having paid a significant amount for their cars, they are likely to drive more often to maximise utility. Perceptions that driving offers greater convenience and autonomy only strengthen this case.
Simply put, there is little incentive and weak persuasion for car owners to leave their cars idle. There is, therefore, a need to dislodge this entrenched relationship we have with cars.
MORE SUSTAINABLE LIFESTYLES
Sustainable mobility is integral to the generational challenge of how to live more sustainably.
The recognition that we need to be more responsible stewards of the planet is part of a broader shift in our society today. The OCBC Climate Index 2022 revealed that 47 per cent of Singaporeans desire a more sustainable world.
There is encouraging evidence emerging in recent years suggesting that attitudes towards, and desires of car ownership among youths have shifted in Singapore. But there is a need for all in Singapore to do their part.
We start by evaluating our current lifestyle and mobility choices - how we can make these more environmentally friendly?
Could we opt for more sustainable or pooled food and shopping delivery options?
Public transport, among motorised modes, is still the most sustainable, so could car owners and aspirants give up their cars and use public transport instead?
There are occasions when a car could be more practical, but would car-sharing do the job instead? Or perhaps consider an electric vehicle if a car is indeed still critical.
When we do take these actions as individuals, we need the necessary infrastructure and mobility options. This is where the authorities step in and take the lead, supported by businesses and service providers.
Singapore's public transport does cater to diverse mobility needs - from parents with young children, the elderly, and individuals with disabilities, and efforts are under way to make it even more accessible and to reduce its emissions. Our focus now is to enhance the system so that the public have little reason not to use it as their primary mode of transport.
Businesses and service providers should also be challenged to provide new mobility services which would discourage any desire for car ownership. Sustainable delivery options should also become the default.
Sustainable mobility needs to resonate with everyone, simply because mobility is an integral part of our lives. There are different ways we can contribute towards making this a reality.
I am sticking with public transport and pooling my deliveries, what about you?
Samuel Chng is an applied social psychologist and heads the Urban Psychology Lab in the Lee Kuan Yew Centre for Innovative Cities at the Singapore University of Technology and Design.