Voters would 'prefer a chance to have' Singapore-born President and spouse, claims Tan Kin Lian
A political analyst says the former NTUC Income CEO's "nativist views are highly inappropriate" and are a "risky grasp at winning support".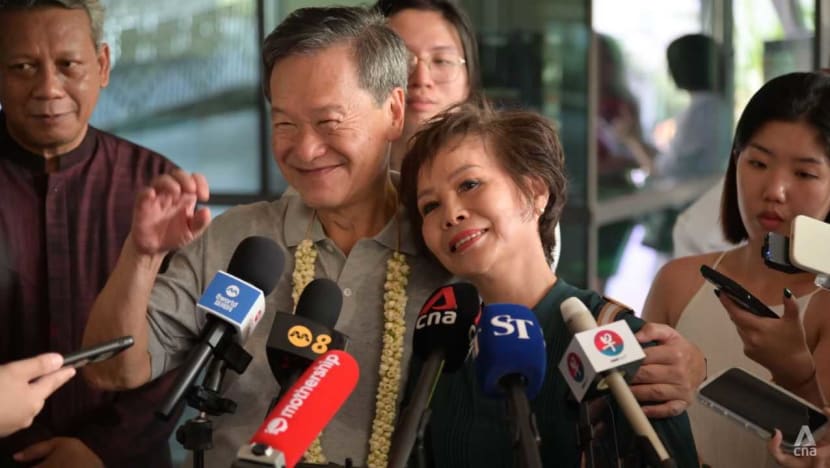 SINGAPORE: Singaporeans would prefer a chance to have both their President and his spouse be born in the country, Mr Tan Kin Lian claimed while speaking to reporters on Friday (Aug 25), before a walkabout at Geylang Serai Market and Food Centre.
With his wife Tay Siew Hong next to him, Mr Tan said: "I want to introduce her so that the people of Singapore will also have a choice of the 'first lady'. There are three 'first ladies', so you can have a choice. My wife, like me, we were born in Singapore. We are blue-blooded Singaporeans."
"Of course, we respect other people from other countries who come to Singapore to become citizens," he added.
"But I think deep down, our locals would prefer at least a chance to have the President and the 'first lady' to be true Singaporeans from birth."
The term "blue-blooded" is defined by the Oxford Dictionary as an adjective describing someone from a royal or socially important family.
When asked to clarify what he defines as "blue-blooded", Mr Tan told TODAY via WhatsApp: "Blue-blooded Singaporean typically refers to someone who comes from a long-standing and respected lineage within Singaporean society, often implying a strong connection to the country's history, culture, and traditions."
He added that the term might also be used "metaphorically to describe individuals who exhibit a deep and unwavering patriotism for Singapore".
On his "first lady" comments, the presidential candidate appeared to be referring to the fiancee and wife of the other two candidates – former GIC chief investment officer Ng Kok Song and former senior minister Tharman Shanmugaratnam. Both women were not born in Singapore. 
Mr Ng's fiancee Sybil Lau was born in Canada. Mr Tharman's wife Jane Yumiko Ittogi was born in Japan to a Singaporean Chinese mother and Japanese father who met in Singapore.
Mr Ng previously said that Ms Lau, 45, is a Singapore citizen and has been living in Singapore for 18 years. She started her career as a financial analyst at Goldman Sachs and has been managing her family's wealth since 2009.
Mrs Tharman has lived in Singapore since the age of three, attending local schools. She is in her late 60s and a lawyer by training.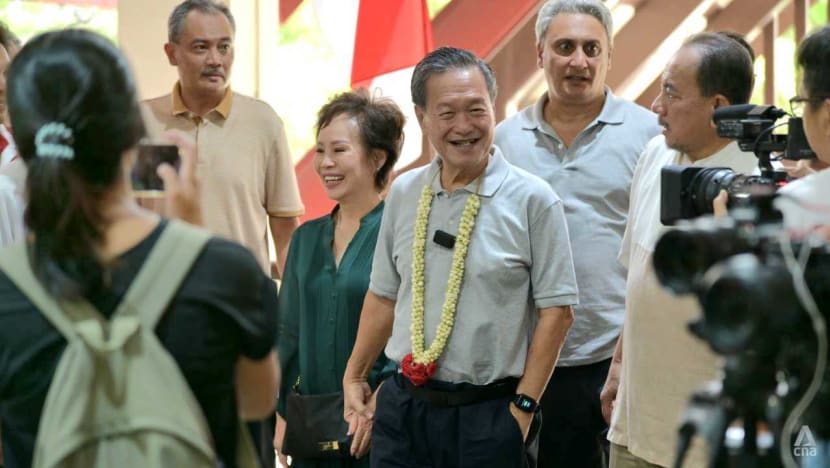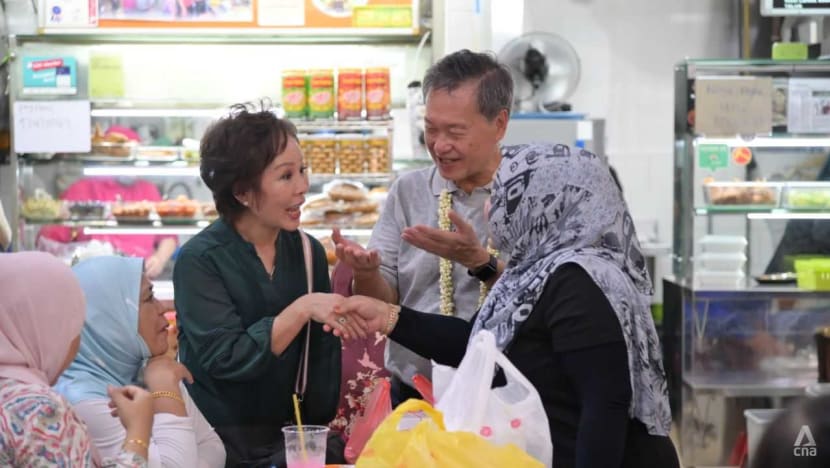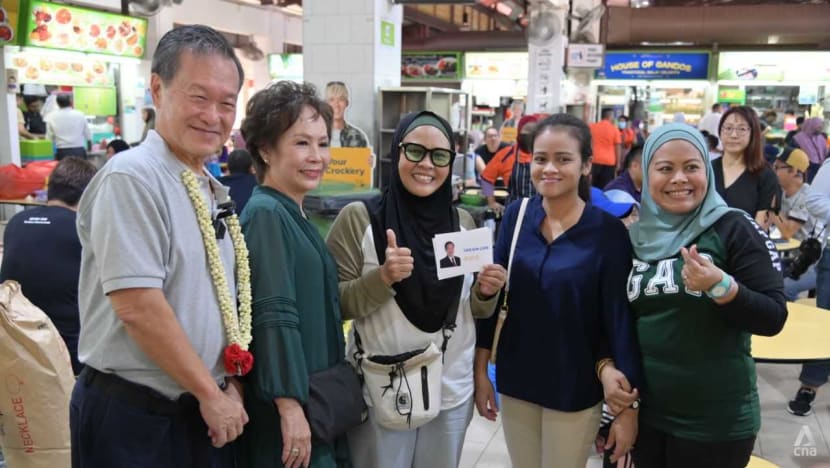 NO OFFICIAL ROLE FOR PRESIDENT'S SPOUSE: ANALYST
Singapore used to have the official title of "first lady" for the spouse of a male President, but that has not been the case since at least 2000, said Associate Professor Eugene Tan of Singapore Management University (SMU). 
He added that the use of "first lady" prior to 2000 was "merely a practice that had no legal basis".
"There is as such no official role for the President's spouse. Any courtesies extended to her is by virtue of her being the spouse of the head of state and not because of her designation as 'first lady'."
Assoc Prof Tan also said that Mr Tan is "engaging in negative campaigning", referring to his comments apparently alluding to Mrs Tharman and Ms Lau.
"His nativist views are highly inappropriate and clearly self-serving," he said, reiterating that Mr Tharman's wife is Singaporean but of Japanese-Chinese parentage, while Ms Lau is a "naturalised" Singaporean.
"It is not only a risky grasp at winning support but one that is divisive and certainly not in keeping with the dignity and decorum of the office he is seeking to win a mandate for," Assoc Prof Tan said. 
NEXT PRESIDENTIAL CANDIDATE BROADCAST 
Mr Tan also said on Friday that he will continue the tradition of the President's Star Charity, which was initiated by former President Ong Teng Cheong.
He added that Mr Ong had several charities covering different groups of people and he would "study which are appropriate and relevant today" and implement those. 
Mr Tan also said he has his own ideas for charity, which will cater to older people. Further details will be provided later in his campaign, he added. 
The former NTUC Income CEO also spoke about his presidential candidate broadcast speeches, the first of which took place on Thursday evening. 
The Elections Department (ELD) and Infocomm Media Development Authority (IMDA) said on Thursday that there were "inaccuracies" about the President's role in Mr Tan's speech that had to be removed. 
The joint statement came after Mr Tan told reporters earlier in the day that IMDA asked for three paragraphs to be removed, which he considered the "most important paragraphs" of his campaign message.
Mr Tan took issue with the edits, saying that IMDA "did not have the authority to interpret the constitution in a narrow way and asked for these statements to be removed".
For the next and final presidential candidate broadcast on Aug 30, Mr Tan said he would send his draft to IMDA early and ask if they want to remove any part of his speech.
"I don't want to take the trouble of translating into the other languages when some parts are to be removed," he said.
He reiterated that removing the parts in his original speech for Thursday's broadcast was "not correct" and that "IMDA (interpreted) the constitution in their way".
Mr Tan on Friday also warned about an apparent scam where members of the public are asked to donate to his campaign using a Unique Entity Number (UEN), which is a standard identification number for an entity. 
He clarified that those donating to his campaign will directly send the donations to his phone number. 
Mr Tan added that it is "quite easy" to deal with scams. "Anyone of us can do our part. Just pay … S$1, collect the details (of the scammer) and make a police report," he said.
"When I go back, I will use my own bank account to pay S$1 and we (will) know who the scammer is."