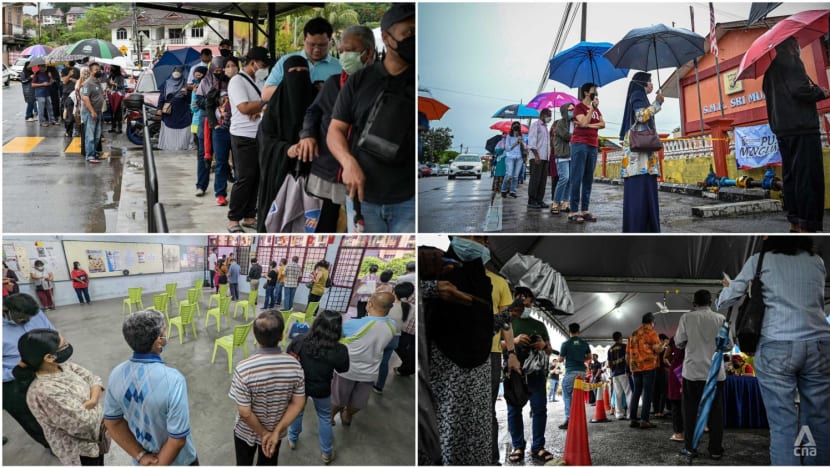 KUALA LUMPUR: Malaysians on Saturday (Nov 19) started casting their ballots for the 15th General Election (GE15) to give lawmakers a fresh mandate against the backdrop of political turbulence in recent years.
The previous election in 2018 saw the end of Barisan Nasional's (BN) reign after six decades, amid allegations of graft against key members of the ruling coalition. The opposition Pakatan Harapan (PH) coalition emerged victorious.
Back then, PH's component parties included Parti Pribumi Bersatu Malaysia (Bersatu), led by former prime minister Mahathir Mohamad, and Parti Keadilan Rakyat (PKR).
But less than two years into a five-year mandate, the PH government collapsed amid infighting and a political manoeuvre dubbed the "Sheraton Move", which saw Bersatu's withdrawal from PH and the defection of several MPs from PKR.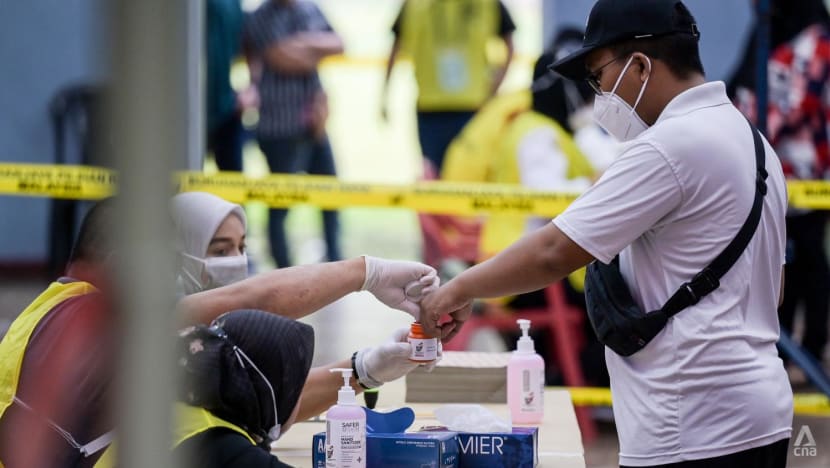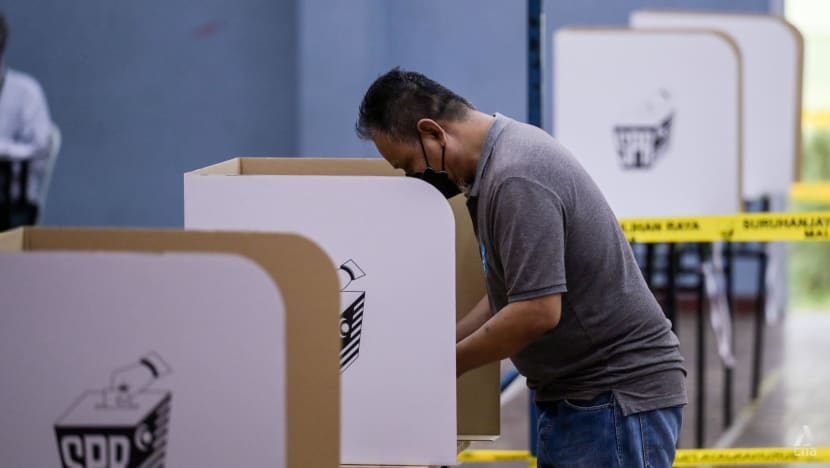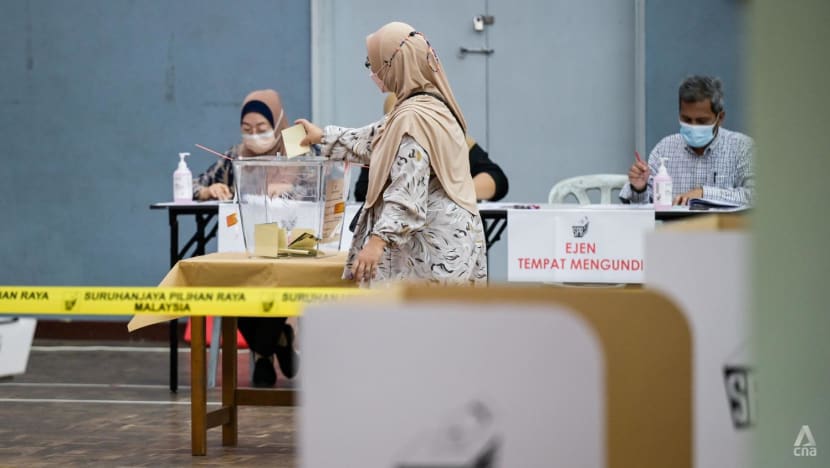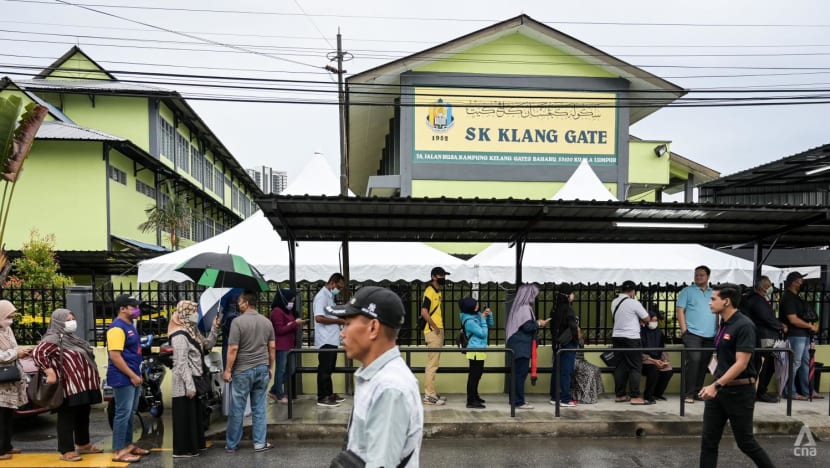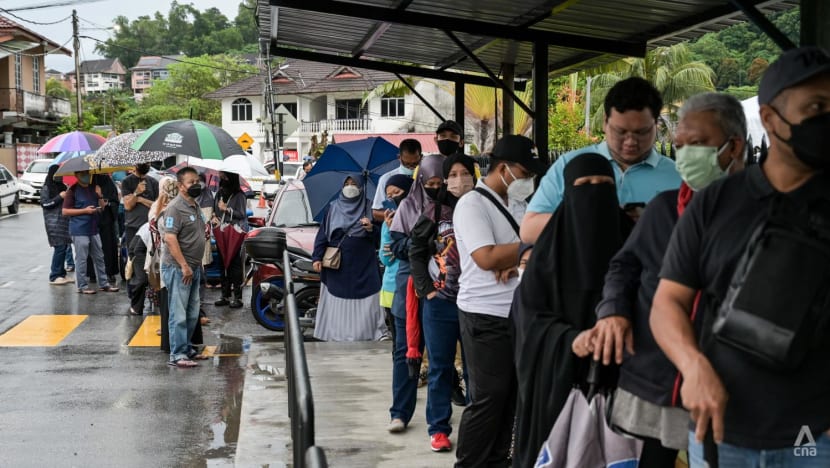 A new Perikatan Nasional (PN) coalition - led by Bersatu - was formed, and its leader Muhyiddin Yassin was sworn in as prime minister on Mar 1, 2020.
This change in administration was criticised as a betrayal to the people's mandate in the 2018 election.
However, the PN government was soon plagued by political bickering. A growing loss of confidence in Mr Muhyiddin's leadership led to his resignation in August 2021.
Mr Muhyiddin's departure saw the return of BN to power with the appointment of Mr Ismail Sabri Yaakob as the third prime minister in the last two years.
Subsequently, pressure from the United Malays National Organisation (UMNO) top leadership, with a constant narrative that the government was still shaky and in need of a new mandate, finally prompted Mr Ismail Sabri to dissolve parliament.
Four main coalitions - BN, PH, PN and the Dr Mahathir-led Gerakan Tanah Air (GTA) - are contesting this year's election. The coalition that wins a simple majority of 112 out of 222 federal seats will get to form the government.
In the absence of a clear winner - which many analysts are predicting - the coalitions must decide who to work with to form a coalition government through negotiations that could last long into the night.
Parti Islam Se-Malaysia, a PN component party, has said that its first choice - if need be - is BN, and that it will not work with PH due to differences with the Democratic Action Party (DAP).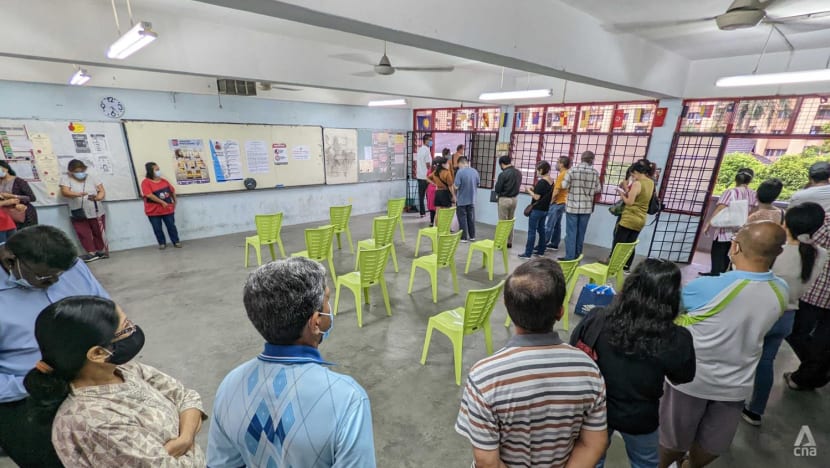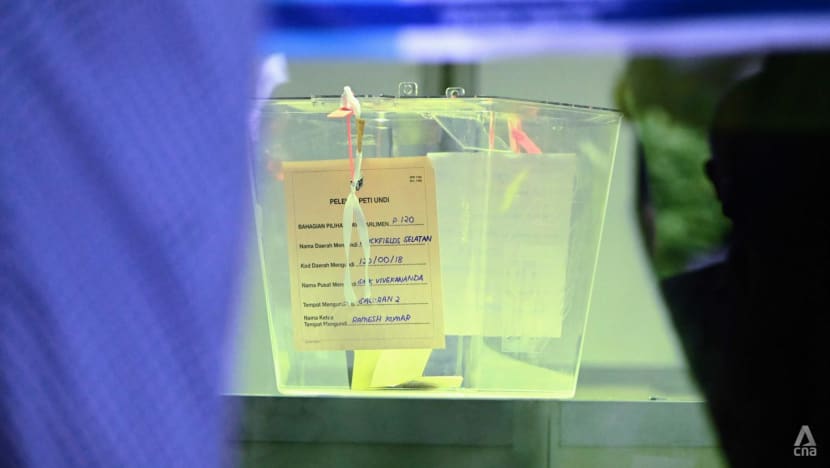 At Vivekanda school in Brickfields south, Kuala Lumpur, retiree Choh Choy Ying was one of the first to cast their vote for the Bukit Bintang federal seat amid a slight drizzle.
"I came early because I was afraid it would rain," the 70-year-old said, her finger stained with indelible ink. "Everything was ok. I'm used to the voting process."
The Bukit Bintang seat is being contested by candidates from Perikatan Nasional, Pakatan Harapan and Barisan Nasional."I'm not sure - there's a 50-50 chance," Mdm Choh said when asked if she was confident her choice of candidate could win.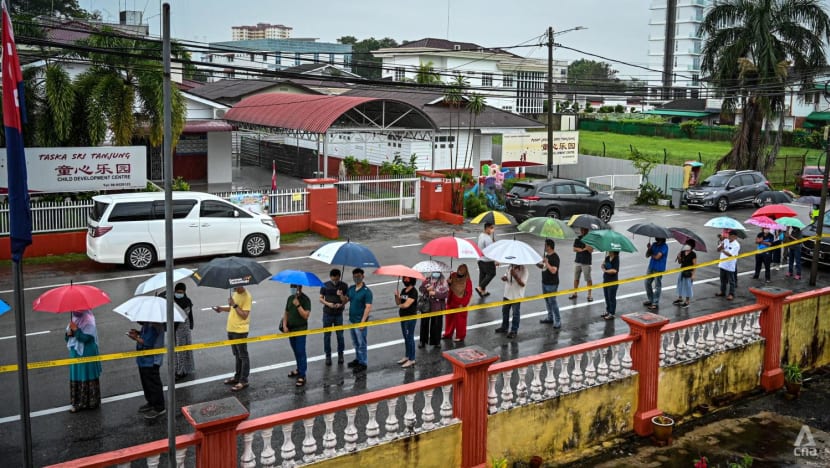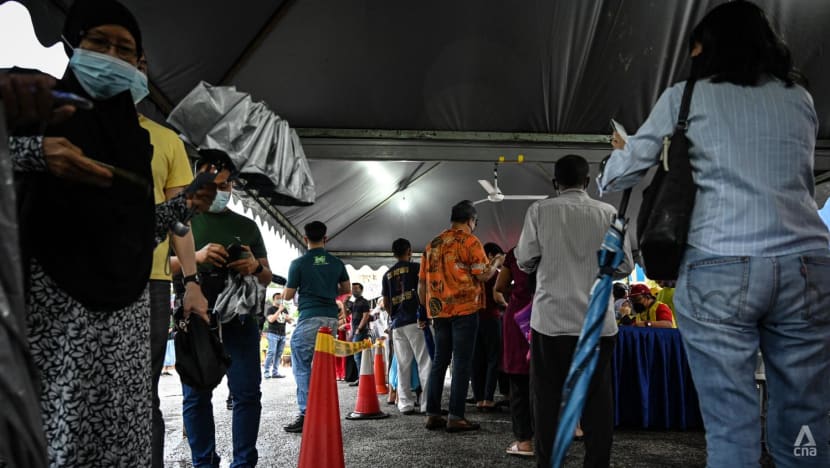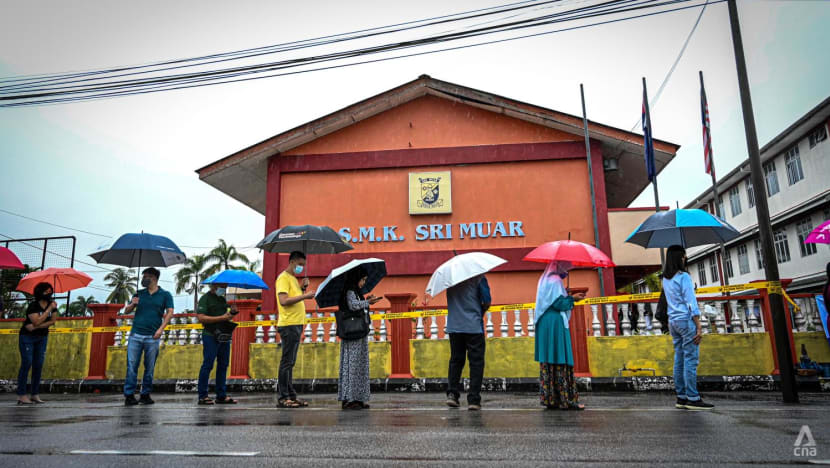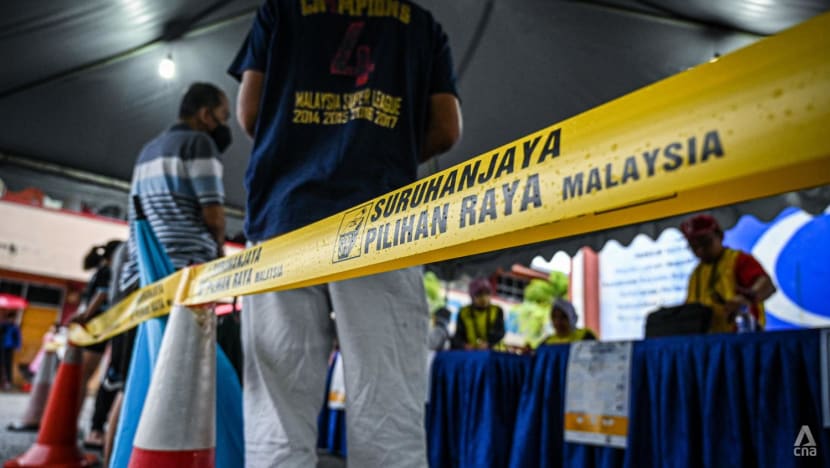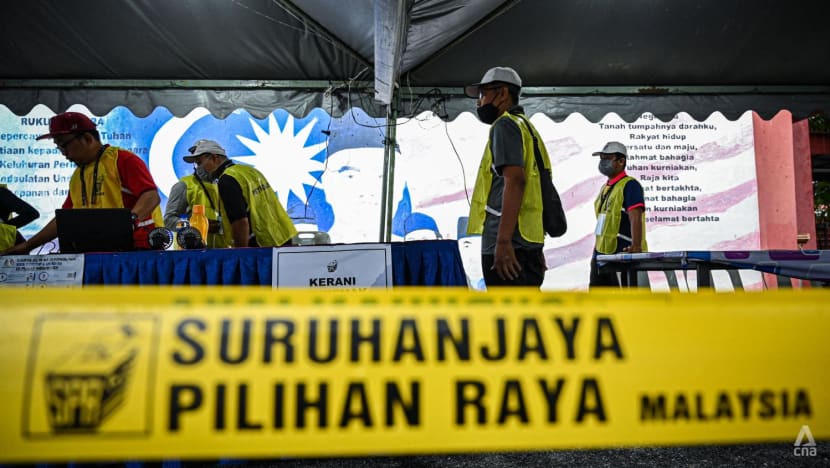 Meanwhile over at Sri Muar Secondary School, a polling centre for the Muar federal seat in northern Johor, voters started arriving at 8am amid heavy downpour.
Some came with umbrellas and started queueing from 7.30am, half an hour before the polling centre opened.
At 8am, Election Commission officials clad in rain jackets opened the front gate and directed the voters for registration.
One of the voters Mdm Khamisah Ahmad told CNA that she wanted to get her voting done early in spite of the wet weather.
"I would rather get it done early to avoid the crowds later in the day," said the 50-year-old.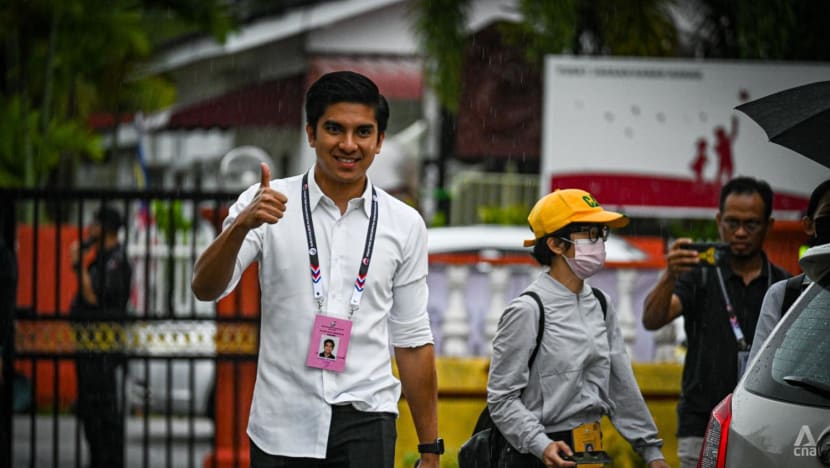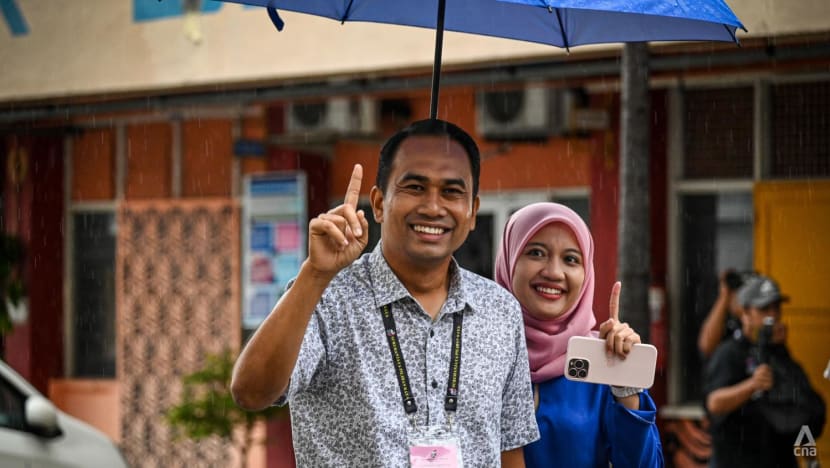 The Muar federal seat is a three-cornered fight between Malaysian United Democratic Alliance candidate Syed Saddiq Abdul Rahman, Barisan Nasional candidate Mohd Helmy Abd Latif and Perikatan Nasional's Abdullah Husin.
The incumbent MP for Muar Syed Saddiq arrived at the polling centre at around 8.20am to greet voters.
He told CNA that he would be visiting a few polling centres in Muar "to see that everything is in order".
BN candidate Mohd Helmy arrived at Sri Muar school at around 8.50am. The 41-year-old met with some voters and also casted his ballot.
At around 9am, former prime minister Muhyiddin Yassin entered the school to cast his vote. The Perikatan Nasional chairman was accompanied by his wife and security officials.
Mr Muhyiddin is defending his seat in the neighbouring Pagoh constituency.
Speaking to reporters outside the polling centre, Mr Muhyiddin urged residents to come out early to vote.
"You never know if the rain will get heavier or there might be flood-related problems," said Mr Muhyiddin.
BATTLES TO WATCH
Analysts have said that this election will be one of the most tightly contested ever, with Selangor, Johor and Perak expected to see fierce battles. These are the three states with the highest voter populations, and where some key figures will contest.
In GE14, PH swept to victory in Selangor by winning 20 out of its 22 federal seats, while BN claimed the remaining two seats. This year, BN is aiming to capture a greater share by fielding some heavyweight candidates in the state.
This includes caretaker finance minister Tengku Zafrul Abdul Aziz and caretaker health minister Khairy Jamaluddin. The latter was moved from Rembau in Negeri Sembilan - where he was a three-term MP- to the PH stronghold of Selangor to contest in Sungai Buloh.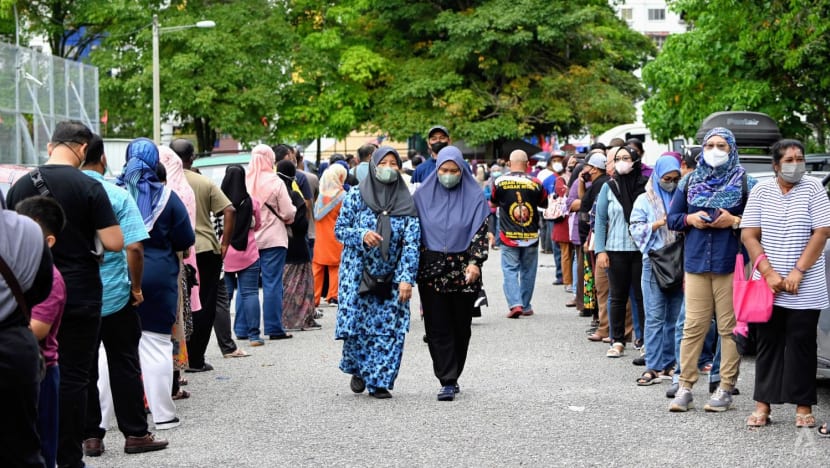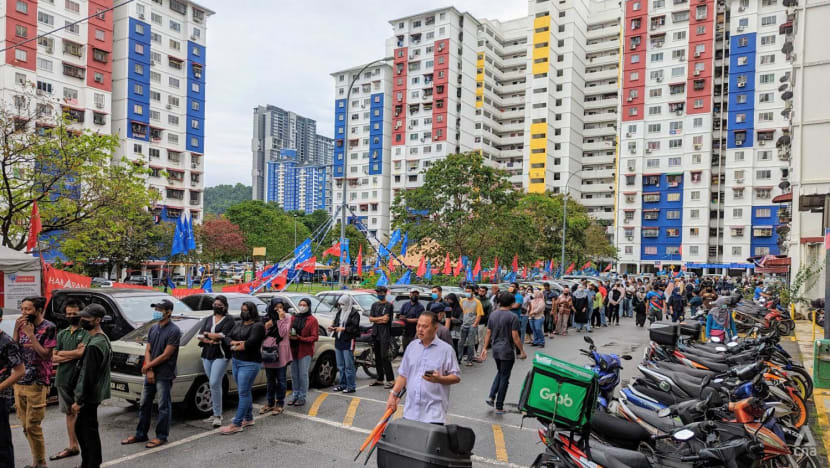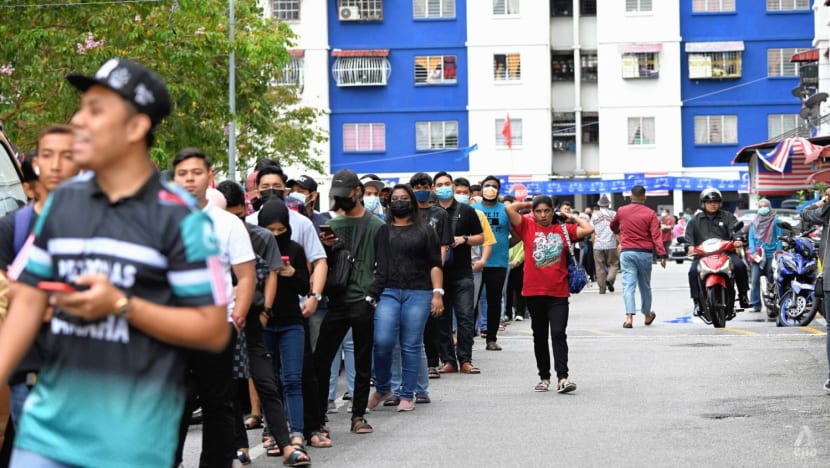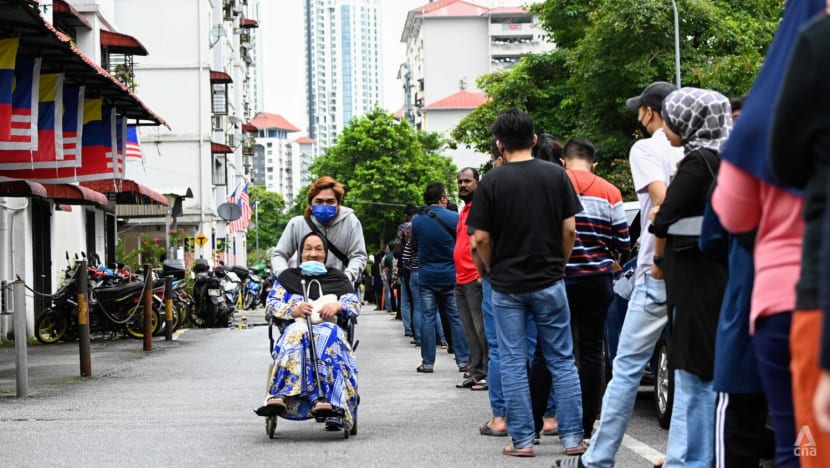 Over at bellwether state Johor, PH and BN are also set for a tough tussle for the state's 26 federal seats. In GE14, PH won 18 seats while BN clinched just eight. The Johor state government also fell to PH for the first time in Malaysia's history.
But during the Johor state elections in March this year, BN romped to victory as it captured 40 out of 56 seats in the state legislature, boosting its confidence in calling for snap polls.
PH and BN will also go toe-to-toe for Perak's 24 federal seats. Since 2008, the two coalitions have been almost equally strong in the state, an analyst told CNA. This time around, PH has decided to go big.
The seat of Tambun in Perak is where the coalition's leader and prime minister candidate, Anwar Ibrahim, will contest. Mr Anwar's decision to switch from Port Dickson, Negeri Sembilan to Tambun has been criticised by his political opponents, who label him as an outsider.
Analysts believe Mr Anwar's presence and the attention he generates could push PH over the line in Perak, but he faces stiff competition in Tambun against PN's candidate Ahmad Faizal Azumu, a local who won the seat in 2018 by more than 30,000 votes.
BN chairman and UMNO president Ahmad Zahid Hamidi will also defend his seat of Bagan Datuk in Perak. While BN has publicly declared Mr Ismail Sabri as its candidate for prime minister, analysts believe Ahmad Zahid is gunning for the top post.
This is a point that opposition coalitions have harped on over the course of the campaign, prompting Mr Ismail Sabri to come out and defend his position several times.
Then there are the Borneo states of Sabah and Sarawak, which account for one-quarter of all federal seats and are thus labelled as kingmakers.
Observers say Sarawak's ruling coalition Gabungan Parti Sarawak (GPS) will easily win most of the seats in the state and is likely to back BN, its informal partner.
The politics in Sabah are messier, with three big coalitions competing against each other: The ruling Gabungan Rakyat Sabah (GRS), the biggest opposition party Warisan, as well as PH's Democratic Action Party.
Currently, the ruling GRS and BN bloc holds 12 out of 25 federal seats in Sabah while Warisan holds seven. The rest are held by other local parties.  
If the GRS-BN bloc emerges victorious, Sabah would naturally support BN in Peninsular Malaysia, analysts say.
Voting hours in Peninsular Malaysia are from 8am to 6pm, while voting in Borneo will start and end half an hour earlier.