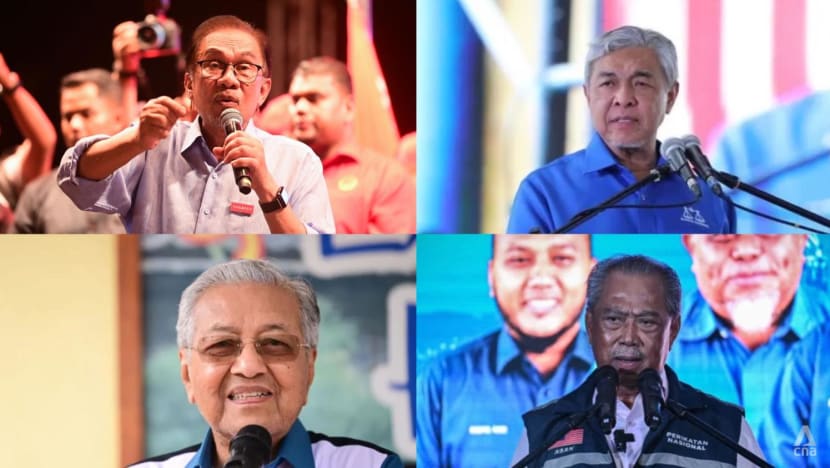 KUALA LUMPUR: The campaigning for Malaysia's 15th General Election (GE15) drew to a close on Friday night (Nov 18), as coalition leaders raced against time to convince undecided voters.
This election has been one of the fiercest in the country's history, with a record number of candidates standing and more big coalitions set up in an attempt to take control of the Lower House. Voters will go to the polls on Saturday (Nov 19). 
Voting hours in Peninsular Malaysia are from 8am to 6pm, while voting in Borneo will start and end half an hour earlier.
While elections were not due until next year, caretaker prime minister Ismail Sabri Yaakob had been under pressure from some factions of his ruling coalition to hold the vote earlier. 
Prior to the dissolution of parliament on Oct 10, there were calls against holding polls this year as the Meteorological Department had warned of floods during the north-east monsoon season, which typically starts in November and ends in March.
Three major political forces are fighting to capture the federal government seat in Putrajaya. They include Barisan Nasional (BN), its long-time rival Pakatan Harapan (PH) and Perikatan Nasional (PN). Gerakan Tanah Air (GTA), led by former prime minister Mahathir Mohamad, is also in the race.
The fierce campaigning over the past two weeks saw coalitions debating bread and butter issues like cost of living, rights of the Borneo states as well as the fight against corruption among other matters. 
"MAKE PERAK A NEW FORTRESS OF HOPE", SAYS ANWAR
In Tambun, Perak, PH chairman Anwar Ibrahim urged voters to fight for change on Polling Day. 
Speaking to a large crowd of supporters in the drizzling rain, the 75-year-old politician recounted his time in prison and a long struggle to push for change in Malaysia. 
 
"I am telling you this so the young people know that when we fight, we must do so with morality, values, principles and fighting spirit," he said. 
"Not to make Anwar prime minister but to determine our own fate."
Mr Anwar arrived at the campaign venue in Tambun at 9.45pm and received a warm welcome by his supporters. 
"Reformasi!" many of them shouted when Mr Anwar was on the stage to deliver his speech. Reformasi means reform in Bahasa Melayu. 
Mr Anwar called on voters to make sure their future is not determined by "corrupt leaders", referring to the incumbent coalition government led by BN and PN.
The veteran politician explained that his decision to contest in Perak is all about creating hope. 
"When I discussed with friends about contesting in Tambun…I was hesitant because the risk would be high. I want to make Perak a new fortress of hope," Mr Anwar said. 
"Look into my eyes. I'm not a politician who lies and makes empty promises."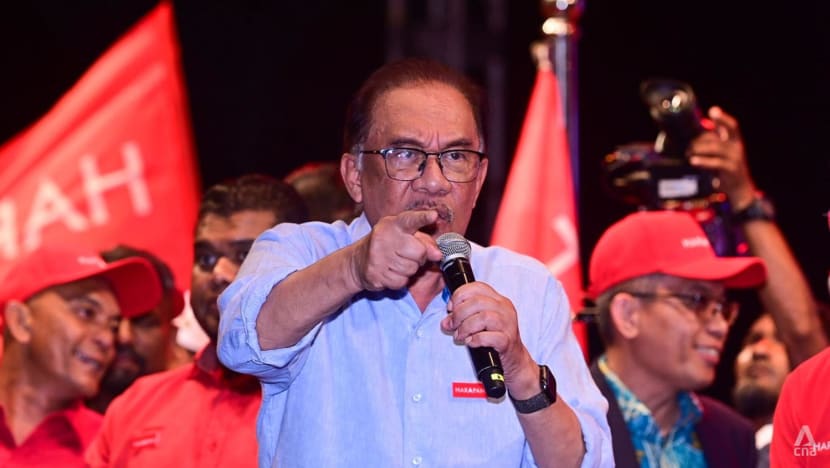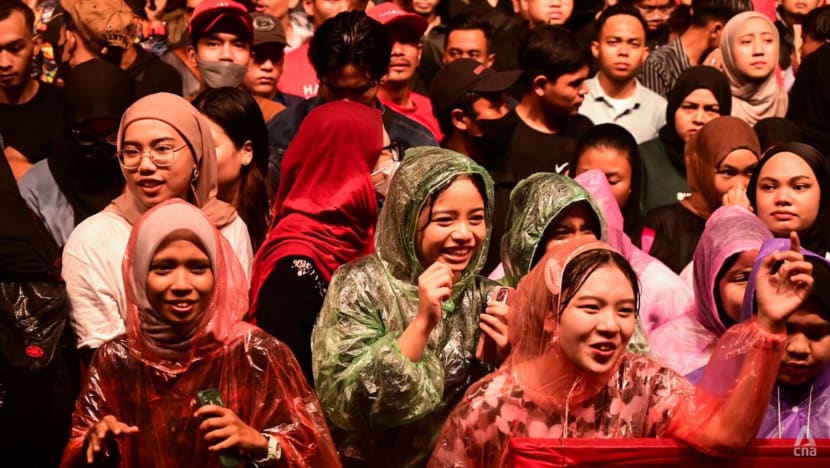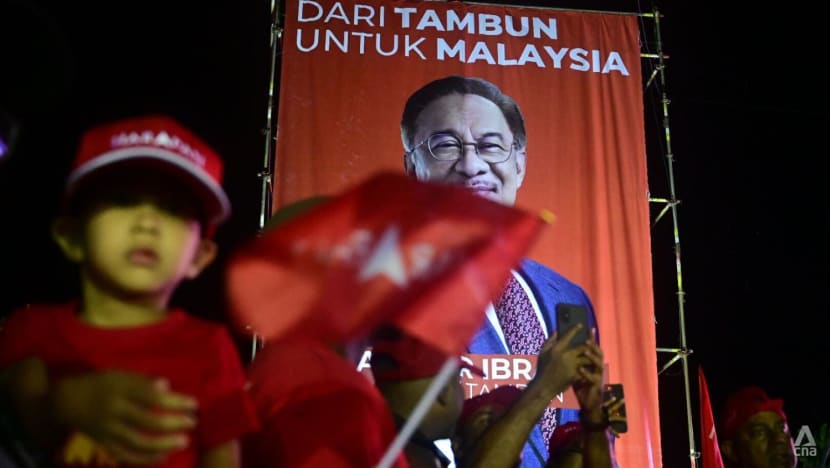 PH won the previous election in 2018, when it was led by Dr Mahathir.
In Tambun, Mr Anwar is up against its incumbent member of parliament (MP) Ahmad Faizal Azumu from PN, Aminuddin Hanafiah from BN and Abdul Rahim from Parti Pejuang Tanah Air (Pejuang).
Mr Ahmad Faizal previously contested under PH in the 2018 election, before his Parti Pribumi Bersatu Malaysia (Bersatu) defected from the coalition in 2020, along with several MPs from Mr Anwar's party – Parti Keadilan Rakyat (PKR). 
The group joined Parti Islam Se-Malaysia (PAS) in forming a new alliance, PN. This resulted in the collapse of the PH government after being in power for 22 months. It is commonly known as the Sheraton Move. 
Mr Anwar's decision to switch base from Port Dickson in Negeri Sembilan to Tambun has been criticised by his political opponents, who label him as an outsider.
For Mr Anwar and his political camp, however, his presence in Perak state is a strategic move that could help PH form a new government this weekend.
BN TOUTS PROVEN TRACK RECORD, OFFERS DPM POSTS TO BORNEO STATES
In a video on Facebook, BN chairman Ahmad Zahid Hamidi said the coalition's track record has proven that its leadership has always remained loyal.
"The presence of BN leaders during difficult and good times has proven that we are very close to the peoples' heart," he said, adding that the coalition is offering experienced leaders who are able to handle the country in good and bad conditions.
"The experience of 22 months of Pakatan Harapan government has shown that a leader who is only popular, is not enough if he is not supported by the Cabinet line-up, who are experienced and the party is supported by the grassroots.
"Similarly, if a leader has led for 17 months but failed to provide good continuity, then clearly, the coalition should not be given the mandate to make Malaysia an experimental country."
Ahmad Zahid, who is also president of the United Malays National Organisation (UMNO), has also pledged to propose the appointment of deputy prime ministers from Sabah and Sarawak if the coalition can form the government. 
He also said that this is in line with BN's commitment to revive the Malaysia Agreement 1963 (MA63). 
The MA63 issue refers to the restoration of Sabah and Sarawak's status as outlined in the 1963 agreement, which gives the two states and Malaya equal status as the original founders of the Malaysian federation. 
It seeks to undo the 1976 amendment to the constitution which placed Sabah and Sarawak with the rest of the states in Malaysia, seen as a downgrade by many Sabahans and Sarawakians.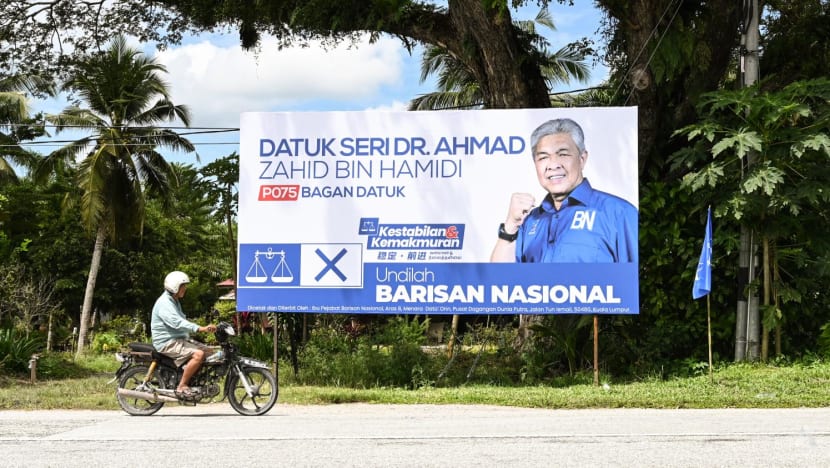 Ahmad Zahid, who is defending his seat in Bagan Datuk, Perak, added on Friday: "In fact, developing Sabah and Sarawak will also allow more economic opportunities that will bring Malaysia back to its glory."
While BN has publicly declared Mr Ismail Sabri as its candidate for prime minister, analysts believe Ahmad Zahid is gunning for the top post.
This is a point that opposition coalitions have harped on over the course of the campaign, prompting Mr Ismail Sabri to come out and defend his position several times.
MAHATHIR PROMISES TO SET UP GOVERNMENT FREE FROM CORRUPTION
In his final campaign speech in Langkawi, Dr Mahathir urged voters to reject BN, PH and PN. He asked the people to give GTA a chance. 
He warned that Malaysia might face a disaster if any of the so-called bigger three coalitions won the elections and became the government. 
"If we are not careful, we will face disaster and chaos. This is not a small matter," he said on Friday night. 
He said that UMNO was once a good party but when former prime minister Najib Razak took over its reigns, the party stole the people's money. 
He also claimed that Mr Anwar was a liberal who did not reject Western values while PN chairman Muhyiddin Yassin used a backdoor route to become the country's leader.  
GTA, which was launched only in August, comprises four political parties including the National Indian Muslim Alliance Party (Iman), Parti Bumiputera Perkasa Malaysia (Putra), Parti Barisan Jemaah Islamiah Se-Malaysia (Berjasa) and Pejuang. It also includes NGOs, academicians and individuals.
As the Malay movement has yet to be registered, all candidates are running under the Pejuang banner except for Kelantan where its candidates are standing on a Putra ticket.
Dr Mahathir is defending his Langkawi seat in Kedah in a five-cornered fight.
He said that GTA through Pejuang could change national politics, while claiming that its leaders were clean and had experience in administration.
"We promise to set up a government that is free from corruption and will not steal money. We will also adhere to the rule of law," he said.
Dr Mahathir also said that GTA has plans to revive the economy, manage finances prudently, stabilise national politics and return the country to its status as an Asian tiger.
"Don't' elect a government that steals money and is only in it for itself," he warned.  
WAVE OF SUPPORT FOR PN IS GROWING: MUHYIDDIN
PN chairman Mr Muhyiddin held his final rally on Thursday night. He said that a wave of support from Malaysians for PN was growing ahead of Polling Day.
"When I've been travelling across the country, from north to south in Johor, I have met many people. 
"And for the first time, I saw the wave of support growing for Perikatan Nasional. They support Perikatan because of what I did as prime minister," he said.
The former prime minister said many voters have expressed appreciation for the policies he implemented during the COVID-19 pandemic, such as implementing financial moratorium and assistance packages.
"They all said thank you Abah," he said, referring to a nickname given to him when he was prime minister. Abah means father in Malay. 
"(Their support) is a confession, a sense of trust and confidence that PN is the choice for all Malaysians," he added.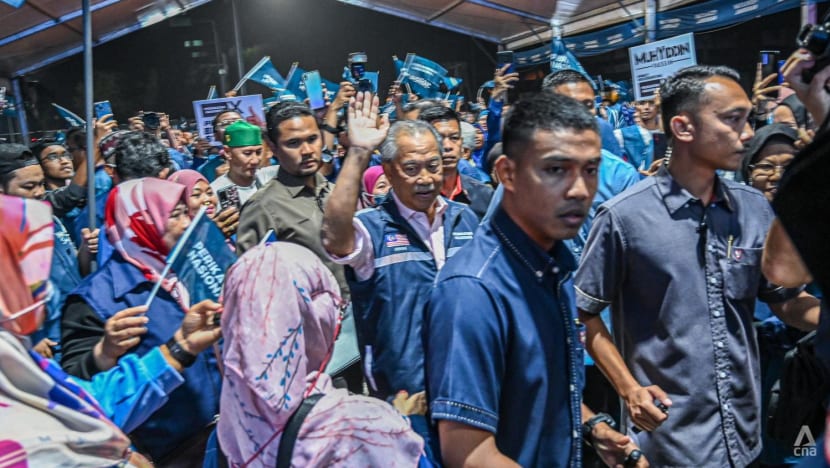 He said BN and its main component party UMNO have a history of "rampant corruption".
Mr Muhyiddin added that PH as a coalition does not respect policies that protect the rights of the Malays and the institution of Islam.
"So BN and PH are out. You're left with just one (choice) now, Perikatan Nasional," he said. 
"No choice but it's the best of choices to elect a PN government. This is what the people want," he added.